Some people want a belt and suspenders on their backup: two Time Machine volumes that are both kept up to date in the worst case of failure. Apple lets you attach multiple volumes to your Mac directly or over a network to act as Time Machine destinations. But macOS alternates each hour among attached volumes. Is there a way to have macOS back up hourly to both without manually clicking the Time Machine system menu and choosing Back Up Now?
Not precisely. You can try one of two alternatives:
Use TimeMachineEditor, a free utility (donation requested) that lets you control certain aspects of Time Machine backups. You could change the frequency to every 30 minutes, so neither backup would be more than about 30 minutes old at any given time.
Install Keyboard Maestro and set up a time-of-day or keystroke-triggered shortcut that chooses the Back Up Now option twice—it chooses the menu item, waits for it to complete, then chooses it again. That will make backups on both of your volumes.
There's another alternative, too: diversity of backups. If you have your main volume and a Time Machine backup, you don't need a second Time Machine backup. Instead, consider using an online backup service that automatically polls and pushes file changes as soon as they're made. This can give you one backup that's seconds to minutes old at any time and accessible from anywhere, coupled with a second backup that's no more than an hour old. The only way to make that better is to have a secure offsite location where you regularly swap a Time Machine volume with another.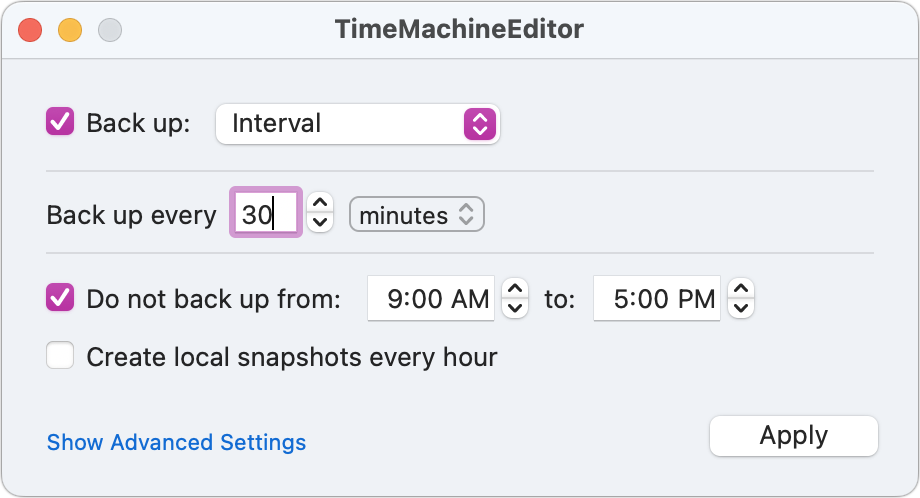 This Mac 911 article is in response to a question submitted by Macworld reader Taylor.
Ask Mac 911
We've compiled a list of the questions we get asked most frequently, along with answers and links to columns: read our super FAQ to see if your question is covered. If not, we're always looking for new problems to solve! Email yours to mac911@macworld.com, including screen captures as appropriate and whether you want your full name used. Not every question will be answered, we don't reply to email, and we cannot provide direct troubleshooting advice.