I've heard it said that life is like the movies, and it's true. I don't mean in the life-imitates-art way, or how people always tell me that I'm a sexy cross between Mel Gibson and Russell Crowe. I mean that our eyes see reality in wide-screen, but our cameras take pictures in pan-and-scan 4:3, like TV sets from 1975.
One way to overcome that handicap is by shooting panoramic photos. When you shoot a panorama, you take a series of individual photos and "stitch" them together into a wide or tall image that's much greater than the sum of its parts using panorama software.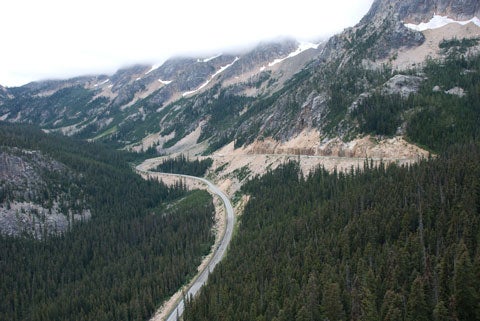 Check out, for instance, this shot from a scenic overlook, which I took with my camera set to its widest possible zoom setting.

It's nice, but it really doesn't capture the grandeur of a truly panoramic photo taken at the same location, like this one. This was stitched together using Microsoft Digital Image Suite from a sequence of five photos.
Behind the Scenes
There are two steps to making any panorama. First, you capture the individual frames of your scene. Second, you load those images into special software or an image editor and turn them into a panorama.
There's something of an art to shooting images for a panorama. You need to ensure sufficient overlap between each shot, use a good, average exposure for all the images, and make sure that all your photos are level. For more details, read a two-part article that I wrote last year: " Shooting Photos for Panoramas, Part 1″ and " Shooting Photos for Panoramas, Part 2."
Choosing Panorama Software
So, you might wonder, what software do you need to create a panorama? In the olden days, you needed to buy a specialized program, but many current photo editing programs come with a stitching utility built right in. If you have Adobe Photoshop Elements, for example, you're ready to rock (or, perhaps, "ready to panoram.") Microsoft Digital Image Suite has panoramic stitchery built in as well.
There are also custom stitching tools available that you might consider if you don't already have one of those other programs, or if you want something more powerful. PanaVue ImageAssembler is a good alternative, though it's a tad expensive at $64. Pixtra PanoStitcher costs a more reasonable $30. Last, but not least, I've had good results with The Panorama Factory for $70. These programs have free trials, so you can try them all and decide which one you like the best.
Try Your Hand at Stitching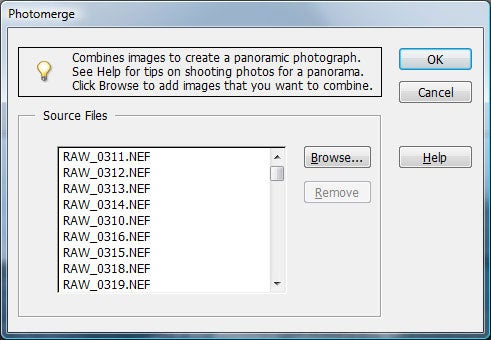 Once you've got some software, stitching the photos is a fairly automatic process. If you're using Adobe Photoshop Elements, for example, open the batch of photos that you want to convert to a panorama, then choose File, New, Photomerge Panorama. You'll see a dialog box like the one linked here. If you've already opened all the photos you want to include, click OK.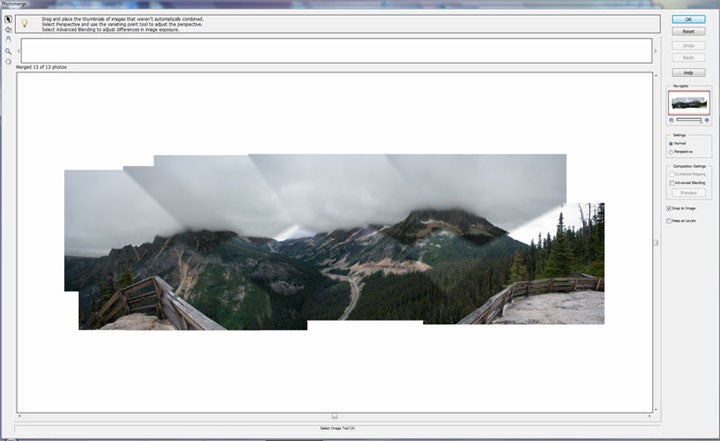 It'll take a few moments for the program to generate your panorama from the images. You don't have to put the photos in the correct order; just let Photoshop Elements do its thing, and you'll eventually see an approximation of the final panorama like the one shown on the right. There are a bunch of controls you can use to fine-tune the final result, but generally you'll just want to click OK to display the completed panorama.
To be perfectly honest, I don't think that the panoramic stitching tool in Photoshop Elements is especially good; it tends to create alternating bands of varying exposure through the panorama and is hard to fine-tune.
I much prefer the stitcher that's built into Microsoft Digital Image Suite, which is what I used to make the panorama that you saw earlier. It's so much better than Photoshop Elements, in fact, that I'd recommend getting Digital Image Suite just for the stitching feature alone. Whatever you use, have fun with panoramas!
Hot Pic of the Week
Get published, get famous! Each week, we select our favorite reader-submitted photo based on creativity, originality, and technique. Every month, the best of the weekly winners gets a prize valued at between $15 and $50.
Here's how to enter: Send us your photograph in JPEG format, at a resolution no higher than 640 by 480 pixels. Entries at higher resolutions will be immediately disqualified. If necessary, use an image editing program to reduce the file size of your image before e-mailing it to us. Include the title of your photo along with a short description and how you photographed it. Don't forget to send your name, e-mail address, and postal address. Before entering, please read the full description of the contest rules and regulations.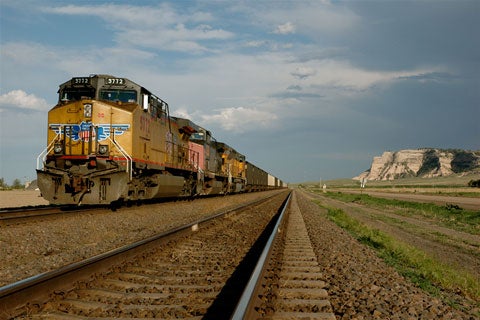 This week's Hot Pic: "Train," by Susan Stanosz, Denver, Colorado
Susan took this photo in Scottsbluff, Nebraska while walking along a set of train tracks. She used a Nikon D70S.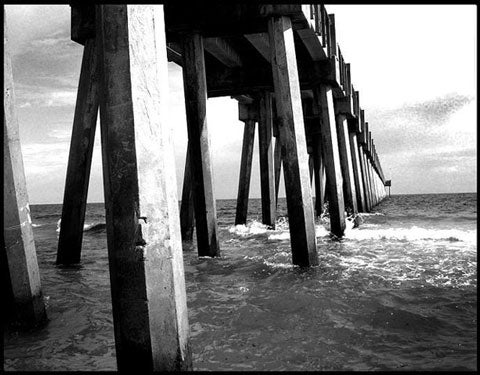 This Week's runner-up: "Shoreline," by Kathryn Hawkins, Franklin, Tennessee
Kathryn writes: "I took this photo on a sunny day in Pensacola, Florida, with my Nikon D70. It was originally in color but I converted it to black and white in Photoshop. I also enhanced the contrast to make the black and white a little more drastic, perhaps like an older photo taken on film."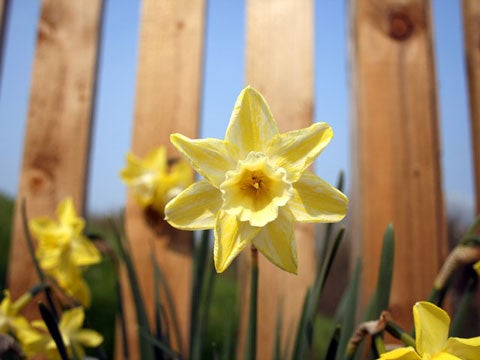 Hot Pic of the Month for August: Each month we choose one of our weekly winners to be the Hot Pic of the Month. For August, we chose "Perfect Daffodil," by Sean Arenas, from Chatsworth, California.
Congratulations to Sean and to everyone else who won a Hot Pic of the Week last month. To see all the Hot Pic winners for August, view the slide show. Keep those entries coming!