What's on your mind? If you have a question about digital photography, send it to me. I reply to as many questions as I can, and I round up the most interesting ones about once a month here in Digital Focus.
Want to read more frequently asked questions? Browse reader questions from June, July, and August.
Reader Feedback on the Big Switch
Depending upon your perspective, last month was either the dawn of a wondrous new age or the end of a golden era. That's when I started using Adobe Photoshop Elements to demonstrate photo editing techniques. As I said goodbye to Corel Paint Shop Pro–a program I'd been writing about since Digital Focus started in 2001–I asked readers to let me know what they thought.
I got a lot of e-mail with opinions from both sides of the fence. But though many of you wrote in to let me know your displeasure with the move to Adobe, three times as many of you applauded the move. That's right: Your letters ran a little more than three to one in favor of the switch.
Some of you were brief and to the point: "It's about time," "What took you so long," "Way to go," and "Yes!" were among the shortest responses. That's not too surprising; a lot more folks use Photoshop Elements than Paint Shop Pro. In the end, that's why I made the change.
More About Putting Photos on a Diet
I liked your article about putting photos on a diet. It has helped me reduce my photo size, but I'm still confused. When I "Save As" a photo to get the new smaller photo, does JPEG compression make it smaller and induce artifacts beyond what specifying a particular pixel size would do? In other words, I'm confused about the relationship between the size reduction you describe and using different levels of JPEG compression. –Wandal Winn, Anchorage, Alaska
This is indeed a confusing subject, Wandal, but here's the scoop: JPEG is called a "lossy" file format because you can vary the level of compression, and more compression results in smaller files at the expense of lower image quality. JPEG compression adds digital noise, which manifests itself as flecks of stray color that resembles the "grain" in old film photos.
If you increased the compression level when you save an image file, you can make it a lot smaller to save disk space. But I generally save photos at the lowest possible compression level (that's "12" if you use Photoshop Elements) because I'd rather lose some disk space than ruin my photos.
Controlling Noise
I have a digital camera that has a maximum resolution of 3648 by 2736 pixels. I've found that when I take pictures using ISO speeds greater than 200, there's a considerable amount of noise. If I were to reduce the resolution, say, to 2272 by 1704 pixels, would that reduce the amount of noise, so I could take higher-ISO photos without noise? –Brian Beevers, Las Vegas
That's an interesting theory, Brian, but it won't work.
You get noise because a camera's sensor misinterprets electrical energy as light, and therefore writes essentially random pixels of color to your photo. I'm afraid that noise is largely unrelated to resolution: Your camera will be just as noisy at its highest resolution as its lowest resolution. You can test this for yourself by shooting multiple images at different resolutions, all using the same high ISO.
The only reliable ways to minimize noise are to shoot at your camera's lowest ISO; shoot in daylight rather than night; and use short shutter speeds rather than multisecond time exposures.
You could always try eliminating the noise in your image editor; read " Eliminate Noise From Your Photos" for details.
Online Photo Editing
I recently started using Flickr to store my photos online, and it got me to wondering–is there any way to edit my photos on the Web, too? –Amy Donally, Salt Lake City
Absolutely, Amy. Online photo editing is becoming quite popular, in fact. Sites like Picture2Life, Snipshot, Fauxto, and Picnik all prove that you can edit your photos in your Web browser without installing any software on your PC. (I recently reviewed Picnik.
Of course, you don't get all the advanced stuff you'd find in a program like Photoshop Elements. You get only basic cropping, straightening, exposure control, and a handful of other features–but sometimes that's all you need.
Hot Pic of the Week
Get published, get famous! Each week, we select our favorite reader-submitted photo based on creativity, originality, and technique. Every month, the best of the weekly winners gets a prize valued at between $15 and $50.
Here's how to enter: Send us your photograph in JPEG format, at a resolution no higher than 640 by 480 pixels. Entries at higher resolutions will be immediately disqualified. If necessary, use an image editing program to reduce the file size of your image before e-mailing it to us. Include the title of your photo along with a short description and how you photographed it. Don't forget to send your name, e-mail address, and postal address. Before entering, please read the full description of the contest rules and regulations.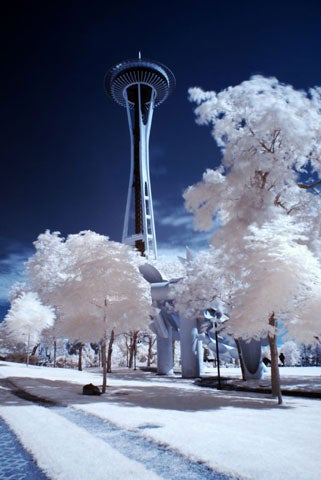 This week's Hot Pic: "Space Needle," by Derek Rak, Thornton, Colorado
Derek says that he took this photo using a Nikon D80 with a Hoya R72 infrared filter. The infrared filter required a very long exposure even though it was midday–30 seconds, in fact–which resulted in the somewhat blurry trees.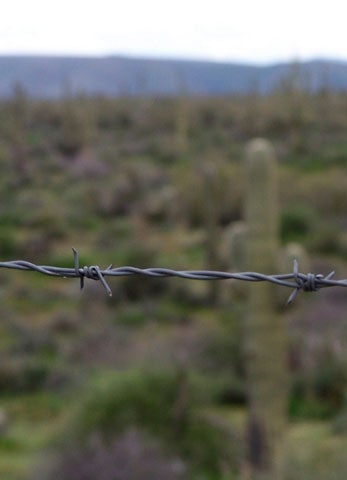 This Week's Runner-Up: "Barbed Wire," by Dan Mitchke, Aurora, Colorado
Dan writes: "This picture of barbed wire was difficult to take because my Kodak DX7590 does not have a manual focus mode. I had to focus on a fence post and then re-frame the picture on the cactus before pressing the shutter button all the way down in order to keep the wire in sharp focus."
See all the Hot Pic of the Week photos online.