Even Homer Simpson has been photographed shaking hands with a former president, so why can't you?
Thanks to the magic of Adobe Photoshop Elements–or any other photo editing program–you can become a virtual Forest Gump and put yourself in the same scene as Gerald Ford, Keith Richards, or Neil Armstrong.
Last week we started posing a photo of someone with Elvis. Our source material was a staged photo of an Elvis fan named Kristen and a public-domain photo that recorded Elvis Presley's historic meeting with Richard Nixon at the White House.
So far, we've loaded both photos into Adobe Photoshop Elements and painstakingly erased President Nixon from the image, leaving Elvis and a Kristen-sized hole.
Using the Magic Extractor
Now for the fun part. We need to cut Kristen out of the garage door photo and paste her into the Elvis shot. Because the background is so simple, I am pretty confident that we can use Photoshop Element's Magic Extractor tool.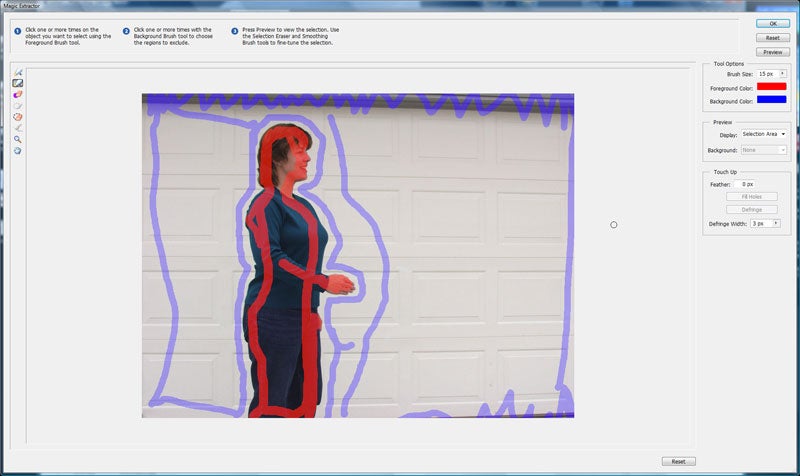 Switch to the photo of Kristen and choose Image, Magic Extractor. Use the Foreground bush to trace a red line inside Kristen, then switch to the Background brush to outline the outside of Kristen in purple.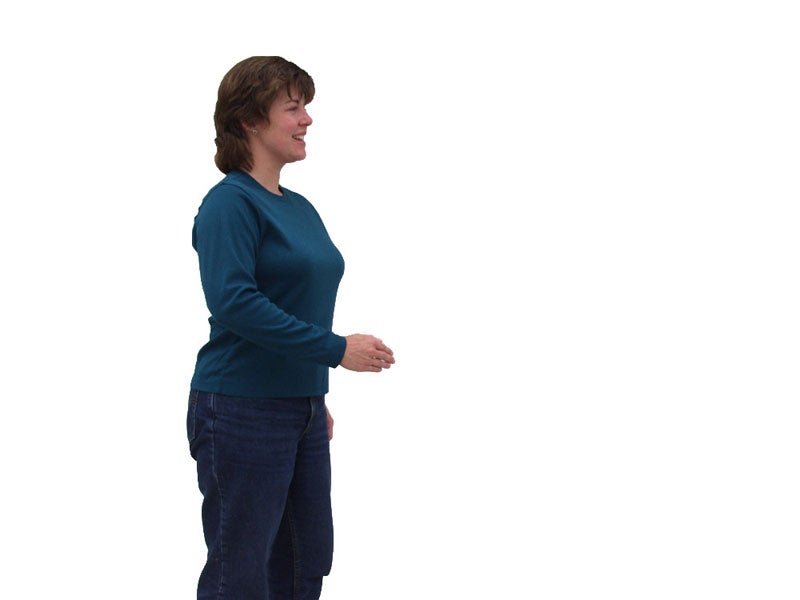 When you're done, click OK and you'll have a nicely separated Kristen. If you're using a different program (or if your background is not as uniform as this one) you might have to use a selection tool instead.
We're almost done. After erasing the background with the Magic Extractor, use the Rectangular Marquee tool to select Kristen. Copy her to the clipboard by choosing Edit, Copy, and then switch back to the Elvis image. Choose Edit, Paste. Kristen will appear onstage next to Elvis. If she's not the right size, click the Move tool and then resize her by dragging a corner of the image until the two subjects are sized about right.
Rewriting History
Position Kristen next to Elvis, arranging her so their hands meet. At this point, you can evaluate your erasing job and decide if you need to remove more of Nixon or clean up the background before finalizing your photo.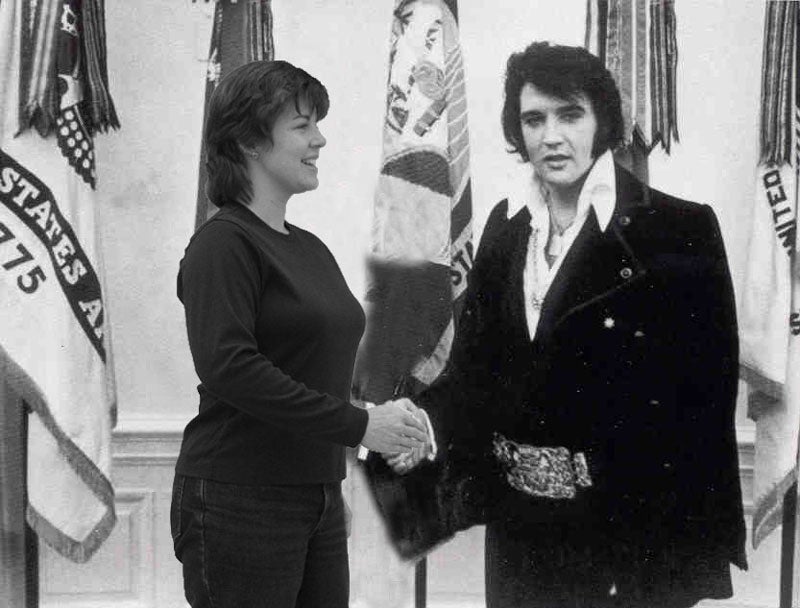 To make the illusion more convincing, you can try to sharpen Kristen a bit to match the original Elvis photo before you copy-and-paste her. To finish my photo, I converted the shot to black and white by choosing Enhance, Convert to Black and White.
Hot Pic of the Week
Get published, get famous! Each week, we select our favorite reader-submitted photo based on creativity, originality, and technique. Every month, the best of the weekly winners gets a prize valued at between $15 and $50.
Here's how to enter: Send us your photograph in JPEG format, at a resolution no higher than 640 by 480 pixels. Entries at higher resolutions will be immediately disqualified. If necessary, use an image editing program to reduce the file size of your image before e-mailing it to us. Include the title of your photo along with a short description and how you photographed it. Don't forget to send your name, e-mail address, and postal address. Before entering, please read the full description of the contest rules and regulations.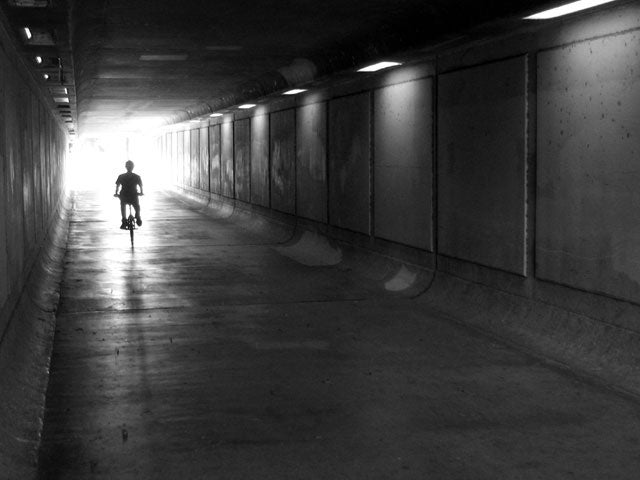 This week's Hot Pic: "Bike in the Light," by George Alger, Ventura, California
George writes: "I took this photo near my house while I was out for a sunrise walk. I used a Canon SD500 and heavily bracketed the exposure to gain a pleasing balance between the morning light coming in through the tunnel and the much darker sides of the tunnel walls. I had attached the camera to a tiny tripod, which I held against the side of the tunnel wall to gain more stability for the relatively slow exposures.
"While taking various exposures, an occasional bicycle passed through the tunnel–so I included them in my shooting. Finally, I converted it to black and white using Photoshop Elements."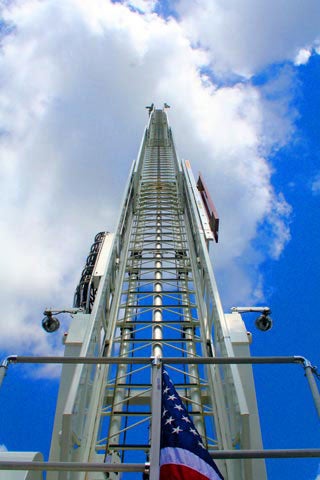 This Week's Runner-Up: "Highway to Heaven," by Bruce Britton, Brooksville, Florida
Bruce says that he took this photo of a fire department ladder truck using his Canon Rebel XT on a very hot summer day in Florida.
See all the Hot Pic of the Week photos online.