At a Glance
Pros
Supports HD DVD, Blu-ray Data, and BD-AV
Better organization that past versions
Our Verdict
It's that time of year again: While large men wearing helmets and pads slam into one another with abandon on the gridiron, Nero and Roxio renew their battle of the CD/DVD/audio/video megasuites. The latest versions, Nero Ultra Edition 8 and Easy Media Creator 10, each sport a number of noticeable improvements and new features; the contest remains a toss-up, however, as Roxio's product provides lots of creative perks while Nero's has more support for advanced technology. Whether the average user will want to upgrade to either is debatable as well.
Feature Wars
Both suites retain their vast and largely similar feature sets. They rip (non-copy-protected discs only), burn, play, and shrink all types of CDs and DVDs, as well as create labels (including LightScribe) and jewel-case inserts. Both also let you edit many types of video (including HD) and author it to CD or DVD. Each does a bang-up job of importing, converting, editing, and burning audio, too. More recently, both suites have devoted resources to mobile technology, and each will let you easily convert and transfer audio/video files to your iPod or other mobile device.
Among the new features, the big news is HD DVD: Both suites now burn data discs in that format. Previously both products acquired the ability to burn Blu-ray Data and BD-AV (quick video discs with minimal menus)–however, in a rather odd move, Roxio pulled BD-AV support from this release. Beyond HD DVD support, the new-feature list isn't as sexy, though the products do gain some nice additions. Roxio has incorporated 6.1-surround, Pro Logic, and Dolby Headphone (faux surround) output to its CinePlayer software DVD player, while Nero has added a RescueAgent utility that promises to retrieve data from failed discs.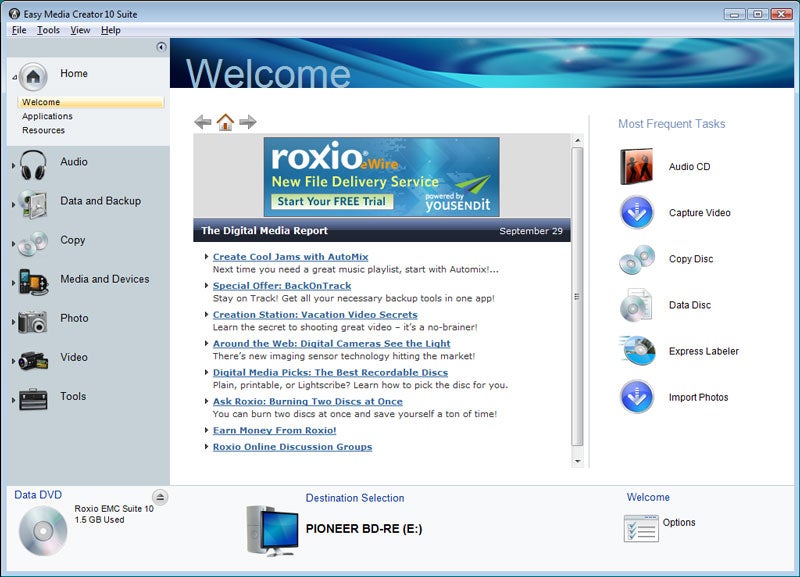 Roxio has vastly improved its Media Manager's interaction with portable devices, and both suites have added one-click uploading to online communities–Roxio to YouTube and Nero to My Nero, YouTube, and MySpace. Roxio has added SmartSound, which automatically creates nifty royalty-free soundtracks for your video productions. Roxio can now also rip audio simultaneously from multiple recorders. In addition, the company claims that video encoding is twice as fast as it was with version 9 (I was unable to test that function in time for this review, however). Nero was already very fast, with full support for multicore CPUs.
Each suite now offers Windows Vista sidebar gadgets. Roxio has opted for a handy audio/Internet-radio capture utility and an audio/video converter that also transfers files to portable devices, while Nero presents a disc-copy utility. Both suites have several other small improvements, too, but those are the biggies.
While the suites share a lot in common featurewise, they also have major differences. Roxio uniquely creates music DVDs (basically a huge DVD audio track with menus), but only Nero provides advanced surround-audio editing. Nero's BackItUp images partitions and creates a disaster-recovery disc; Easy Media Creator does neither, though you get a $20 offer inside the suite's BackOnTrack file-based backup application to visit Roxio's site and acquire disaster-recovery features. (I was unable to obtain a test copy in time for this article.)
Nero creates and plays back AVCHD (h.264 on DVD–the poor person's path to HD) discs; Roxio's software can't, though the VideoWave editor does output AVC video. Easy Media Creator's CineMagic automatically generates professional-looking video productions, an ability Nero lacks. As mentioned earlier, Nero is now alone in its support for BD-AV burning and playback, and Roxio's product offers nothing to match Nero's Windows Media Center-like multimedia application.
Before I continue, a note on something that users often ask about, or are confused about: Neither suite has full Blu-ray or HD DVD movie authoring (menus, interactive features, and so on); BD-AV offers only crude playlists. Probably more important to the average user, neither suite provides any Blu-ray or HD DVD movie playback.
A Prettier Face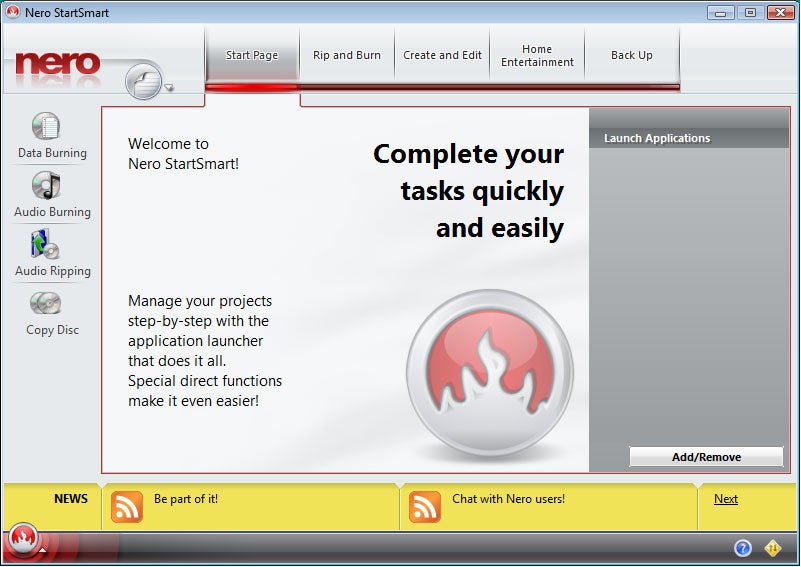 Both suites have revised interfaces, and Nero's StartSmart launch application has received a complete makeover. In addition to vastly improving the look and organization, Nero has stolen a page out of Roxio's book and integrated mini-apps for quick access to common chores such as copying, burning data and audio CDs, and ripping. Easy Media Creator's Home was already well organized, but for the first time ever, I have to give Nero the edge in this regard.
Beyond the launch application, though, Easy Media Creator retains the ease-of-use title. Once you've figured out what does what–a somewhat daunting task due to the whopping 28 apps and applets–the Roxio suite is almost universally easier to learn and use. Roxio also seems to have spent a bit of time ironing out the wrinkles, improving the language and some of the layout. The company has ditched the software's former look for one that's similar but melds with Vista better.
So what do all of these features and functions boil down to? If you're looking for support for the latest technologies, Nero's your suite. There's no getting around Easy Media Creator 10's lack of support for BD-AV and AVCHD, and no ignoring Nero's advanced video encoding options. However, when it comes to easily creating great-looking content on traditional CD and DVD, Roxio's suite reigns supreme. In addition to CineMagic and SmartSound, the software provides a ton of high-quality menu templates and other design elements–so many, as a matter of fact, that the suite now ships on DVD.
Factoring price into the equation, Nero starts to look like the winner again. Moving up to version 8 sets you back $50 ($80 for new buyers), while upgrading from Easy Media Creator 9 to 10 costs $70 (the full $100 price less a $30 mail-in rebate). Nero also tends to add major features in free "dot" upgrades, which makes the long-term cost of owning the Nero suite markedly lower.
In the end, I found neither suite an overly compelling upgrade, largely because I don't need any of their new features–yet. Both suites are improved, but both still need work, especially when it comes to consolidating features and, in Nero's case, improving usability. Study the new-feature lists carefully, and if you see support for a technology you really need, go for it. Otherwise, bide your time.
Nero Ultra Edition 8
This is the most advanced CD/DVD/audio/video suite, but it has a difficult learning curve. Price when reviewed: $80 download, $100 boxed
www.nero.com
Roxio Easy Media Creator 10
Powerful CD/DVD/audio/video suite provides great-looking templates and art. Price when reviewed: $100 boxed
www.roxio.com