There's something magical about macro photography. Getting up close to a tiny subject is one of the most exciting ways to use a digital camera. But why stop there? Almost any photo editing program lets you turn that idea on its head and make ordinary pictures look like they are actually miniatures!
Tell-Tale Signs
Even without thinking about it, you know when you're seeing a photograph of a miniature.
Usually, it's the depth of field that gives things away. If you fly over a city and photograph the skyline with a wide-angle lens, the entire scene appears in sharp focus. But try to photograph a miniature city built out of Legos or model train scenery, and the camera can only keep a particular section of the photo in focus–the foreground and background will quickly "roll off" into a blur.
Simulating a Doll House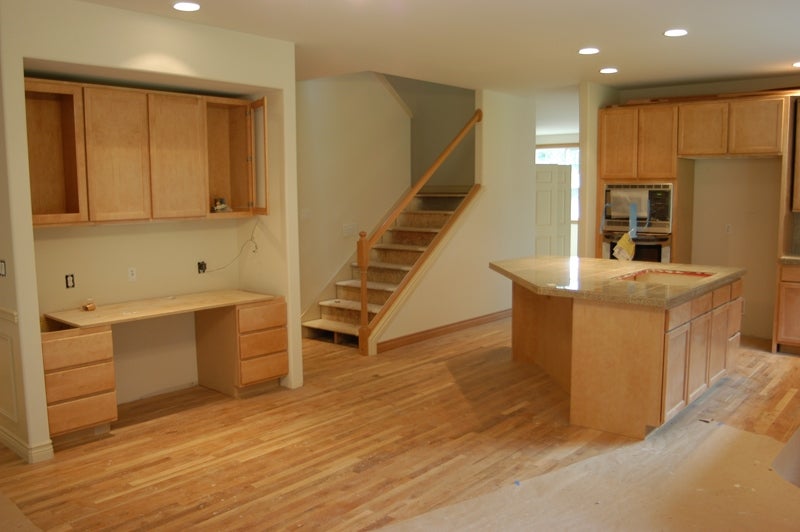 It's easy to achieve that effect with a photo editing program.Take this photo of my kitchen, for example, which I shot while my house was still under construction. I was curious if I could make it look like a doll house by creatively blurring the scene.
Well, there's good news and bad news. The usual technique to "miniaturize" photos, which has become quite popular in the last year or two, works best when you can apply a gradient mask to your photo. A gradient mask is a tool that lets you smoothly vary an effect (like blur) across a region of the photo. Unfortunately, Adobe includes that feature only in the heart-stoppingly expensive Photoshop CS, not the more accessible Adobe Photoshop Elements.
But I don't like to give up easily, and I found a very simple way to cheat using almost any photo editor.
Miniaturizing in Photoshop Elements
Open the photo that you want to miniaturize in Photoshop Elements. You might want to try my sample kitchen photo for starters.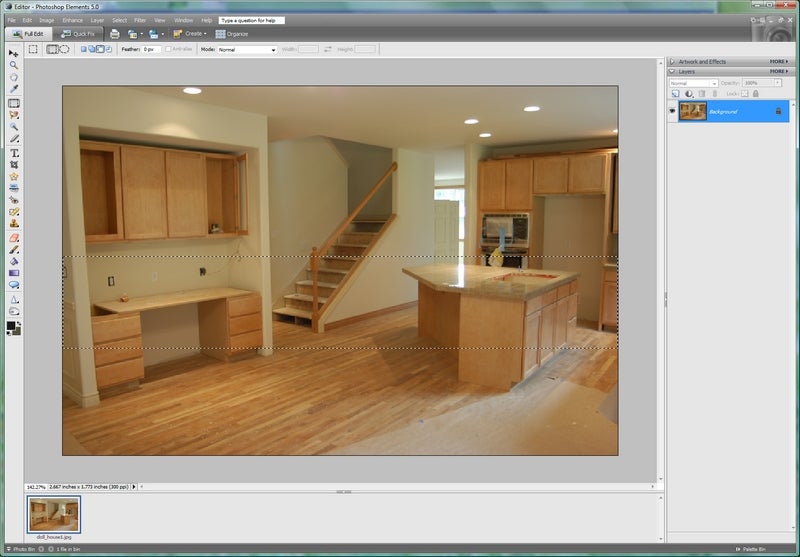 The first order of business is to select a horizontal band in the photo that represents the section of sharpest focus. This is where the camera would be focusing if you were shooting a miniature version of the scene in macro mode. To do that, select the Rectangular Marquee tool (fifth cubby from the top in the toolbar) and drag it across the screen just below the middle.
Now we want to select everything in the photo except that section, so choose Select, Inverse from the menu. We can't apply a smooth gradient to the photo, but we can keep the selection from being quite so abrupt. Choose Select, Feather, and set the feathering to about 25 pixels. Click OK.
The amount of feathering you choose will vary depending upon the size of the photo. For larger photos, you'll want to experiment with larger values.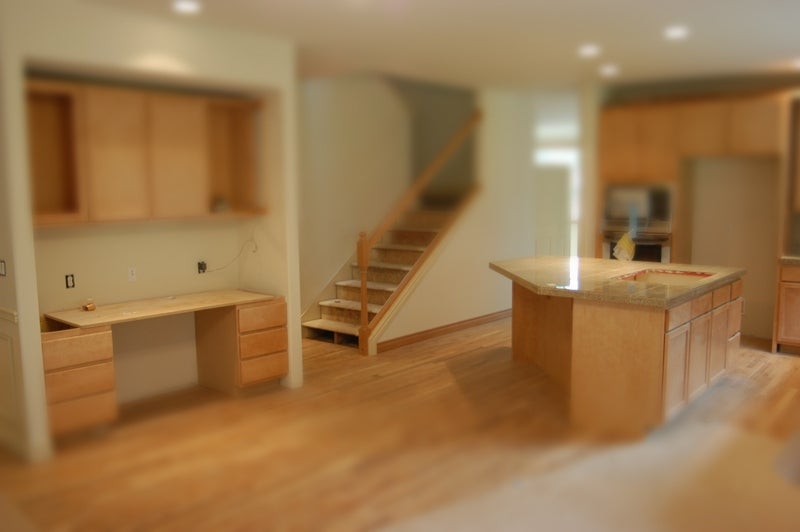 We're almost done. Now choose Filter, Blur, Gaussian Blur, and set the level to 4.0. (Again, you'll want to use more blur on larger photos.) Click OK, then turn off the selection (choose Select, Deselect). Click the image on the left to see what I ended up with.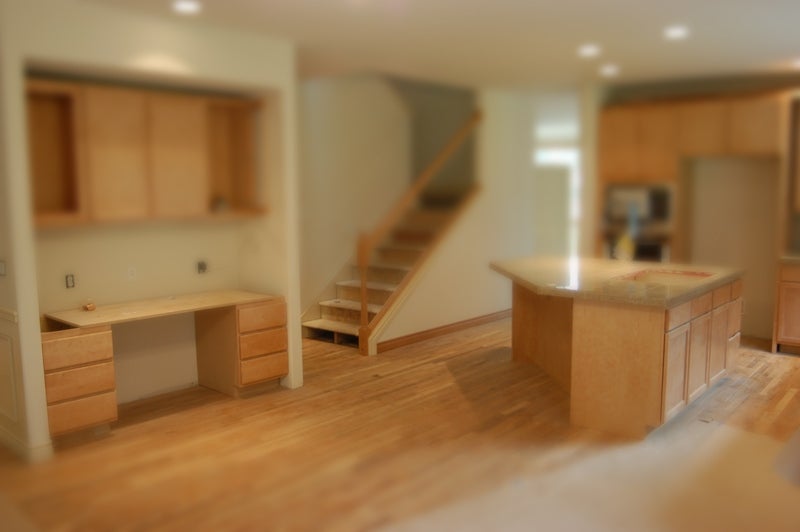 That's not bad–it definitely has a doll house vibe. I especially like the way the blurry stairs look tiny and fake, as if they were made of balsa wood. Best of all, it's reasonably similar to the version I made in Photoshop CS3, using a real gradient mask (see the image on the right).
Hot Pic of the Week
Get published, get famous! Each week, we select our favorite reader-submitted photo based on creativity, originality, and technique. Every month, the best of the weekly winners gets a prize valued at between $15 and $50.
Here's how to enter: Send us your photograph in JPEG format, at a resolution no higher than 640 by 480 pixels. Entries at higher resolutions will be immediately disqualified. If necessary, use an image editing program to reduce the file size of your image before e-mailing it to us. Include the title of your photo along with a short description and how you photographed it. Don't forget to send your name, e-mail address, and postal address. Before entering, please read the full description of the contest rules and regulations.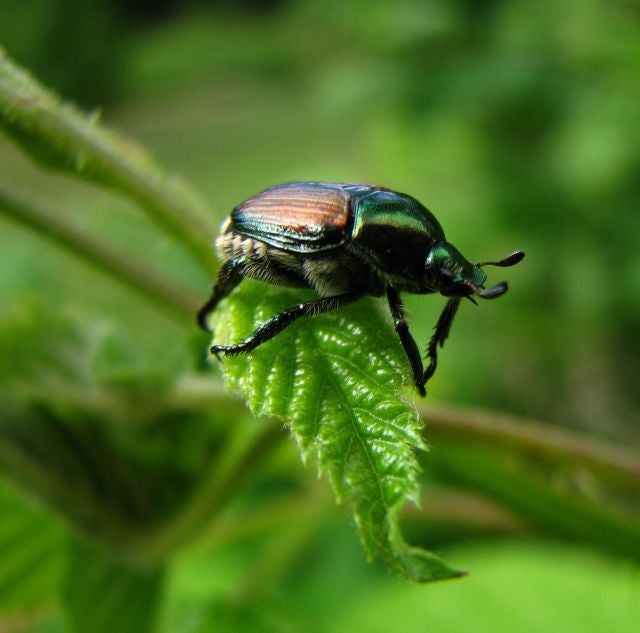 This Week's Hot Pic: "Japanese Beetle," by Cynthia Farr-Weinfeld, Portland, Maine
Cynthia writes: "I really liked your column on macro photography. I am really into it myself right now, and am very lucky to have an amazingly good macro feature on my Canon S3 IS. I took this image in July, at the height of the invasion of Japanese Beetles. We get thousands of them all over my grape leaves. This coppery little beetle looked so menacing and scary when I took the close-up that I instantly loved the picture. It was an overcast day, which seems to work better when photographing these shiny insects, because you get all the luster of their exoskeleton colors without the glare of bright sun."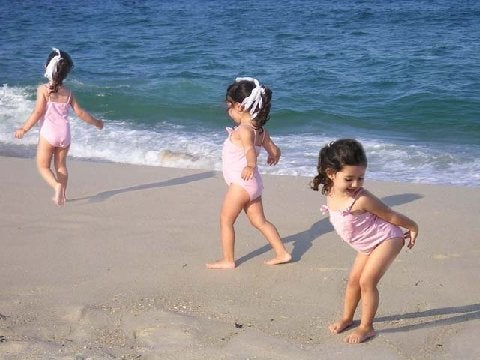 This Week's Runner-Up: "Imaginary Friends," by Diana Orlando, Edison, New Jersey
Diana writes: "I took numerous photos of my granddaughter on the beach one afternoon, all within a few minutes. The shadows on the east coast are terrific at that time of day. I decided to combine three of the photos into one, using Layers in Adobe Photoshop Elements. Needless to say, when presented with the finished photo, my granddaughter was thoroughly confused!"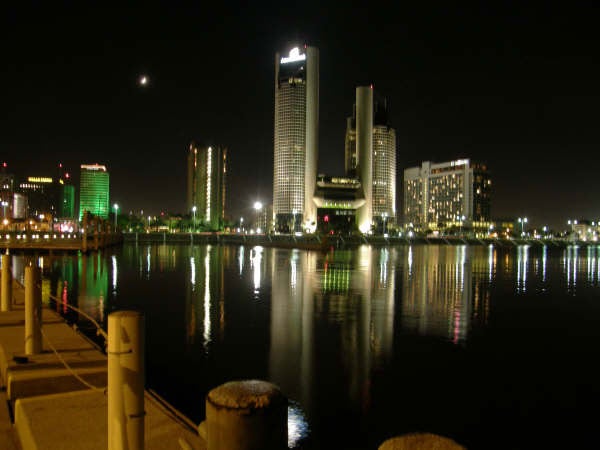 Each month we choose one of our weekly winners to be the Hot Pic of the Month. For October, we chose "Corpus Christi at Night," by Karen L. Flores from Corpus Christi, Texas.
Congratulations to Karen and to everyone else who won a Hot Pic of the Week last month. To see all the Hot Pic winners for October, view the slide show. Keep those entries coming!
See all the Hot Pic of the Week photos online.