The holidays might have tapered off a few weeks ago, but I'm still paying for them. Indeed, my checkbook has an "out of order" sign on it, and my teenage daughter has offered me a short term, high interest loan to see us through the winter.
Perhaps I exaggerate a bit. But if you are in more or less the same financial shape as I am, you too might be hankering for some inexpensive ways to do more with your digital camera. So this week, let's look at some free stuff for your digital photo hobby.
Free Photo Organizer
The first stop on our Free Goodies Train: a photo organizer.
Everyone needs some way to sort, arrange, organize, and find their photos, and Windows Live Photo Gallery proves that you can get world class software without paying a dime. Available from Microsoft, Windows Live Photo Gallery is an enhanced version of the Photo Gallery that ships in Windows Vista, but it works on both Vista and XP. It has superb organizer features, including adjustable thumbnail sizes, keyword tagging, and the ability to upload photos directly to Windows Live Spaces and Flickr. My favorite feature is the integrated panoramic stitching tool.
Free Storage
Want to post your photos on the Web where you can share them with friends and family? There are a lot of sites out there that can host your pictures, but many of them charge an annual fee, or require you to purchase prints occasionally to keep from having your photo collection deleted.
Not the sites I've rounded up here; these are 100 percent free:
While none of these sites charge a fee to store your photos, they all have slightly different limits. AOL is the most flexible, offering free, unlimited storage with no strings at all. Flickr offers unlimited storage–there's no limit to the total number of pictures you can post–but the free version of the service caps the quantity of photos you can upload each month to 100MB (which is still pretty generous). Google gives you a gigabyte of photo storage to use however you like, which the service claims is good for about 4000 "standard" photos.
Free Printing
Now that you're putting your photos online, how about printing some of them for free?
I couldn't find any printing services that gave away unlimited prints for free, but then again, I didn't really expect to encounter any sites that were quite that generous. But try Snapfish on for size. When you create a new account, you get 20 free prints.
Free Photo Editors
I saved the best for last. I get a lot of e-mails from readers asking about free photo editors. After all, who wants to spend $100 on software if there's a free alternative?
I've got a few options you can try. First, Windows Live Photo Gallery has a few simple photo editing tools built in. For a step up, consider Picnik, an online photo editor with a surprising amount of photo editing muscle.
A longtime favorite of many Digital Focus readers is IrfanView, a fairly powerful, full-featured photo editor written by Irfan Skiljan and supported by donations.
Or consider the FastStone Image Viewer, which my editor heartily recommends as both fast and free.
A final option is only for the adventurous. GIMP, which stands for the GNU Image Manipulation Program, is an open-source photo editor that offers many of the same features as a powerhouse like Adobe Photoshop, but it's completely free. The interface takes a little getting used to, though.
Hot Pic of the Week
Get published, get famous! Each week, we select our favorite reader-submitted photo based on creativity, originality, and technique. Every month, the best of the weekly winners gets a prize valued at between $15 and $50.
Here's how to enter: Send us your photograph in JPEG format, at a resolution no higher than 640 by 480 pixels. Entries at higher resolutions will be immediately disqualified. If necessary, use an image editing program to reduce the file size of your image before e-mailing it to us. Include the title of your photo along with a short description and how you photographed it. Don't forget to send your name, e-mail address, and postal address. Before entering, please read the full description of the contest rules and regulations.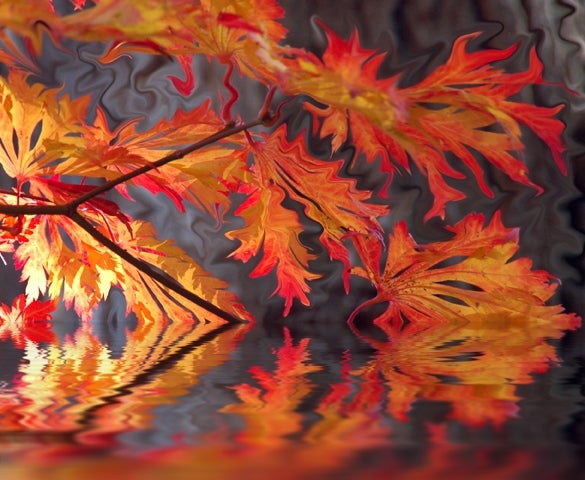 This week's Hot Pic: "Fantasy Autumn Leaves," by Terri Peatt, Sidney, British Columbia
Terri writes: "I took the photo during the peak autumn color season at Butchart Gardens in Victoria, BC. Then I used the liquefy filter in Photoshop Elements to change the shape of the leaves. Then I applied a filter called "Flood" to add the water and reflections. It has given me a whole new outlook and I'm not afraid to go beyond my comfort zone now."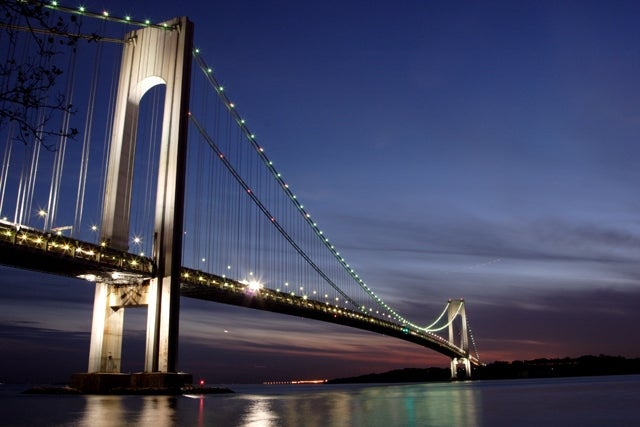 This Week's Runner-Up: "Jewel in the Night," by Charley Andrisano, Brooklyn, New York
Charley writes: "I used my Canon 20-D on a tripod to take this photo on a cold November evening. It is a picture of the Verrazano Narrows Bridge, which spans Brooklyn and Staten Island. It's a time exposure of 10 seconds at f/11, with my zoom lens set at its widest to 19mm."
See all the Hot Pic of the Week photos online.