Have you ever taken a great vacation shot only to realize later that a telephone booth obstructs the middle of an otherwise picturesque duck pond? Or that a tourist in a loud shirt is right behind your family, poised in front of a famous landmark? Thankfully, you can easily eliminate those distractions with a little digital airbrushing.
Meet the Clone Tool
I've written about how to do this before, using Corel's Paint Shop Pro. You can find a brief tutorial in " Erase Unwanted Elements From Photos."
The tool at the heart of this process is the Clone Brush, which you can find in almost any photo editing program. It lets you copy pixels from one region of your image to another. That means you can "airbrush away" distracting aspects of a picture–like power lines, unwanted people, credit card numbers, ugly dogs, and so on–by duplicating a nearby part of the image. Typically, smaller and more-isolated distractions are easier to airbrush away than larger ones, or objects that cut a swath through the main part of your picture. But if you're patient, you can get great results from photos that otherwise would be bound for the Recycle Bin.
This week, I'll show you how to clone away unwanted elements in Adobe Photoshop Elements, with emphasis on some of the tool's handier–but lesser known–options.
To get started in Photoshop Elements, click the Clone tool in the tool palette on the left side of the screen. It looks like a rubber stamp and is the fifteenth tool from the top.
Next, find a region in your image that's similar to the area you want to cover. If you want to airbrush away a power line that runs through the sky, for instance, you can look for a nearby patch of sky that's similar to the area that's obscured by the power line. This will be our "source" for the clone brush. To set the source, position the mouse pointer over it, then Alt-Click.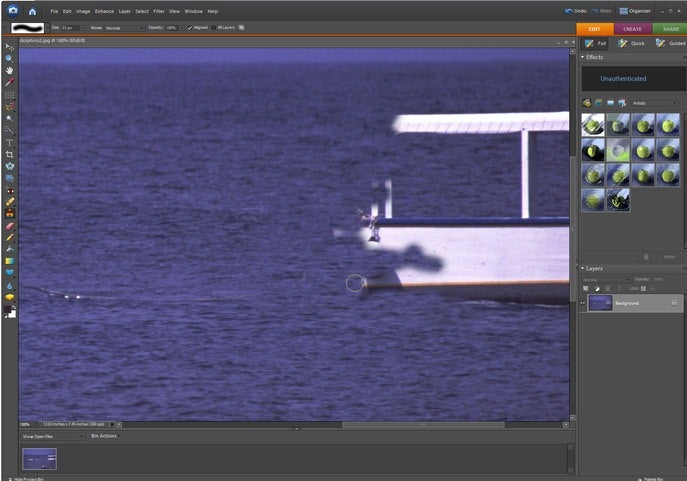 Now move your mouse over to the area you want to brush away and start painting. Don't try to cover the blemish all at once; paint a little, pick up the mouse, and paint again. This reduces the chances that a recognizable pattern will appear. You can see a work in progress in this example, where I'm cloning away a boat by painting over it with water.
Aligned or Nonaligned?
The Clone tool works best in small areas because you can start to see a repetitive pattern in the photo if you paint over too large a region.But to help you out, the clone tool has two different modes, controlled by the Aligned check box in the toolbar at the top of the screen. In one mode, when you pick up the brush and paint elsewhere, the source stays where you put it: This is called Nonaligned mode. If you pick up the brush and start painting elsewhere, and the source moves the same relative distance from where you first started, this is the Aligned mode.
It's kind of a complicated concept, but you can see what I mean if you try cloning someone's face and then painting it somewhere else in the photo. If you clone it using Aligned mode, you can paint the entire face without any glitches even if you paint a few strokes, lift and move the mouse, then click and paint again. Try that in Nonaligned mode, though, and you'll re-start the face from the clone source point wherever you click, making it impossible to paint a face unless you do it in a single set of strokes without lifting your finger off the mouse button.
Some pictures work better with one mode or the other. Experiment to see which is best in each situation.
Vary the Opacity
You can also get better results if you customize your airbrushing by changing the opacity of what you're cloning, as well. The opacity slider is in the toolbar at the top of the screen,
You can minimize abrupt changes in color or patterns but lowering the opacity somewhat, so you blend the old and the new pixels, rather than just replacing them. Generally, an opacity of about 80 percent is a good place to start, but it depends on the texture you're trying to cover and how much detail you're trying to hide–experimentation is essential.
Hot Pic of the Week
Get published, get famous! Each week, we select our favorite reader-submitted photo based on creativity, originality, and technique. Every month, the best of the weekly winners gets a prize valued at between $15 and $50.
Here's how to enter: Send us your photograph in JPEG format, at a resolution no higher than 640 by 480 pixels. Entries at higher resolutions will be immediately disqualified. If necessary, use an image editing program to reduce the file size of your image before e-mailing it to us. Include the title of your photo along with a short description and how you photographed it. Don't forget to send your name, e-mail address, and postal address. Before entering, please read the full description of the contest rules and regulations.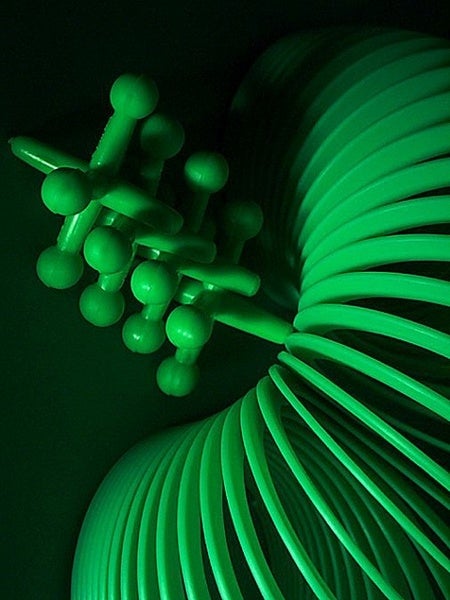 This week's Hot Pic: "Child's Play," by Grayce Pedulla Dillon, Fort Pierce, Florida
Grayce writes: "When I found these childish items in my local dollar store, I knew I had to photograph them. I set up a makeshift studio on a table top and experimented with different lighting options. Using my Kodak D6490 set on a tripod, I took plenty of shots… this is one of my favorites."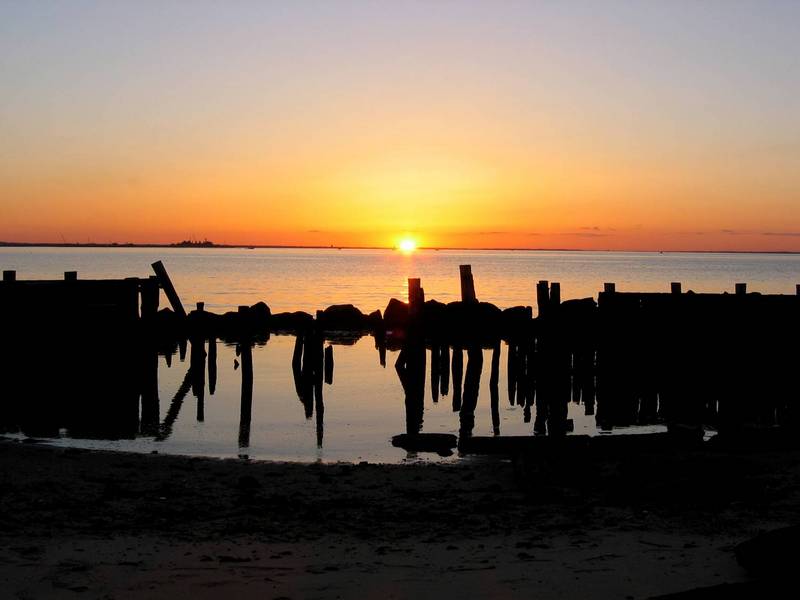 This Week's Runner-Up: "Sunset at Sandy Hook," by Lilly Hryczyk, Atlantic Highlands
Lilly writes: "I took this photo at Fort Hancock back in October. Fort Hancock is located in Sandy Hook National Park in central New Jersey. I used a Canon Powershot 80A."
See all the Hot Pic of the Week photos online.
Have a digital photo question? Send me your comments, questions, and suggestions about the newsletter itself. And be sure to sign up to have the Digital Focus Newsletter e-mailed to you each week.