If you're enough of an early adopter to have an HD camcorder as well as an HDTV and a set-top Blu-ray player, you're probably itching to create high-definition discs from your footage and present them on your big HD screen.
Sure, you could just plug your camcorder into your TV and press Play, but then you'd miss out on all the great HD features that Blu-ray has to offer. I'll show you how to trim and rearrange your clips, add chapter markers, and create an attractive Blu-ray disc navigation menu, just as you would for a standard-def DVD, as well as how to burn the discs for playback on your Blu-ray player.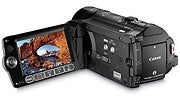 For this project, you'll need a high-def camcorder and a Blu-ray video editing application. Though it has been a long and rocky road getting to this point, most of the major consumer DVD-editing tools have been upgraded recently to support Blu-ray video-disc authoring (as distinct from Blu-ray data burning, which is a much easier task and has been widely supported for more than a year now). CyberLink PowerDirector 7 Ultra, Pinnacle Studio 12 Ultimate, Nero 8 Ultra, and Corel Ulead DVD MovieFactory 6 coupled with VideoStudio 11.5 Plus can all bring Blu-ray video to your PC for around $100 to $130 (less if you're upgrading).
You will need a fairly powerful PC to make use of such video apps, as Jon L. Jacobi's "Play HD Movies on (Almost) Any PC" indicates. Surprisingly, however, you don't necessarily need an actual Blu-ray recorder (which can cost upward of $600) to do the job. You can burn regular DVD discs in a high-def format–complete with Blu-ray menus–using a standard DVD recorder, as long as you don't mind fitting substantially less footage onto a disc.
A 4.5GB DVD can hold about 20 to 30 minutes of high-def Blu-ray video, and a dual-layer 8.5GB disc can hold up to 45 minutes. Such discs can play in many set-top Blu-ray players (see "Playing It Back" later in this story for details). Which would you rather burn, a 25-cent DVD-R, or a $10 BD-R? The price goes up to an eye-popping $50 for a 50GB BD-RE (rewritable) disc with 4 hours of HD playing time. Since most home movies tend to be relatively short anyway, burning your HD videos onto standard DVD media on the drive you already have can be a pretty sweet deal.
Of course, if you're creating an epic saga of your family's vacation adventures, you'll want a real Blu-ray burner such as the LaCie d2, which can record more than 4 hours of 1080i video from your HD camcorder to a single 50GB disc.
The editing and authoring tools for making true Blu-ray discs and Blu-ray-on-DVD discs are the same, so you can get started with the DVD recorder you have now and then upgrade to a Blu-ray recorder later, when prices for drives and media come down.
Know Your Blu-ray Formats

There are three basic Blu-ray disc formats that you need to know about.
BDAV: The Blu-ray Disc Audio/Visual format allows for HD video clips and chapters but lacks menu navigation. Instead, it plays right through.
BDMV: Blu-ray Disc Movie discs contain HD video clips and a menu for navigation, much as a commercial movie disc does.
AVCHD: Advanced Video Codec for High Definition is the new digital standard for HD camcorders. Files in this format can be burned directly to a Blu-ray disc and played in your set-top player; they do not contain navigation menus, however.
BDAV can be burned only to a true Blu-ray disc, while both BDMV and AVCHD can be mastered onto DVD media as well as BD-R/RE. Most of the consumer authoring programs mentioned here can create BDMV and AVCHD discs, which are the types we will focus on in this article.
Importing and Editing Your Video
Successful Blu-ray authoring starts in the camcorder. You can use either an AVCHD or an HDV camcorder, although the process is much quicker with AVCHD, since you can just drag recordings over from the camcorder to your hard disk. (See my guide to future-proof camcorders for buying tips.)
For either type of camera, I recommend recording in the highest quality setting (such as 1920 by 1080 resolution and 17 mbps for AVCHD, or 1440 by 1080 for HDV), but otherwise leaving it in default mode. Options such as 24p mode don't have good support in current editing software, and they may cause problems in playback too.
Once you have taken some video, it's time to edit it and to mark the start of chapters that will appear as separate clips on your finished disc. I'll illustrate the process in CyberLink PowerDirector 7, which currently has the best Blu-ray and AVCHD support of the three programs I tested.
After you've imported your clips into PowerDirector, they will appear in the media area. Simply drag them to the movie timeline in the order in which you want them to appear. PowerDirector and Pinnacle Studio 12 are complete video editing programs that let you add transitions, titles, music, voice-overs, and special effects, but at a minimum you will likely want to trim the beginnings or ends of clips and set chapter markers. Once your videos are in the PowerDirector timeline, click on any clip, and 'Split' and 'Trim' buttons will then appear.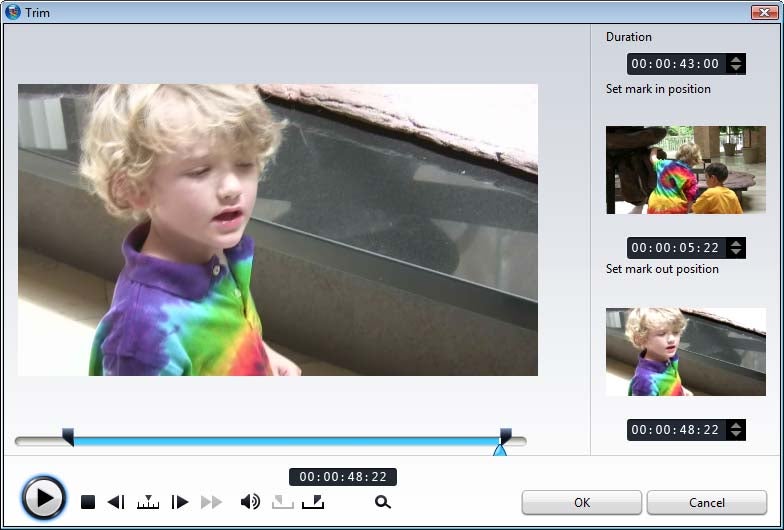 Trimming a clip is a simple matter of sliding pointers to the spots where you want your clip to start and end. If you want to delete material in the middle, first split the clip and then trim it. Play your movie back to check your edits.
After editing, set the chapter markers that will comprise the individual chapters in your Blu-ray disc navigation menu. Do so by clicking the Chapter icon in PowerDirector. You can click the Add button to add chapter markers manually at any point along your timeline, but I find it easier to have PowerDirector automatically insert a chapter at the start of each clip, under Automatic Chapter Settings; then you can quickly prune out any markers you don't want, and leave the ones you do.
Creating Disc Menus
Once you've finishing setting chapters, click the Create Disc tab in PowerDirector, and it will present you with an assortment of predesigned menu templates. Hundreds more are available online, for both CyberLink and other PowerDirector users.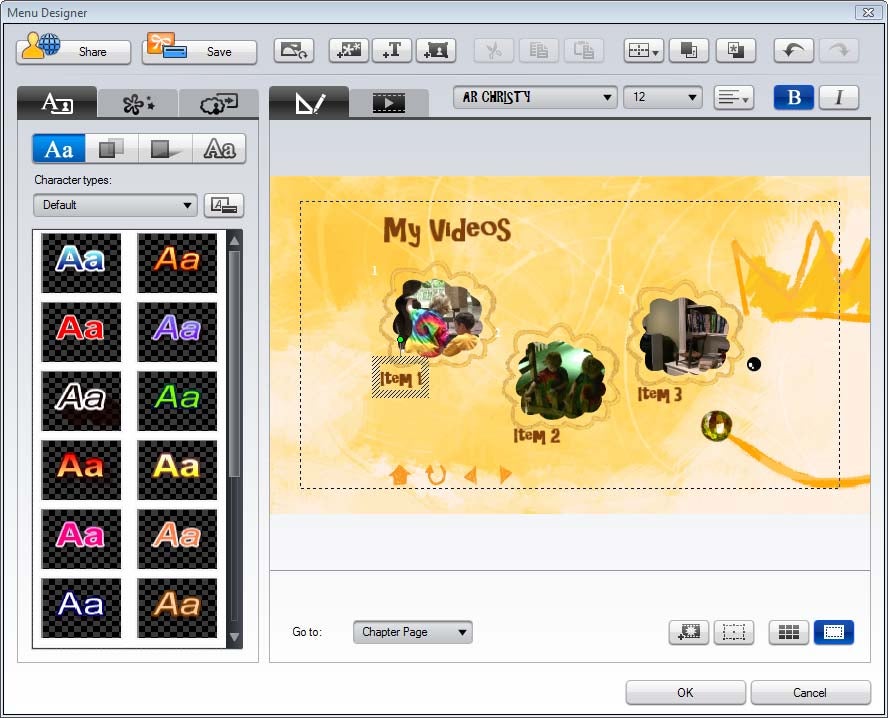 All the menu templates are fully customizable. If you select one and click the Modify button, you can change everything from the background artwork to the chapter typeface. For high-definition 16:9 discs, size the background art to 1280 by 720 pixels before importing. This part of the program is also where you'll edit the title and chapter names for your disc.
Disc Authoring and Burning
After you've finished editing and creating your disc menus, it's time to set the recording parameters and burn to disc. This is the tricky part, as it's the only step of the process where things can go very wrong. First, be sure that you have the needed Blu-ray codecs and plug-ins installed, and that your Blu-ray drive (if you have one) is attached to your PC. Most Blu-ray software requires separate registration of Blu-ray components, which happens only when you attach a Blu-ray drive and start to author with it.
Next, make certain that your output settings are at the highest quality, and that they match your source video. For example, if your source video is HDV (.m2t), confirm that MPEG-2 1440 by 1080 is chosen as the video format. Similarly, for AVCHD (.mts), choose MPEG-4/H.264 and either 1440 by 1080 or 1920 by 1080, depending on the resolution at which you recorded. If you need to mix HDV and AVCHD clips, choose AVCHD and 1440 by 1080 as a common output format.
The purpose of carefully matching your output settings with your source video is to maximize quality while minimizing the need for reencoding–a process that can take many hours. CyberLink PowerDirector has a special "smart rendering" technology that skips encoding of any portions of your video clips that have not been modified. So if all you've done is trim the ends of clips, you'll avoid most production and encoding time. By contrast, Pinnacle Studio 12 does not have equivalent capabilities, and it took more than 30 minutes to save a BDMV disc image of a tiny 3-minute AVCHD clip, even though I had not modified it at all. Pinnacle says that smart rendering is not yet implemented in Studio Ultimate for AVCHD files, although it is for HDV.
The settings box will also ask you about your disc format and media. This is where you specify that you want to burn a BDMV, and choose Blu-ray or DVD media for your project. The burn-setup box in Pinnacle Studio has similar options, plus a setting to create a disc-image folder on your hard drive as well as to burn a disc. This is a great feature, since you can go back and reburn that particular disc image, without waiting for production and encoding, at any time. You can also use the disc image as a test file, burning it only when you are satisfied that your project is perfect; this approach saves you from inadvertently cranking out a stack of expensive drink coasters.
Another way to avoid wasting expensive media: It's a good idea to use only rewritable discs until you have developed a tried-and-true workflow from camera to player.
Now that you've finished burning your Blu-ray movie to disc, you're probably ready to play it back. Whether you intend to view your discs on your computer, or on your HDTV with a Blu-ray player, you need the right gear.
For computer playback, any system capable of running one of the authoring packages discussed earlier will also be able to play Blu-ray video discs with software like CyberLink PowerDVD 8 Ultra (my favorite player). Note, however, that while you can use a DVD recorder to author Blu-ray video discs on DVD media, you can't play them back in an ordinary DVD drive. You need a Blu-ray drive in your PC for that, though it can be a BD-ROM drive, which is cheaper than a recorder.
Set-top playback of BD-R/RE and Blu-ray-on-DVD media is more hit-and-miss. The Blu-ray spec does not require players to support playback of recordable media, and support among manufacturers and models varies. For example, the specs of the Samsung BD-P1500 state that it can play AVCHD discs (high-def DVDs), but not BD-R/RE media. And the Samsung BD-P1400 is not even rated to play AVCHD. By contrast, the Panasonic DMP-PD30K specifies support for BDMV discs burned to BD-R/RE media, as well as AVCHD. That means you can play discs recorded on high-def DVD camcorders as well as those you author.
But just because a player's official specs don't mention BD-R/RE or AVCHD playback doesn't mean that it can't handle the task. Many vendors have issued firmware updates that address the issue. Before you throw up your hands, be sure you've applied any available firmware patches to your player, and research other owners' experiences on the Web. And if you haven't yet bought a Blu-ray player, you might want to test a few models in the store with the disc formats (BDMV, AVCHD) and media types (BD-R, BD-RE, DVD) you plan to use.
While Blu-ray authoring and playback are still a bit of a minefield, the right tools and hardware can greatly ease your way through, and save you huge amounts of aggravation and encoding time.