Have a question about digital photography? Don't keep it to yourself. Send it to me. I reply to as many as I can–though given the quantity of e-mails that I get, I can't promise a personal reply to each one. I round up the most interesting questions about once a month here in this newsletter.
For more frequently asked questions, read my Digital Focus newsletters from June, July, and August.
Black Backgrounds
I've seen photos in which the background is black. How do you do that with a digital camera? –Julie Finley, Salt Lake City, Utah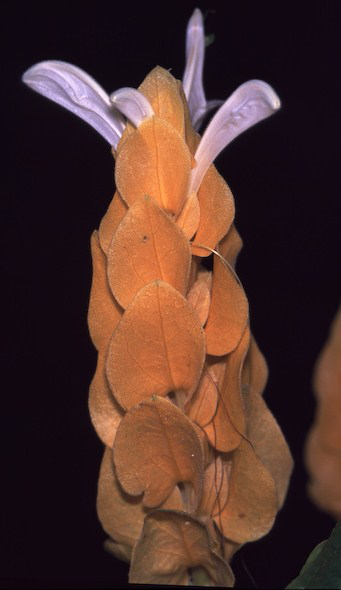 Generally, black backgrounds happen as a result of very different light levels in the photo. If your foreground is properly exposed, but the background receives a lot less light, it will appear very dark or even black in the final photo. You'll generally get this effect most easily when you use a flash to illuminate a subject at night, or when you use a flash to take a close-up macro shot, like this one.
Spot Color
Recently, I saw a photo of a young girl holding a bunch of flowers. Most of the photo was black and white, but the flowers were in full color. How can I get that effect in my own photos? –Donna, Port St. Lucie, Florida
That sort of special effect is easy to achieve in any photo editing program that supports layers. Here's what to do: Open your photo in a photo editing program and then duplicate the image in a new layer. Convert the top layer to black and white, and then use an eraser tool to selectively remove just the parts that you want to shine through from the bottom in color. For details on how to do this, read " Make Your Photos Pop with Color."
Adding Dates
I like to see the date on my photos. How do you get the date to imprint on the digital photo when printed, like old film cameras? –Lisa Glenner, Highland Springs, Virginia
Well, Lisa, I have some good news for you. Some digital cameras will stamp the date and time on a photo. Check the users guide to see if your camera has that feature. If it doesn't, you can use the text tool in your photo editing program to type any information you like right onto the photo, including the date. If that's too time consuming, you might prefer a program that will do this for you automatically. Photo Visual Time Stamp, for example, takes the date from your photo's metadata and stamps it on the image.
That said, I'd be remiss not to point out that digital image files contain metadata that holds the date and time that the picture was taken; I recommend leaving it there, where it doesn't mar the appearance of your photos. Do you really want an ugly date stamp to clutter up your precious images? You can easily use any photo organizing program to sort, search, and arrange your photos using the file's metadata without printing it on the face of the image itself.
Grainy Photos
I bought my first digital camera about a year ago. Before that, I used an old 35mm camera. I love the photos that this new camera takes outdoors, but my indoor photos are very grainy. I am so disappointed; I can't figure out what I'm doing wrong. –Von Richards, Steubenville, Ohio
Von, since your outdoor photos are good, but your indoor images are grainy, it sounds to me like your camera might be set to automatically increase the ISO in low-light situations (such as when you're indoors). Check your camera's user guide and make sure that the ISO is set to its lowest value, rather than an automatic setting that can increase unexpectedly, generating grainy photos.
It's also possible that your digital camera is just, well, kind of noisy. Many point-and-shoot cameras pack a lot of pixels onto the sensor–thus offering a high megapixel count–but generate pretty noisy photos in the process. I recommend that you read the camera reviews on PC World.com before choosing a camera, and don't let megapixel ratings alone guide your decision.
Night Action Photos
I'm a mother of a high-school football player. How can I take action pictures at night? –Beverly Folck, Ellenton, Florida
Good question, Beverly. I'll be honest: It's hard.
You need to shoot with a fast shutter speed, which is difficult to achieve in the low-light conditions at night–even under bright stadium lights, which aren't nearly as bright as they seem. To get those fast shutter speeds, you need to shoot with the fastest lens you can find. Lenses are rated by their maximum aperture, which is a measure of how much light they let in when set to their biggest f/stop. That probably means using a digital SLR rather than a point-and shoot-camera, so you can choose a fast lens for your football photography. Check out " Demystifying Lenses" for more information about selecting the right lens for action photos.
In addition, you might also want to increase the camera's ISO setting so you can get the best possible shutter speed. Finally, for best results, mount the camera on a tripod. You can leave the tripod head loose so you can easily pan around to follow the action while still getting significantly steadier shots. Read " Panning for Action Gold" for more action photo tips.
Hot Pic of the Week
Get published, get famous! Each week, we select our favorite reader-submitted photo based on creativity, originality, and technique
Here's how to enter: Send us your photograph in JPEG format, at a resolution no higher than 640 by 480 pixels. Entries at higher resolutions will be immediately disqualified. If necessary, use an image editing program to reduce the file size of your image before e-mailing it to us. Include the title of your photo along with a short description and how you photographed it. Don't forget to send your name, e-mail address, and postal address. Before entering, please read the full description of the contest rules and regulations.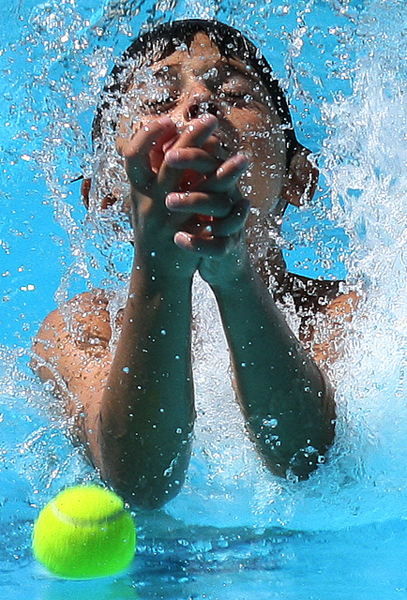 This week's Hot Pic: "The Catch" by Amotz Zakai, Los Angeles
Amotz writes: "I shot this at a pool party with a Canon EOS Digital Rebel using an 80mm lens. I took a bunch of pictures looking for the right shutter speed until I took this one at 1000/second."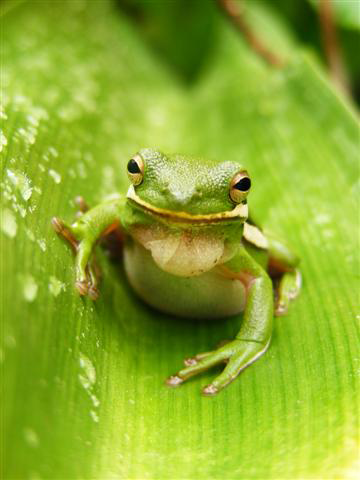 This Week's Runner-Up: "Close-Up in Green," by Jocelyn Grace Hyers, Blackshear, Georgia
Jocelyn writes: "I had just received my Fuji Finepix S700 for my birthday, and I was out in my flower garden snapping photos of insects and frogs. This American Green Tree Frog was more than willing to sit through several shots."
To see all of September's winners, visit our slide show. See all the Hot Pic of the Week photos online.
Have a digital photo question? Send me your comments, questions, and suggestions about the newsletter itself. And be sure to sign up to have the Digital Focus Newsletter e-mailed to you each week.