Is it inspired art, a promotional gimmick, tech run amuck or some combination? It will be interesting to see — literally — what emerges from the CNN-Microsoft plan to create the most recorded moment in history when everyone witnessing the presidential inauguration is invited to snap and share a photograph of the event, which will be stitched together to create a commemorative 3D portrait.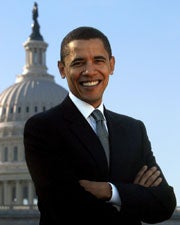 The project uses Microsoft's Photosynth technology, introduced more than two years ago as technology developed by the Live Labs research group. The software combines multiple images of the same scene, stitching them together in a somewhat abstract 3-dimensional rendering that viewers can rotate and observe from many angles. The more images, the truer the result.
Photosynth became a bit more accessible only this summer, when Microsoft made the application available online and invited anyone to submit photos and manipulate them. The inauguration offers a unique opportunity to stretch its capabilities, since hundreds of thousands of amateur photos may be submitted to create the Photosynth image.
Attendees are asked to capture the moment that Barack Obama raises his hand to take the oath. Photographers with zoom lenses may take three shots, from wide-angle, mid-zoom, and full-zoom. Then, e-mail the images "as soon as possible" to themoment@cnn.com (one photo up to 10MB in size per message). Contributors may include their name for the compilation.
This mass participatory photograph invokes the same spirit we've seen throughout this campaign, election, and inauguration: it touches and involves diverse people at a deeper level than has occurred for some time in American politics. It also seems fitting that the candidate who uses a BlackBerry and really took advantage of technological tools — from active Web 2.0 campaign and transition sites to YouTube addresses and text-messaging campaign correspondence — should in turn be memorialized in a way that was never previously possible.
If you're lucky enough to be an on-site witness to history, check out the instructions on CNN.com and snap away. If, like most of us, you'll be watching on one of the many media options, you can check out the result of this on-the-scene group effort at CNN.com/themoment.