Scrapbookers sometimes arrange overlapping photos into an artful design. This is easy to do with printed photos on paper, but not as simple when the images are digital. Of course, arranging photos into an ordinary grid is pretty easy–I showed you how to do that in " Make a Collage of Your Favorite Photos."
This week, I'll show you two ways to manipulate a group of images into some sort of graphic. First, we'll use Photoshop Elements (though you can apply the technique to almost any photo editing program), and then with a free program designed for exactly this kind of thing.
Make a Collage in Photoshop Elements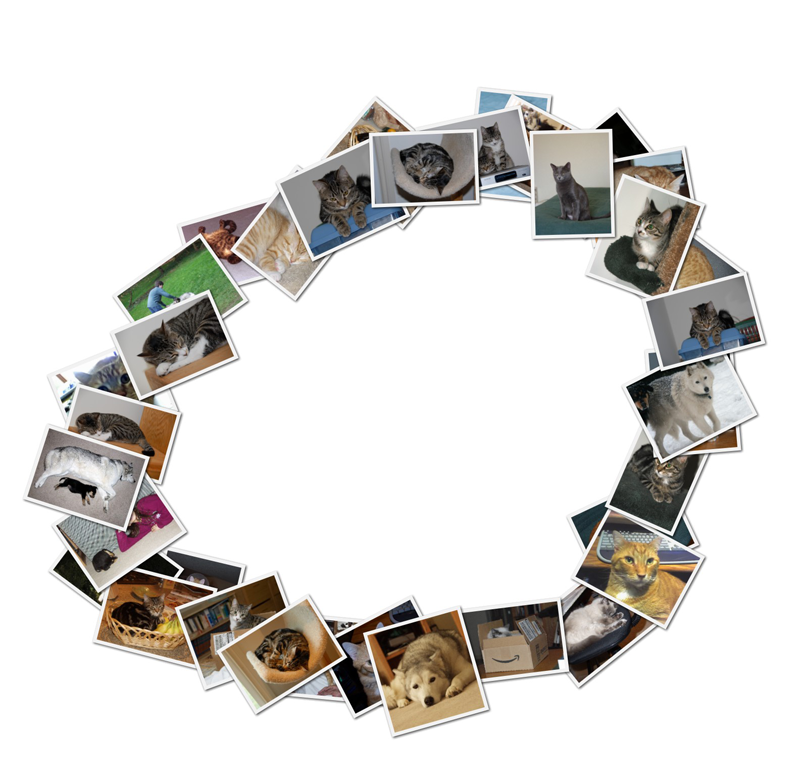 Let's suppose you're trying to create a simple image like this one, in which a bunch of digital images appear to be overlapping and scattered around the page. It's easy to do, but, as you'll see, just a little tedious.
Start by creating a blank page in Photoshop Elements. Click File, New, Blank File, and then, in the New Dialog box, specify a page size. I suggest creating an 8-by-10-inch canvas for your masterpiece, but you can make it any size you like.
Next, open some image files in Photoshop to incorporate into the collage. For the sake of this experiment, you don't need many–maybe between six and ten. You should see them lined up in the Bin at the bottom of the screen.
Double-click the first photo in the Bin. When you do that, you should see it appear in the main working area. We want to copy this image as a new layer into the blank page, so press Ctrl-A to select the entire image, and then choose Edit, Copy from the menu.
Next, find the blank page in the Bin and double-click it so it appears in the working area. Click Edit, Paste. The photo should now cover the blank white page, and you'll see it appears as a layer in the Layers palette on the right side of the screen as well. If the resolution of the photo is very different from the resolution of the blank page, the photo might appear larger or smaller than the canvas. That isn't important–we're about to fix that.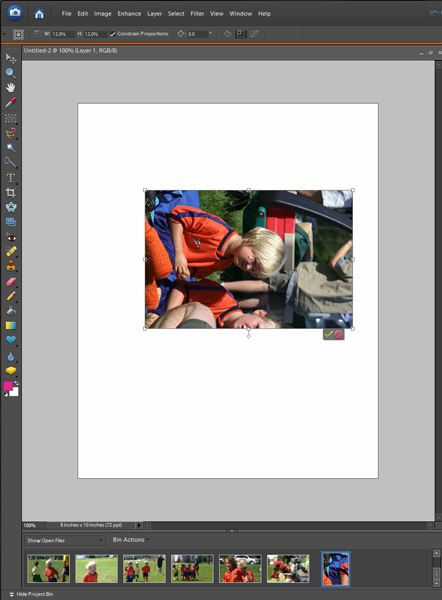 Select Image, Resize, Scale from the menu. Grab the photo by a corner (you might have to grab the upper-left corner, if the image is much bigger than the visible canvas) and drag it to the desired size. When it looks about right, click the check mark on the photo to accept the change.
After you set the size of the image, you can rotate it. Move the mouse over any side of the image, and you'll see curved arrows that let you spin the photo to any orientation. Turn it and click the check box. You can continue to size, rotate, and move the photo around the canvas until you're satisfied.
Lather, Rinse, Repeat
Like many of my tutorials, finishing this one is now little more than doing that first step over and over. In this case, you'll want to double-click the next photo in the bin; copy and paste it into the white page; and then size, rotate, and position it to taste. Lather, rinse, and repeat until you're done.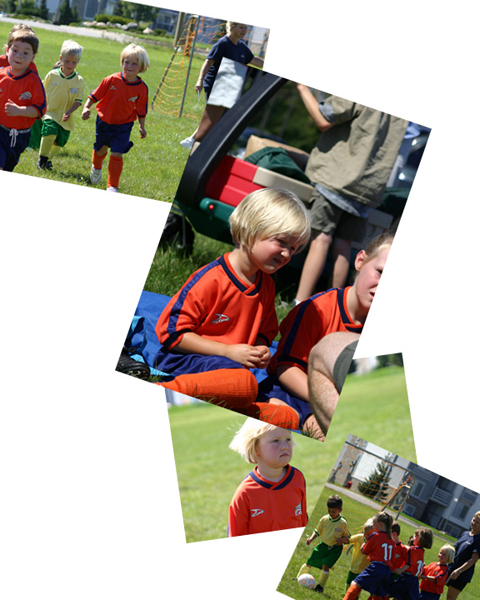 If you want to move specific photos on top of others, so you can control how they overlap, just drag them around in the Layers palette on the right side of the screen. When you're done, you might end up with something like this.
There are other things you can do to enhance this collage as well. To make it look more like the example I showed you at the beginning, for example, you could add a drop shadow to each photo in the collection (see " Make Photos Jump Off the Page with Drop Shadows.")
Get Sophisticated With Shape Collage
Now you know the hard way to make a collage (but doing all the work yourself is rewarding, isn't it?). Let me show you an easy way. You'll want to download a program called Shape Collage, available for free (though the author accepts donations). The program is easy to use: Just drag a set of photos into the Shape Collage window, then specify the shape of the collage that you want to make.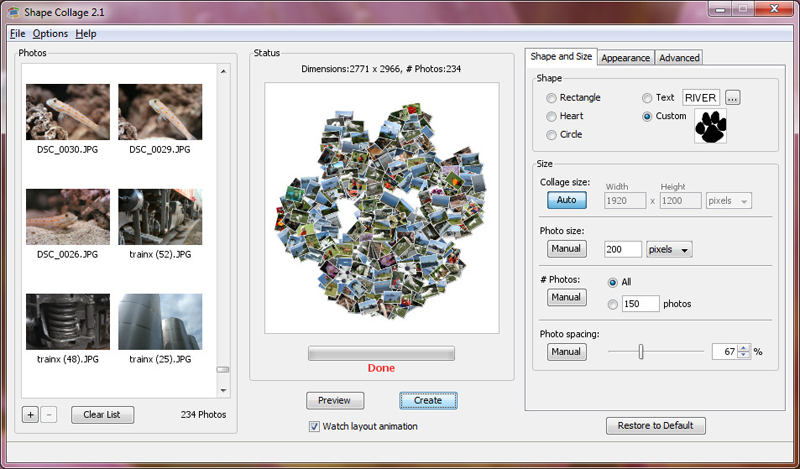 You can choose from among some simple shapes, such as a circle or a heart, or you can make the collage take the form of some text.The Custom option lets you build a shaped collage from a photo (images with extreme contrast, like pure black and white, work best). You can even just sketch a shape to collage with the built-in mini-paint program.
Shape Collage is easy to use and the results are so cool that you'll probably get addicted (as I did) to making lots of collages based on shapes and pictures just to see how they turn out.
Hot Pic of the Week
Get published, get famous! Each week, we select our favorite reader-submitted photo based on creativity, originality, and technique.
Here's how to enter: Send us your photograph in JPEG format, at a resolution no higher than 640 by 480 pixels. Entries at higher resolutions will be immediately disqualified. If necessary, use an image editing program to reduce the file size of your image before e-mailing it to us. Include the title of your photo along with a short description and how you photographed it. Don't forget to send your name, e-mail address, and postal address. Before entering, please read the full description of the contest rules and regulations.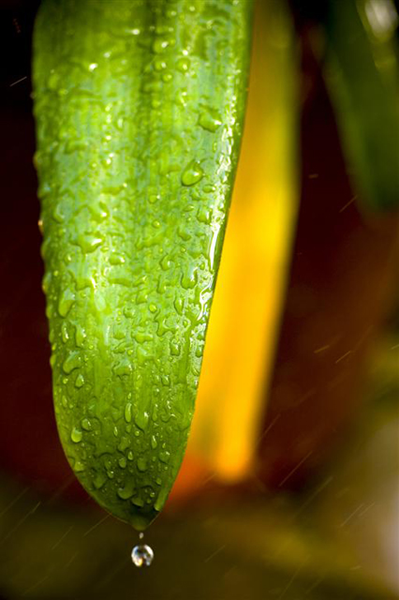 This Week's Hot Pic: "Weeping Chlorophyll," by Tyler Cordaro, Huntington, New York
Tyler says: "I caught these droplets just as the sprinklers came on outside of the main house of a local arboretum. I used a Nikon D50 and a 60mm f/2.8 lens."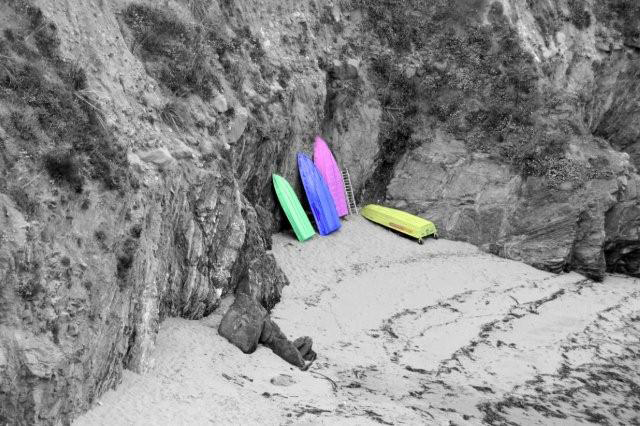 This Week's Runner-Up: "Boats on the Shore" by Greg Makin, Laguna Hills, California
Greg writes: "We stopped to look at the Pacific Ocean on a drive down the California coast, just south of Big Sur. These boats seemed to be abandoned on the beach in a small cove below Pacific Coast Highway. I don't know how they got there, or even how anyone would get down to them. They were old and a dirty grey, so I converted the photo to black and white and colored the boats to make them stand out."
To see last month's Hot Pics, visit our slide show. See all the Hot Pic of the Week photos online.
Have a digital photo question? Send me your comments, questions, and suggestions about the newsletter itself. And be sure to sign up to have Digital Focus e-mailed to you each week.