Looking to make your PC run faster and with fewer problems? That's the promise made by Advanced Vista Optimizer 2009 ($35, 15-day free trial), which despite its name works with Windows XP as well as Windows Vista. The program offers a comprehensive set of tools for doing everything from optimizing your CPU and memory to better managing programs that launch at startup, to cleaning junk files, protecting your privacy, and more.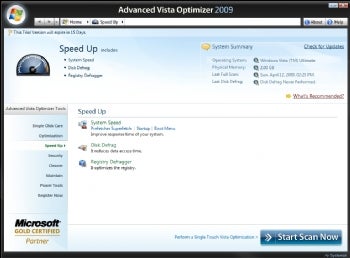 All the modules are well-designed and simple enough to use so that you don't need to be an expert to take full advantage of them. Advanced Vista Optimizer takes a wizard-like approach to system cleanup and optimization, clearly walking you through each step. It also includes a nice single-click care feature that scans your system for problems and speedups, and then does them all for you automatically.
There's only one drawback to this program: its price. At $35, it's not cheap. Some free programs — such as Advanced SystemCare Free — perform similar tasks, although they don't offer as comprehensive a set of tools as does Advanced Vista Optimizer 2009. (However, Advanced System Care Pro offers a similar feature set to Advanced Vista Optimizer, and costs only $20). You'll have to decide for yourself whether you're willing to pay the extra freight for the extra features compared to a similar free program, or $15 more compared to Advanced System Care Pro.