Apple makes a big deal about how the iPhone can protect your privacy and security. But the company takes your physical safety just as seriously. Over the years, Apple has introduced a host of features meant to help you out in a dire emergency. Some you probably know or have heard about, others feel like lesser-known secrets.
Here are some of the most important physical safety features of your iPhone and how to use them. They may seem optional, or even annoying, but someday one of them could literally save your life.
Contact emergency services without dialing 911
Perhaps one of the simplest things your iPhone can do to keep you safe is to call emergency services. But it's not always easy to just call 911. For those instances when you can't take your phone out of your pocket or bag, or need to call quietly, Apple has made it possible to do so.
First, open Settings, then scroll down to Emergency SOS. You'll see several options there.
By default, your iPhone will call emergency services when you press and hold the side button and either volume button down. A loud alarm will sound and the screen will flash, and a countdown will start to give you time to swipe on your screen to cancel. When the countdown is over, release the buttons, and emergency services will automatically be called.
Some people with certain disabilities may find that gesture difficult, so the Call with 5 Button Presses option lets you rapidly press just the side button alone five times to start the countdown. Your iPhone will automatically call when the countdown ends.
The loud siren might be desirable, but in some situations, you might put yourself in more danger by alerting people nearby that you are calling for help. So you can enable a Call Quietly feature. The countdown will still take place on your iPhone's screen, but it won't flash and the siren will be silenced.
Foundry
Let first responders know your medical stats
In the Health app, you can set some emergency medical information called Medical ID that can contain important medical information such as chronic conditions you may have, drugs or interactions, and an emergency contact.
This information can be displayed during an emergency call or made accessible even on a locked iPhone. So if you get in an accident, a first responder can see if you have any special conditions or are on any medications that could affect your treatment.
To set it up, open the Health app, then tap your profile picture in the upper right. Tap Medical ID, and then Edit.
Get critical government alerts
Depending on where you live, your iPhone may be able to send out special alerts from your national or local government in the case of a pending emergency or disaster. This could be an AMBER alert (which helps find abducted children) or a public safety alert for something like an evacuation order.
Open Settings, then Notifications. Scroll all the way down past all your applications to find the Government Alerts section. This will be a little different in every region, so peruse your options here, and look in the menus to adjust visual notifications and sounds.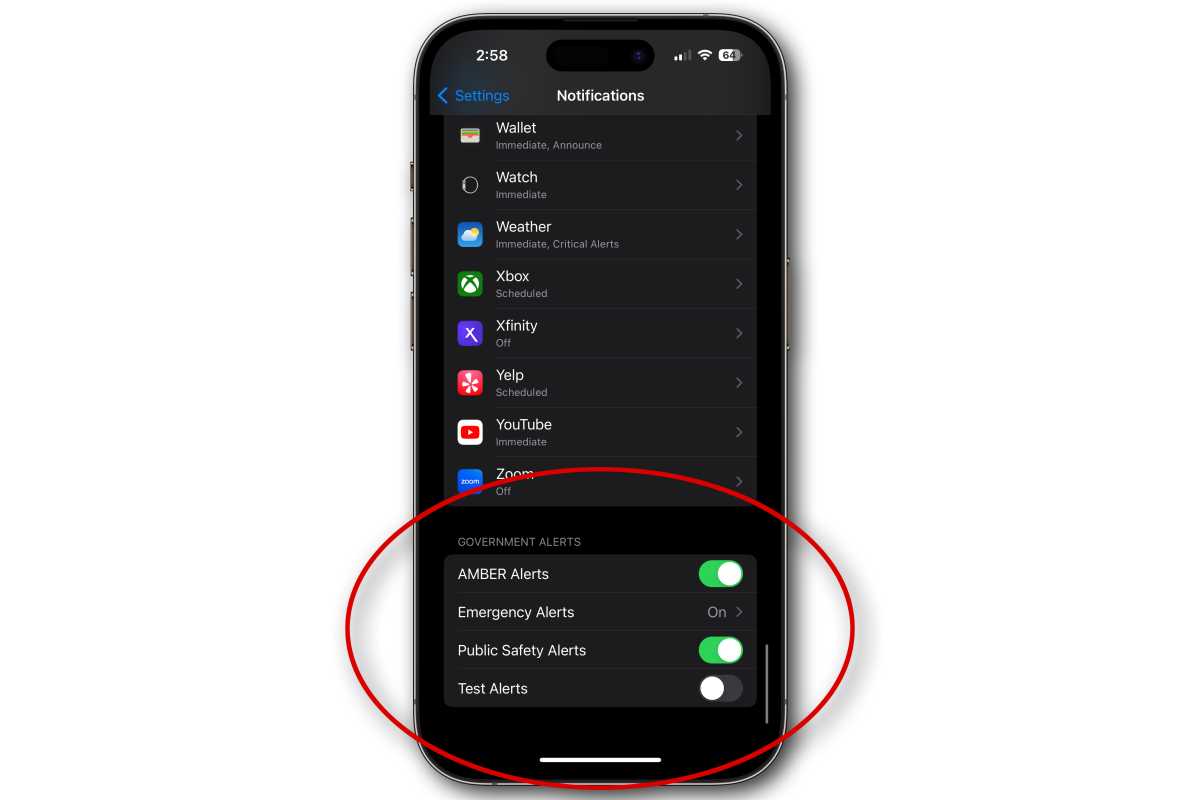 Foundry
Eliminate distractions while driving
Distracted driving kills over 3,000 people a year and injures hundreds of thousands more in the U.S. alone. Apple used to have a dedicated "Do Not Disturb while driving" feature, but in iOS 15, Apple introduced a new "Driving" focus that turns on automatically when your phone detects that you're driving–using input from your accelerometers and things like looking for a Bluetooth connection to a car infotainment system or CarPlay connection.
When in this mode, your notifications will be silenced. If someone messages you they'll get an automatic reply that tells them that you're driving, but they can "break through" and notify you in an emergency. To turn it on, open Settings, then select Focus. If you don't see the Driving focus there, tap the "Add" button (+) in the upper right.
Of course, all of this is optional and configurable. You can choose to let certain notifications through or messages from certain contacts. You can choose to silence all your phone calls and send them straight to voice mail or allow your favorite contacts through.
Contact emergency services without cell reception
You'll need at least an iPhone 14 running iOS 16.1 or later to use this feature, but it can turn your iPhone into a real lifeline if you're in an area with no cell reception. Open Settings then Emergency SOS and scroll to the bottom to see an Emergency SOS via Satellite section. You can try a demo of the feature there.
There's nothing to set up, really. If you place an emergency services call (911, 999, or 112 for example) and it fails to connect, you'll see a prompt to try a satellite connection. You'll get a few broad questions about the nature of the emergency, to keep the text as short as possible. You'll have to point your phone at a satellite and keep it there (on-screen prompts will guide you).
If your local emergency services can't receive texts, an intermediary service will literally call them for you and relay your information.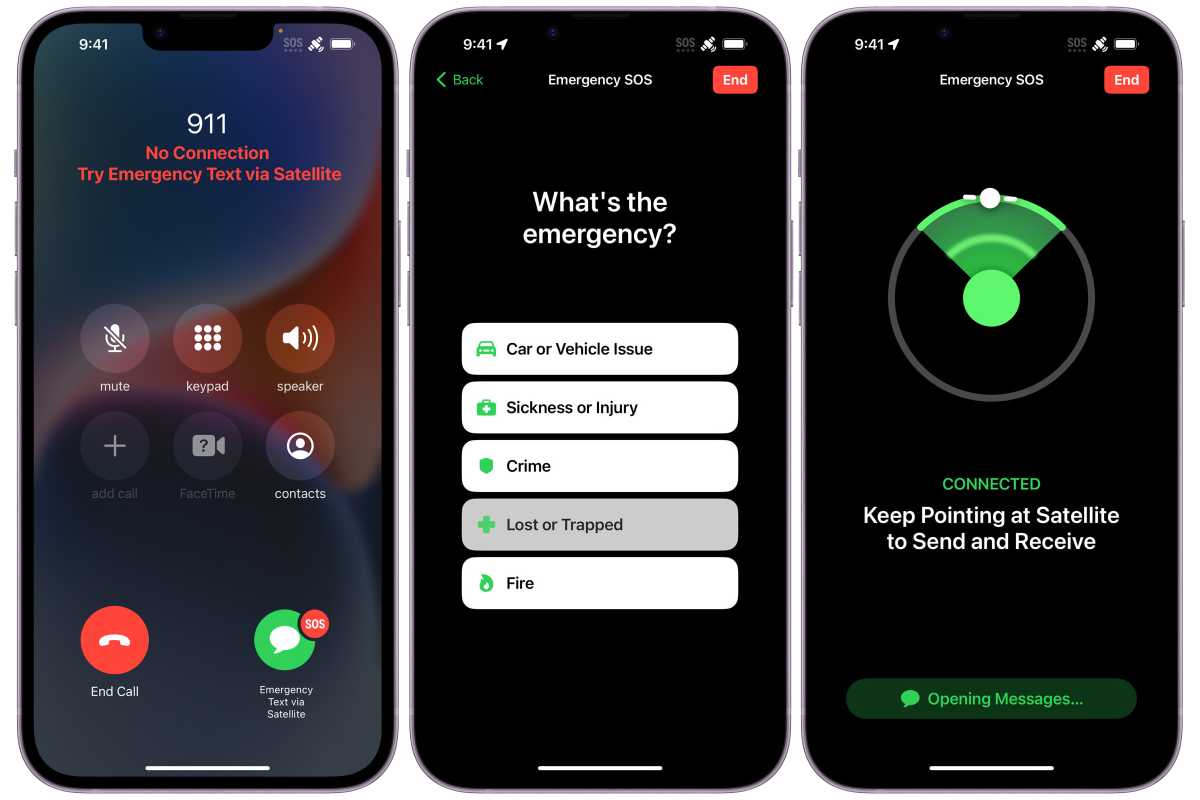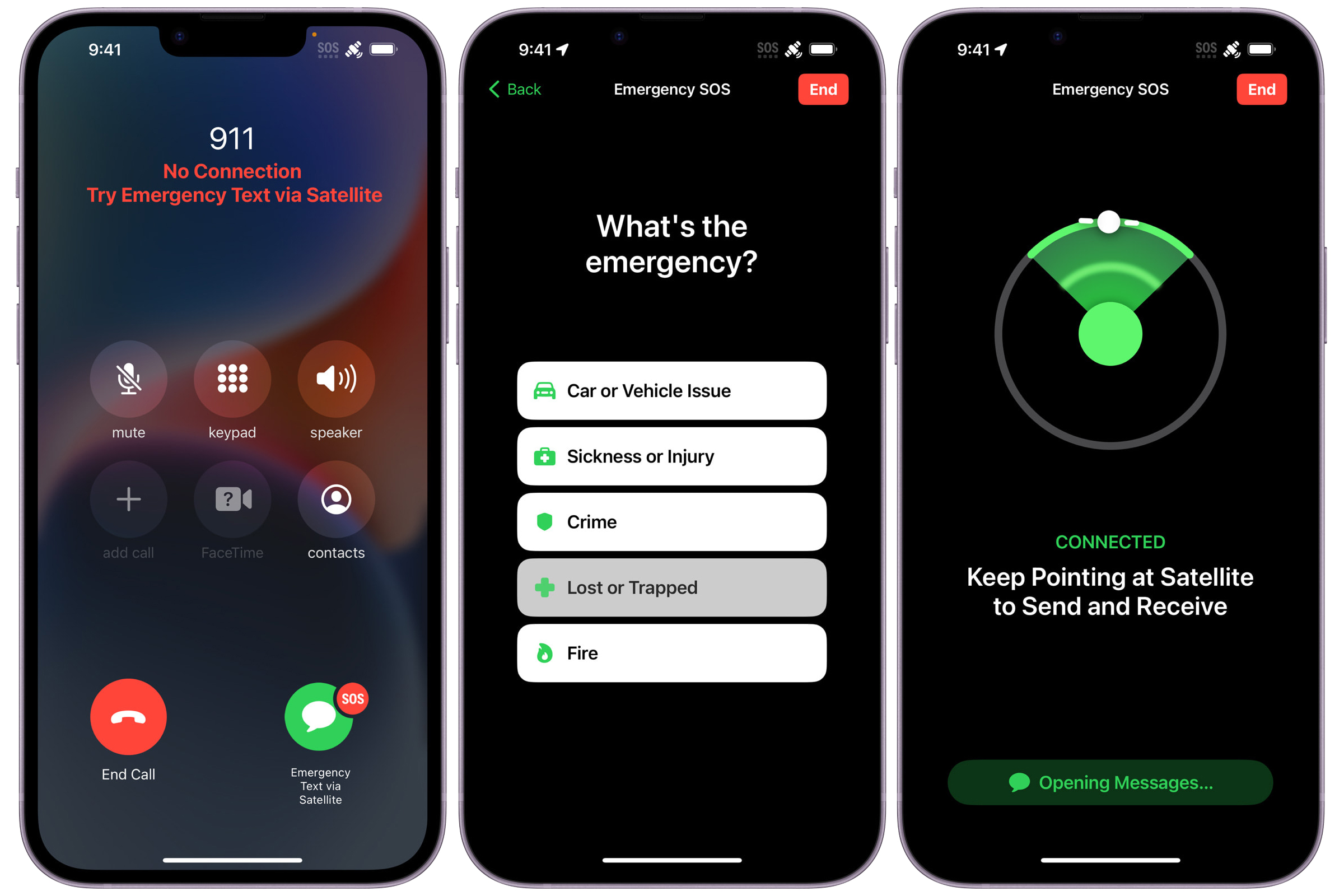 Apple
Automatically contact emergency services after a crash
Also a feature of the Apple Watch Series 8, Ultra, and SE, the improved accelerometer and gyroscope sensors Apple added to those devices and the iPhone 14 line allows them to detect if you've been in a car crash. You'll find the toggle for this setting in Settings > Emergency SOS.
There have been some reports of false positives, with the iPhone calling emergency services when users are skiing or riding roller coasters so there are times when you might want to turn it off. However, it's also already proven to be a life-saving feature.
Make an emergency call if you can't unlock your iPhone
Perhaps you've been in an accident and are having trouble unlocking your iPhone. Or your iPhone has been destroyed and can't be reached. Whatever the reason, you can make an emergency phone call from a locked iPhone.
Swipe up on a locked iPhone–when Face ID fails (or if the iPhone has Touch ID) you'll see the number pad to enter the owner's passcode. Simply tap "Emergency" in the lower left to get the phone keypad. In some areas, you can even call emergency numbers including 911, 999, or 112 without a SIM activated at all.
This dialer will also show Medical ID in the lower left if the phone's owner has set it up. If you're using someone else's phone who was also in an emergency, you might want to tap that to see if they have any special medical conditions or a listed emergency contact you can call.