Forget the new Nano, or the reinvention of the LP record, Apple's two biggest announcements this week were features hidden inside iTunes 9. We finally get to share iTunes music between computers and have new control over iPhone menus.
Previously, moving iTunes music around has required a separate application, such as Senuti.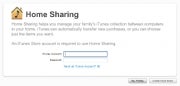 iTunes' new Home Sharing allows up to five PCs to share their music libraries as their owner desires. My huge library of old-time radio programs can now live on my largest hard drive and get copied to and from my laptop, as I desire. Likewise your music collection,
New purchases can also be automatically copied across multiple machines, solving the challenge of needing to make all your iTunes buys on a single piece of hardware.
In terms of convenience for current users, Home Sharing is clearly Apple's biggest announcement of the week. Probably of the year.
Home Sharing is not perfect, however, as all five machines must be on the same network and tied to the same iTunes account. That keeps you and your spouse from sharing music and also doesn't support sharing between home and office computers. Still, this is way better than what we had.
But, there's more: The new release also makes it possible for me to arrange my iPhone's application menu screens in a logical manner. That was vaguely possible on the iPhone itself previously, but with 30-50 apps at any one time, I never got the result I was seeking.
Thanks to iTunes 9, my iPhone "home" apps screen how includes the applications I use most often, with later pages categorized by the type of application (weather, news, reference, etc.) each contains.
As for iPhone 3.1 software, the only real differences I've noted are those necessary to support other new features in iTunes 9. Not a major release.
Top 10 " Web Blowhard" David Coursey tweets as @techinciter and can be contacted via his Web site.