Steve Jobs has reportedly taken personal charge of the forthcoming Apple tablet, working to get the details right while aiming for a 2010 launch. Meanwhile, overtime in the Apple TV group, plus last week's price cut, suggest a new model could be here soon.
I should say the "presumably" forthcoming Apple tablet, which sources inside Apple say is getting their Maximum Leader's personal and special attention. Jobs apparently sees the device as too important to have a less-than-exciting launch, so it will miss the holidays and launch in 2010. Presumably not at MacWorld.
Apple TV, which itself enjoyed a less-than-exciting launch, appears on-track for a refresh. I am a tad concerned about the timing for this if units are going to be available in quantity in time for the holidays. Sources tell me the Apple TV teams–hardware and software–have been putting in a lot of hours lately. How that translates into a ship date has yet to be revealed.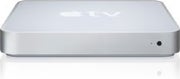 There are some (like in the linked story above) that believe the price cut works against the notion of new hardware in 2009. I disagree, thinking a 160GB model (now at $229) opens the way for the 500GB, even 1TB models, that customers really need at higher price points.
Already dominant in music, Apple could use Apple TV to become a total home entertainment leader. Apple offers an online content store, enhanced content such as iTunes LP, and networked sharing to PCs and TVs.
What's missing? Apple TV as a gaming console and, some have suggested, wireless speakers, ideally with the capability to select from multiple audio streams that could be offered by the various Macs, iPods, and Apple TV units connected to the wireless network.
I find the tablet rumor credible. Believe Apple is about to get serious with a new Apple TV, and hope that Apple TV will make it out in time for Christmas.
David Coursey tweets as @techinciter and can be contacted via his Web site.