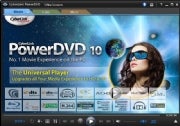 CyberLink's PowerDVD 10 Ultra ($100, as of April 28, 2010), the most powerful and stable DVD and Blu-ray movie player available, offers an array of new features in the new version. The biggest boost, however, comes from 3D support.
The most immediately noticeable change from PowerDVD 9 involves the new version's interface. Across the top of the player, just under the menu you'll now find three tabs: Movies, Video, and Music. The Movies section covers DVD and Blu-ray discs; Video keeps track of video files on your hard drives; and Music lists MP3 files and the like. The music and video sections panes appear as file browsers. For some reason, video files play over the file browser, meaning that you can't browse files while a video is playing. Another issue throughout is the user's inability to adjust the width of the columns in the otherwise attractive file browsers. And finally, the program is slow to enumerate files when you browse a media-filled folder.
In recent years CyberLink has produced a number of nice-looking but unfinished interfaces (as in its PowerDirector app), and PowerDVD 10 continues the trend. Still, the issues I've noted don't negate the PowerDVD 10's advances in overall usability, thanks the app's improved interface design for workflow and for access to options.
In view of the program's broader file support, CyberLink now touts PowerDVD as a universal player. The company has added support for Real Media (I used the Real Alternative codec, which worked fine), as well as .mkv, .flv, .3gp, and .3g2 files. Unfortunately, it had trouble playing some of the media I threw at it. For example, while the progress bar indicated that my test .flv file was playing, I saw no video; and another .flv file crashed the player, too. In this regard I should note that .flv is a wrapper that may contain any various video CODECs; my files were encoded with Sorenson Spark h.263. CyberLink subsequently informed me that PowerDVD 10 supports only h.264, not VP6 or h.263, but that limitation doesn't excuse the crash. The player also failed to recognize my Ogg Theora files, even with a DirectShow filter installed.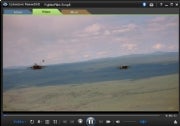 Aside from the .flv glitches, playback was excellent. I can't imagine a better picture from a software or hardware player. Behind the scenes–or via controls that you can adjust–PowerDVD offers a host of image enhancement tools: TrueTheater HD, which upscales 480p video to 1080p with modest success; TrueTheater Motion, which increases frame rates to smooth HD pans; and TrueTheater Lighting, which compensates for excessively dark scenes. New in this version is TrueTheater Image Stabilizer, which mimics the image stabilization that many DV cameras use to compensate for shaky hands or platforms. In my tests, this features worked fairly well. You can now use all of the TrueTheater effects with more media types, as well as with nVidia CUDA and ATI Stream hardware acceleration.
The most interesting new feature is its ability to upscale 2D to 3D. The results were passable, though early 3D-encoded content does appear sharper. A free upgrade (not yet available) will fully support the 3D Blu-ray titles coming this summer.
PowerDVD Ultra 10 adds some fresh social features, too, such as uploading videos to YouTube; integrating with Windows 7 library; and sharing comments via Twitter, Facebook, and Moovielive.
The addition of 3D makes PowerDVD Ultra 10 a worthy upgrade, and other enhancements round out the application nicely. Don't expect to see a dramatic improvement in performance, however, unless you require support for the new media formats or the image stabilization technology for your camcorder video files.