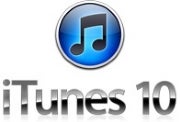 Apple on Wednesday introduced a social-aware version of iTunes, celebrating ten years of the jukebox and storefront software. iTunes 10 features a slightly revamped interface and a social networking feature called Ping, a combination of Facebook and Twitter, dedicated to music lovers.
The new iTunes 10 features a sleeker interface, with light gray icons, relocated controls, a new library view interface, and a lighter color scheme. Click the thumbnail below to zoom on the picture and see highlights of what changed in iTunes 10.
iTunes 10 brings a bonanza of new features, both for the software itself, and for the iTunes Music Store. You can now rent HD TV shows from for just $0.99 per episode from ABC, Fox, Disney and BBC America, and Apple hopes more network will join the fray later on.
When you rent an HD TV show episode you have 30 days to watch it from the moment your rented it, and 48 hours after that to finish watching it. The episodes can also be played on iPhones and iPod touches, and the new Apple TV. The caveat is that you will have to install the new iOS 4.1(jailbreakers beware) to watch the rented shows.
One of the most notable additions to iTunes 10 is a social feature called Ping, which Steve Jobs described as a combination of Facebook and Twitter, with a twist for music fans. The feature is exclusive to iTunes jukebox software users and lets you post your status (like on Facebook or Twitter), and artists and band have their own pages (like on Facebook) to update fans following them with their latest news.
Ping will let you see what music your friends/followers are listening, making the discovery process easier. You will also get a personalized top 10 list of songs and albums your friends are downloading from iTunes.
Apple tried to avoid any privacy fiascos with Ping, so it will ask users to opt in to use the feature, which also lets you share concert listing with your friends. Ping will also be available to users of iOS devices, and works with iPhone 3G, iPhone 3GS, iPhone 4, and second, third and fourth generation iPod touch. No iPad support has been announced so far.
Another new cool feature in iTunes 10 is music streaming to wireless speakers (via WiFi), without the need of extra hardware (like the now-outdated AirPort Express). Apple said a few companies would introduce products that can play music streamed from iTunes libraries out of the box. Some of the brands named were JBL, Denon and iHome.
iPhone, iPod and iPad users will also appreciate faster syncing times with iTunes, Apple claims. There is a new capacity bar that displays the space left on your iOS device in real time as well.
Lastly, Apple took the chance to brag about some stats about the iTunes ecosystem. The company says there are 160 million iTunes users in 23 countries, and claims digital music sales are on track to outnumber CD sales this year (hence why the CD was removed from the classic iTunes icon).