At a Glance
Expert's Rating
Pros
Native AVCHD clip editing.
Sceneline edit mode good for casual editors.
Lets you create and burn DVD projects within the application.
Stores, ranks, and tags video files with the Elements 9 Organizer.
Cons
Casual editors will run up against complexity quickly.
Crashes while importing iPhone videos.
Rendering required for best playback.
Spacebar for play/pause doesn't work everywhere.
Lack of expected interactivity and responsiveness from the interface for a Mac application.
Our Verdict
With the exception of folks who haven't had their shots, just about everyone who has a video capture device is desperate to go "viral"–to have their video to become so wildly popular that everyone knows its title by name. Adobe's Premiere Elements 9 video editor ($100, $140 for Plus version; prices as of September 21, 2010) may not help your videos get a million views in a day, but it does have a few new features that might induce Mom and Dad to watch them, anyway.
The video-focused complement to Photoshop Elements 9, the new version of Adobe's image-editing application, Premiere Elements 9 lets you easily upload finished videos to Facebook (the program first acquired YouTube-upload capability in Premiere Elements 8).You can't send your freshly edited video directly from Premiere Elements to Facebook, however; instead, you must save it, return to the Elements organizer (a separate application), find the video, and then use commands in the organizer to upload the video. It's easy to do once you're in the organizer, and the process works very well, but I'd rather use a more consistent interface, so I wouldn't have to remember to use YouTube in the editor and Facebook in the organizer.
Similarly, though Elements 9 has a new import dialog box for handling video from Flip camcorders and from digital SLRs, you have to remember that the mechanism is in the editing application, not the organizer. It doesn't really matter, though: You can import video into the organizer, too, or you can simply connect your camera and wait for Adobe's stand-alone import application, which monitors such connections, to pop up. And that application imports the video into the…organizer, I think. It's tough to keep track when the applications look so similar and have randomly overlapping duties.
DVDs Without the Discs
One nifty new feature is the ability to create Web DVDs, which are high-quality online movies with DVD-like menus. Create the menus in the Premiere Elements 9 editor, choose a still image and a soundtrack for the opening menu, and then specify chapter points or tell Elements to create them automatically. When Elements is done producing the movie, it uploads it to Photoshop.com, Adobe's online sharing site. Web DVDs have a few advantages over regular videos–the opening menu interface looks and sounds slick (if you choose a good soundtrack), and the ability to fast-forward to chapter points in the video means your viewers can fast-forward to scenes they want. And unlike a real DVD, your video can be in high definition (DVDs are limited to standard resolution).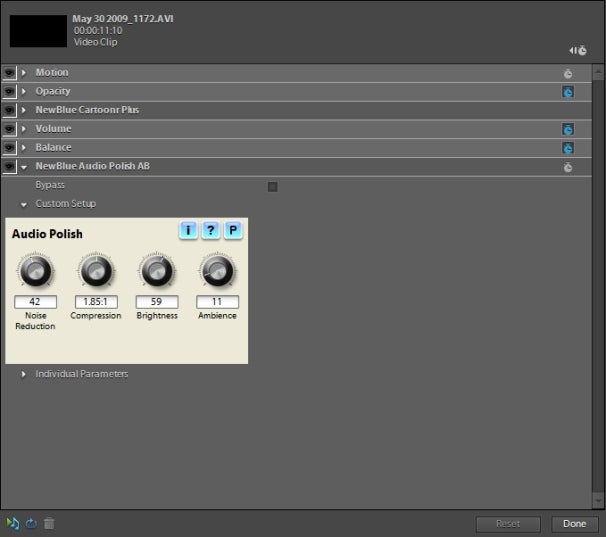 Premiere Elements 9 has some additional editing capabilities to help with audio problems. Six new audio effects–Audio Polish, Auto Mute, Cleaner, Hum Remover, Noise Fader, and Noise Reducer–are mostly automated tools designed to solve common issues. As with any filter, the results they produce depend on the quality of the video, the severity of the problem, and your willingness to tweak beyond the default settings. I tried the tools with a few types of audio, including music transferred from old vinyl records, singing from decades-old acetate recordings, and audio captured with my digital SLR, and I wasn't too impressed with the effects at their default settings; often they reduced the clarity of the audio as they were reducing the amount of hum, pop, and hiss. But if you pick the right effect–I had the best luck with the Audio Polish–and play with the settings enough, you can improve the audio quality. Just don't drop it onto your soundtrack and expect Carnegie Hall.
Adobe says that Premiere Elements 9 is optimized for high-definition editing, and I had no real problems editing HD footage, except that I had to wait while my relatively powerful PC processed the footage. Premiere Elements 9 does not take advantage of certain graphics cards to speed things up, as its big brother Premiere Pro CS5 does, and Elements 9 remains a 32-bit application, whereas Premiere Pro CS5 is now a 64-bit application that can take advantage of larger amounts of system RAM.
I like using Premiere Elements 9; I think it's a good value for the money, and I consider it the best of its ilk. But I sure wish Adobe would rethink how its organizer works with its editing applications. Trying to keep straight which application does what is harder than remembering where I left my keys.