RealPlayer, the venerable ( if oft-maligned) multimedia playback software is back with a new beta. With the http://copa.pcworld.com/tools/sitemgmt/tulips2/editarticle.asplatest version of the software–it's number 14, but is simply being called RealPlayer–RealNetworks has enhanced the player's mobile capabilities, smartly taking aim at Android, BlackBerry, and Nokia phones that lack the native media syncing solution that Apple's iPhone and iPod enjoy with iTunes.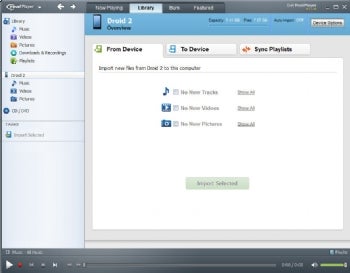 The new RealPlayer beta app is free, but is ad-supported; you'll see–and hear–a video ad every time you launch the app. Luckily, the ads are not mandatory viewing, as they close automatically when you navigate away from the "Featured" tab that displays them.
RealPlayer's other tabs–Now Playing, Library, and Burn–are where the real action takes place. When you navigate to the Library tab, you can have RealPlayer search your computer for media files (including music, videos, pictures, downloads and recordings, and playlists) that you'd like to manage. The interface is straightforward, and a welcome change from the visual clutter of the Featured tab that greets you when you launch the app.
All of the tasks you'd expect from a multimedia manager app are available in RealPlayer. Once your media files have been added to your library, you can play them back, edit their info, create playlists, and so forth. You can use the Burn tab to create CDs or DVDs, and can print jewel cases for your discs, if desired. The Now Playing tab works just as you'd expect, as it lets you view the content that's currently playing.
Where the new RealPlayer differentiates itself is through its ability to help you manage your mobile devices. While the previous version of the app let you transfer files to your mobile device, the new RealPlayer works in the opposite direction too, adding the ability to transfer media files off of your mobile device and into your RealPlayer library. In my tests of a beta version, this feature worked as promised.
When you connect your mobile device to your computer, RealPlayer recognizes it as an additional source of content, and asks you to identify the make and model. I tested RealPlayer by connecting a Motorola Droid 2 smartphone to my PC, and was disappointed to see that this relatively new phone wasn't yet available as an option on Real's list. RealNetworks says they update the list every six to eight weeks, and notes that the Droid 2 should be available as an option by the time the new RealPlayer is out of beta at the end of October. Since the Droid 2 wasn't an available option, I selected its Motorola sibling, the Droid X. You're asked to identify your mobile device in case you'd like to convert any of your PC files for viewing on the handset, so by selecting the similar Droid X, I was able to convert files without a problem.
When your mobile device is connected, RealPlayer adds it to your library, where you can view its information in a panel that runs down the left side of the player's window. I was disappointed to see that the app didn't identify it by name; instead of calling it a Droid X (as I'd expected), it simply identified my phone as J:. Real says this is likely the name used by the Windows shell, and notes that you can rename it easily enough. While this is true, I had hoped to see the app identify my phone by name, much the way iTunes does with my iPhone.
RealPlayer will identify any new music, video, or image files on your connected phone or audio player, and allows you to transfer them right to your PC. This process worked seamlessly in my tests, and provided one of the easiest ways of managing an Android phone that I've experienced yet. In addition, you can sync playlists and can transfer files to your mobile device–now by just dragging and dropping the file to your phone. And if the file isn't compatible with your device, the new RealPlayer, like previous versions, will give you the option of converting it and then syncing it.
You can use the new RealPlayer with an iPhone or an iPod (and you will see both of these devices listed by name in the player's menu of available mobile devices), but the experience isn't quite the same. Your iPhone or iPod will not show up in your Library as a connected device, but you will be able to convert files and copy them to the iPhone. The app also lets you add them right to your iTunes library, which is a nice touch. Still, the new RealPlayer is not a true media management solution for Apple's device; iTunes itself is a much better option for that.
The new RealPlayer retains the handy features found in previous versions that let you upload files directly to sites like Facebook and YouTube. You also can choose to download video files from Web sites directly to your RealPlayer library. These are all nice touches, but not enough to make RealPlayer a must-have. But if you own an Android, BlackBerry, or Nokia phone, however, and have been looking for a free and easy way to manage its multimedia files, the new RealPlayer will make your life a whole lot easier.