It's hard to believe, but Windows 7 is just turning one year old. And what an impressive first year the operating system enjoyed, receiving almost universal praise from critics and users alike. Of course, even the most nimble, secure, and versatile OS has room for improvement. That's why we're following up our popular " Best Windows 7 Downloads" with another assortment of essential apps and utilities, all designed to help you make your 7-powered PC even better. And believe it or not, they're all free.
(If you're already looking to grab several of these useful utilities, see our "Must-Have Windows 7 Downloads" collection for all of the links in one convenient spot.)
Home Sweet Home: Windows 7 Desktop Utilities
BatteryBar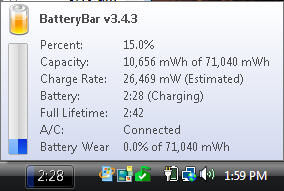 Although each version of Windows has improved on laptop power management, Windows 7 still doesn't tell you much about your actual battery. BatteryBar does. This ingenious tool adds a full-time power gauge to the taskbar, one that shows you either a percentage of battery life remaining or the amount of run time left. A single click toggles between the two readings.
When your laptop is running on AC power, BatteryBar switches from green to blue and shows how long until your machine reaches a full charge. And when you mouse over the gauge, a pop-up window displays a wealth of additional information: total battery capacity, charge/discharge rate, AC status, and even a lifetime estimate based on historical charge/discharge data.
BatteryBar is free, but you'll also find a Pro version with features such as a graph of battery profiles, low/critical power warnings, and automatic power-scheme switching that kicks in when you move between AC and battery power. Interestingly, developer Osiris Development lets you choose the price you want to pay for Pro: $1 to $10. Even if you stick with the free version, though, this is a must-have app.
Download BatteryBar | Price: Free; Pro version $1 to $10
Dexpot
Virtual-desktop software provides an inexpensive and effective productivity boost, giving you the rough equivalent of a second (and third, and fourth) monitor without any extra hardware. Dexpot is one such program, and a recent Windows 7-oriented update makes it even better.
Specifically, a new plug-in called SevenDex displays thumbnail previews of your desktops when you mouse over its taskbar icon, thereby overcoming a common problem with virtual desktops: remembering what's where. For instance, did you leave Word running on Desktop 2 or Desktop 3? Instead of having to cycle through all your desktops to find what you're after, now you can just steal a glance at SevenDex's preview thumbnails and then click the one you want.
If your budget (or your desk) won't accommodate a second monitor, you'll love Dexpot. It's open-source software, and it's free for personal use.
Download Dexpot | Price: Free
Taskbar Items Pinner
Ever wish you could pin more than just programs to the Windows 7 taskbar? With Kishan Bagaria's aptly named Taskbar Items Pinner, you can: It lets you add a wealth of goodies to the taskbar, everything from your Pictures folder and Printers menu to individual files, folders, and even Websites.
After extracting this tiny app, make sure to run it under the administrator account (by right-clicking the icon and choosing Run as administrator). Then just click the box next to any item you wish to pin. If it's a file or folder, click the button next to Path, choose File or Folder, and then navigate to the item you want. (Alternatively, you can type in a Web address.) In the Icon field, type %SystemRoot%system32SHELL32.dll, and then enter a number in the adjoining field (3 for a folder, 13 for a Web shortcut–you'll have to experiment to find others). Finally, click Add Item. If you ever decide to remove any of these newly added extras, right-click the appropriate taskbar icon and choose Unpin this program from taskbar.
Download Taskbar Items Pinner | Price: Free
Digging Deeper Into Windows 7: Utilities for Security and Peripherals
Microsoft Security Essentials
Windows 7 comes with all the security tools you need for safe computing–except one. It has a robust firewall, spyware protection courtesy of Windows Defender, and phishing and malware blockers built into Internet Explorer 8. The only missing piece of the puzzle? Virus protection. And that's exactly what you get from Microsoft Security Essentials.
The tool provides a real-time blockade against viruses, spyware, and other threats. It works quietly and unobtrusively in the background–in fact, the only time you'll hear from Security Essentials is if it detects a problem or needs an update. I've used it for months, and I've found it effective at catching the occasional intruder; its impact on system performance is negligible, too. If you're tired of paying annual fees for other antivirus software, Security Essentials is, well, an essential alternative.
Download Microsoft Security Essentials | Price: Free
Right-Click Extender
If there's a red-headed stepchild of the Windows feature set, it's the right-click context menus. Few users seem to bother with them–perhaps because they don't know the menus are there, but more likely because the menus don't include the features that users want (like, say, Copy To and Move To commands for files and folders, and shortcuts to Control Panel or Task Manager on the desktop).
With Right-Click Extender, you can add those and other handy shortcuts to Windows' context menus. The utility divides its options into four main headings: File/Folder, Desktop, Drives, and MyComputer, each indicating which set of right-click menus you're modifying. Within File/Folder, for example, you can add items such as Administrator Command Prompt, Open with Notepad, and the aforementioned Copy To/Move To. Desktop options are mostly shortcuts to commonly used programs and functions, like Device Manager, Paint, and Hibernate PC. For many of the additions, you have the option of making them appear only when you hold down the Shift key while right-clicking–it's great if you want to keep them as "secret" menus that stay hidden to other users.
Download Right-Click Extender | Price: Free
WizMouse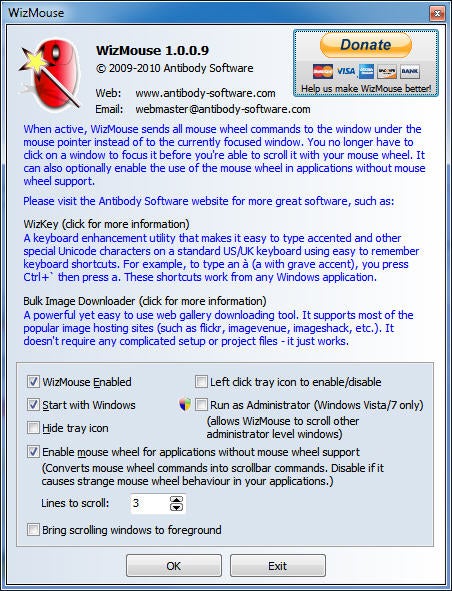 Windows 7 may be smarter than every version of Windows that came before it, but it's still a little challenged in one key area: mouse-wheel scrolling. Though logic would dictate otherwise, you can't just roll your cursor inside a window and start scrolling–it doesn't work. Instead, you have to click in that window first, to bring it into "focus."
Antibody Software's WizMouse overcomes that Windows whoopsie by making your mouse's scrollwheel work wherever you point your cursor–no preliminary click necessary. That may seem like a tiny improvement, but you won't believe how much easier it makes your everyday Windows life.
As a bonus, WizMouse gives you the option of adding wheel-scrolling capabilities to programs that ordinarily don't support it. Note to Microsoft: Buy Antibody Software's code and add these functions to Windows 8, okay?
Download WizMouse | Price: Free
Beyond the PC: What Windows 7 Can Do With Devices, Other PCs, and the Web
Windows Live Mail 2011
In designing Windows 7, Microsoft famously cleaned house, eliminating assorted programs that were once built into the OS. Among them was Windows Mail (which, prior to Vista, existed as Outlook Express). As a result, Windows 7 lacks an e-mail client out of the box.
Thankfully, Windows Mail lives on–you merely have to download it. Through the newly minted Windows Live Mail 2011, you can manage not only your mail accounts (as many of them as you want, including those from third-party services such as Gmail and Yahoo Mail), but also your contacts and calendar. You do so though a stylish, intuitive Ribbon interface that's similar to the one in Outlook 2010; it's a vast improvement over the bland, awkward toolbar found in the last iteration of Windows Live Mail.
In other words, Windows Live Mail 2011 is kind of like Outlook Lite–or, dare I say, Outlook Express.
Download Windows Live Mail 2011 | Price: Free
Windows Live Mesh 2011
If you use more than one computer, as most people do nowadays, wouldn't it be great to have access to the same documents, MP3s, photos, and other files on all of them? That's the idea behind Windows Live Mesh 2011 (the direct descendant of Windows Live Sync), which automatically keeps all your stuff synchronized between two or more PCs.
Windows Live Mesh is a set-it-and-forget-it program–after you install the software on your PCs, sign in to your Windows Live account, and choose the folder(s) you want to sync, you're done. It works in the background, copying files back and forth when your machines are online. You also have the option of syncing selected folders to your Windows Live SkyDrive, which allots 5GB of free storage and lets you access your data online instead of just on your chosen PCs.
In addition to files and folders, Mesh can sync Internet Explorer favorites and Microsoft Office styles, templates, e-mail signatures, and other settings. It even permits you to connect remotely to other computers that are part of your Mesh network.
Download Windows Live Mesh 2011 | Price: Free
ZumoCast
ZumoCast turns your PC into a kind of media server, giving it the ability to stream music, video, and files to any other PC–or even to your iPhone, iPod Touch, or iPad. (Android support is coming soon.) It neatly overcomes a major problem for mobile devices: limited storage space. Plus, it's really cool.
After installing developer Zecter's ZumoCast client on your PC (it's available for Macs, as well) and creating an account, choose the items you want to make available. By default the software pulls from Windows' Documents, Pictures, Music, and Video folders, but you can just as easily add any other folders.
As long as you leave the PC running, you'll be able to access that media elsewhere. You can listen to music on your work PC, play videos on your iPhone, grab documents on your iPad, and so on. The free ZumoCast app even lets you download selected files to your device.
ZumoCast is perfect for storage-strapped devices, or for any PC that doesn't have all the media housed on your other computer.
Download ZumoCast | Price: Free