1. Bose Sound Dock
Bose has long been known for producing great stereo sound in a compact box–no wires, no detachable speakers. It's not surprising that the company's SoundDock lives up to the standard set by its earlier products. Simply plug your iPod or iPhone into the dock–which also functions as a charger–click the little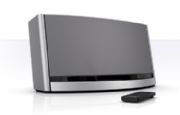 remote and you've got great sound.
The SoundDock has an input for connecting a tuner or other device. The remote works fairly well to navigate through the playlists and so that you probably have on your iPod, though sometimes it's easier to make selections manually. The only downside is that the reproduction is so good it makes me wish I'd been saving my digital songs with less compression to increase the quality. Bose sells the SoundDock for $269.95, but if you look around, you can find it for less.
2. Monster iCarPlay Wireless FM Transmitter/Charger for iPod
This sturdy and affordable little gadget is absolutely essential for anyone who wants to play music or podcasts in the car. It's a combination charger and transmitter for many iPod and iPhone models. Plug it into what we used to call the cigarette lighter outlet, select an FM channel that isn't used in your area and you're good to go. You'll hear your music through the car radio and charge your device at the same time.
3. Ripping Turntable
If you're like me, you once had a great music collection on vinyl. As digital overtook analog, my record collection shrank and I no longer own a working turntable. So what do with the vinyl I still own? I could, of course, simply buy a new turntable. But as records age, they deteriorate. You can solve that by buying a ripping turntable, essentially a device that converts analog records to digital music, lets you remove pops and clicks, and stores it wherever you want. And when you move your old records to digital you can make compilations and mixes.
There are many, many digital turntables on the market. The more expensive ones are really designed for a DJ, with ripping just another feature. The cheapest don't work very well. Assuming your main interest is conversion, make sure the model you're considering has level control. That's because turntables that don't have it tend to give you audio that's thin and often not loud enough. Be sure that it includes software; even better, some manufacturers give you a link and a key to download their software, which generally means they keep it updated. Finally, the choice of a ripping turntable is complex enough that I'd suggest you go to an electronics store and see them for yourself before you buy.
4. Sonos ZonePlayer
The Sonos player is a wireless system to play music stored on an MP3 player or your computer or streamed from the Web. The S5 has excellent built-in speakers, powered by five dedicated digital amplifiers, and the system is equipped with two tweeters, two mid-range drivers and one subwoofer. It costs $399. However, there's a catch. Unless you've plugged it directly into your router, you need to buy the Sonos ZoneBridge for $99. Sonos will give you a free app that lets you control the system from an iPhone; otherwise you've got to spend $349 for a controller.
Yes, the S5 is expensive. But I've yet to hear any complaints or buyers remorse from friends who own one.
5. ProperBox
For my last pick, I'm going to steer you to a company that has an outstanding collection of vintage music on CD. It features selections that were never on a standard 33-rpm record and thus probably not transferred to CD by other companies. For example, Propermusic (the parent of ProperBox) offers collections of Count Basie's work from the 1930's, tons of Cab Calloway and early Charlie Parker.
You can not order directly from Propermusic unless you live in the UK or Europe, but go to its Web site, browse to see what's available, and then check out Amazon or other online retailers to find and order what you like.
San Francisco journalist Bill Snyder writes frequently about business and technology. He welcomes your comments and suggestions. Reach him at bill.snyder@sbcglobal.net.
Follow Bill Snyder on Twitter @BSnyderSF. Follow everything from CIO.com on Twitter @CIOonline.
Note: When you purchase something after clicking links in our articles, we may earn a small commission. Read our affiliate link policy for more details.