Even Microsoft can't deny or ignore the fact that the Mac OS X user base is growing. Combined with iPhones and iPads, and the inclusion of the app culture in the next release of Mac OS X, Apple platforms represent a large, and growing market segment. Perhaps that is why Microsoft is contemplating offering up its Office productivity suite in the Mac App Store.
The Mac version of Microsoft Office has been well-received and is selling nicely. Microsoft could ignore the Mac App Store and rely on the general availability of Microsoft Office 2011 for Mac OS X. It can be downloaded via the Web as a 30-day evaluation version, so the software is already only a few clicks away for Mac users.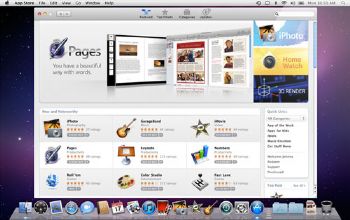 But, Microsoft is apparently giving serious thought to offering the Microsoft Office suite through the Mac App Store. All Things Digital's Ina Fried quotes Microsoft's Amanda Lefebvre stating, "It's something we are looking at," adding, "It's something we haven't ruled out," she said. "We just have to see how that relates to our business."
Microsoft might be reluctant to jump on the Mac App Store bandwagon. Selling Microsoft Office–or any of its components–through the Mac App Store means Microsoft would have to share the wealth with one of its biggest rivals. Apple's 30 percent cut of app sales is not a trivial amount and could cut significantly into Microsoft's bottom line.
The alternative might be worse for Microsoft, though. As Mac users embrace the app culture and come to rely on the Mac App Store to find the tools they need, the absence of Microsoft Office from the mix could lead many of them to seek out alternatives.
Presented a choice between accepting a 30 percent cut in revenue, or risking having that revenue not exist at all, 70 percent sounds pretty good. Plus, Microsoft should be looking beyond the revenue from Microsoft Office itself, and consider the bigger picture.
Now that the Mac OS X version of Microsoft Office contains Outlook, it is more likely that businesses using Mac PCs and notebooks will also be using Microsoft Exchange Server as the backend messaging platform. Microsoft also has a vested interest–as noted above–in ensuring that users don't start adopting alternative platforms and simply replace Microsoft Office.
I think it would be wise of Microsoft to embrace the Mac App Store. In fact, I'll take it a step farther and suggest that it is in Microsoft's best interests to distribute apps like Microsoft Office Mobile in all of the app stores and make sure its productivity software is ubiquitously available across iPhone, iPad, Android, BlackBerry, and any other platform that comes along.