Apple on Wednesday released its latest operating system, Mac OS X version 10.7, an upgrade that may be incremental, but nevertheless will likely contribute to the Mac's rising popularity especially among consumers.
This is Apple's first major upgrade since 2009, when the company released a Mac OS X version code-named Snow Leopard. Mac OS X Lion is available for download from the Mac App Store for $29.99. The new version includes more than 250 new or improved features, including new multitouch and gesture features, focusing on what Apple says will provide a better user interface.
Lion was first previewed in October last year, and again at the company's Worldwide Developer Conference in June. During the demonstrations, Apple executives said the OS drew inspiration from the iPad, offering support for new multitouch gestures to make interaction more intuitive.
Users will be able to tap or pinch the touchpad to zoom into Internet content or images, or swipe to flip through Web pages or documents. Another new feature that drawing from the iPad and iPhone is Launchpad, a full-screen display of all the applications on the computer.
Apple is revamping the desktop experience with Lion, said Zach Halmstad, a product manager at JAMF Software, which has developed Casper Suite, designed to help system administrators manage Mac OS X computers and iOS mobile devices in IT environments.
"They are bringing some of the coolest features from iOS over to Mac OS X, and really rethinking the desktop experience," Halmstad said.
The new OS also takes a step to remove barriers for enterprises that want to integrate Apple products into existing infrastructure, which was difficult 10 years ago, Halmstad said. Businesses will find some new OS features useful, such as the upgraded FileVault to encrypt and protect data.
"Full disk encryption has a been a very popular subject in the last few years, and Apple is giving organizations an out-of-the-box choice for implementing it," Halmstad said.
The Lion OS package includes OS X server, which previously was sold as a separate piece of software with a separate price, said Ezra Gottheil, senior analyst at Technology Business Research, who formerly was a software programmer. The software is a bargain, and upgrading is a "no-brainer" Gottheil said.
Another feature that appeals to Gottheil is versioning, which allows users to track back to early versions of a file.
"There are products that take care of [versioning] … but it should really be part of the operating system."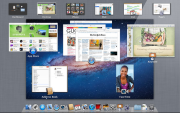 Gottheil also likes the AirDrop feature, where users can send files wirelessly to another user without a Wi-Fi network. After recognizing other AirDrop users within about 30 feet (9 meters), a file can be simply dragged and securely transferred, subject to the other user accepting the file.
"Lion's a nice step up in all kinds of things that the user sees. Apple has been steadily improving the way their OS [interacts] with other operating systems," Gottheil said.
Apple's refinements in OS X, such as multitouch, are designed to appeal to individuals, but will have less value in enterprises, said David Daoud, research director of personal computing at IDC. Apple has done well on graphics and Web design, and the improvements could appeal to small businesses and other firms that rely on Apple hardware and software.
However, the OS is not attractive enough for large enterprises to move away from the dominant PC client base, Daoud said. IT administrators find it expensive and challenging to maintain environments using different client bases. But Daoud added that a lot of companies have also developed software and virtualization capabilities to link Macs to corporate infrastructures, which could possibly influence the adoption of Macs by businesses.
Nevertheless, Apple's computer shipments are growing among consumers and businesses alike, Daoud said. Apple was the third largest computer seller in the U.S. during the second quarter this year, according to IDC's preliminary estimates issued on Tuesday. The company sold 1.9 million units, growing 14.7 percent compared to the previous year's second quarter. By comparison, HP and Dell saw their PC shipments decline.
Apple has posted installation instructions for the OS on its website. The OS will work on Macs with Intel's Core 2 Duo, i3, i5, i7 or Xeon chips.