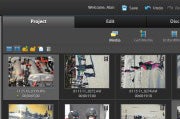 Adobe's Premiere Elements 10 video-editing application sports a few hand-me-downs from its pricier Premiere sibling, plus a major under-the-hood upgrade with the addition of a new Windows 7 64-bit version. I looked at the shipping version ($100, $80 upgrade as of September 20, 2011) of this consumer-oriented application, and found a few other new features that make me like it even more.
64-Bit Version–But No Vista
Adobe now offers a 64-bit version of Premiere Elements 10, but only for Windows 7. Owners of Windows XP 64-bit systems or Windows Vista 64-bit systems will have to be satisfied with the 32-bit version. The organizer that accompanies Elements remains 32-bit, too. The main benefit of going to a 64-bit version, of course, is that the application can address more system memory, and thus should perform better (especially with high-definition content and larger projects); furthermore, it should be more stable because the app will be less likely to run out of memory, assuming that your PC is well stocked.
Premiere Elements 10 does not have the full-blown Mercury Playback Engine from Premiere Pro CS5.5, mainly because Premiere Elements 10 is a relatively inexpensive consumer application, and the Mercury Playback Engine relies on pricey graphics cards that cost five times what Elements does, at minimum. Even so, Adobe claims that it has improved the program's output performance by 75 percent. I can't verify that claim, but the application rendered video pretty quickly, in part because it utilizes CPU cores effectively. When I had the software render a high-definition video project, all eight cores of my dual-Xeon workstation stayed at 100 percent for most of the operation, and it sucked up nearly 1GB of system memory. My impression was that Premiere Elements was utilizing all of the resources that it could, rather than operating inefficiently. I encountered no crashes, no hesitations; the application felt rock-solid.
Unfortunately, wrestling with the organizer application that comes with Premiere Elements 10 is a big deal. The organizer operates slowly, and it becomes even pokier if you turn on its auto-analyzer function, which scans still images (not video) for things such as the quality of shots and recognition of faces. On top of that, the auto analyzer crashed often on my system.
The organizer is designed to make it easy to find both video and still content that you choose to index, and it acts as a shared resource between Premiere Elements and Photoshop Elements (if you have that application). However, this time around the updates benefit only still images. New features in the organizer that do rely on the auto analyzer include the ability to search for stills that contain visually similar objects, and to search for duplicate content. These functions could be very useful, especially for large catalogs of images and the new videos-from-stills tool (more on that below), but again, the dubious stability of the auto analyzer makes me reluctant to invest the time necessary to have the features analyze my content.
The new Pan and Zoom utility helps you create mini-movies composed of still shots. You import an image (or multiple images, though you can use the tool on only one image at a time), and then you simply add boxes defining your focus areas and arrange them around the image. You can create this effect–with more control–in older Premiere Elements versions, using the excellent keyframing tools, but it's a common thing that people want to do, and the new tool makes the process easy, with good results.
Facebooking and YouTube Uploading
A major improvement with this version of the program: You can now upload videos to Facebook or YouTube from within the Premiere Elements 10 editing application. In Premiere Elements 9, if you wanted to share your video by uploading it to one of these sites, you had to save your project, start up the organizer, locate your video, and upload it from there. Now, you simply click the Share tab, authorize Elements to interact with your Facebook account or log in to YouTube, choose a format and a few details, and begin the upload. Of course, you can still perform such uploads from within the organizer, but at least now you don't have to remember which application you must use to do them.
Coloring Inside the Lines
A new three-way color corrector in Premiere Elements 10 is based on the same technology as the one in Premiere Pro, and its inclusion in Elements 10 is a big deal. With this tool, you can apply color correction to highlights, midtones, and shadows separately. Without such a tool, trying to make the sky bluer would make everything else in your video blue, for example. It's a little tricky to use, in part because it has more settings than most tools in Elements (especially the lead-you-by-the-nose ones), and I found that it works best on clips that have distinct areas of highlights or shadows.
A new AutoTone and Vibrance effect takes things to the other extreme: It has almost no settings, unless you uncheck its 'AutoTone' box (which defeats the purpose, no?). But in some clips, I saw better results from this tool than from the three-way-color corrector. As with many of Premiere Elements' functions, you often have to try different tools until you find the one that works best on a particular clip.
Premiere Elements 10 can finally output AVCHD files, either to a folder or to a DVD. Rather than burning your high-definition videos to expensive Blu-ray discs, you can burn them to an inexpensive DVD yet retain the high-definition frame size. A DVD doesn't hold nearly as much data as a Blu-ray disc does, of course, so you won't be able to create movies that are as long, but how many feature-length movies do you create? You can click a box to set Premiere Elements to fit your content to the available space on the disc, meaning that it will reduce the bit rate and thus the quality of your movie, but that's a handy setting to have.
Sticking to the Script
The addition of a 64-bit version gives Adobe Premiere Elements 10 some performance breathing room, especially with high-definition video. Premiere Elements is an effective editing program that covers a lot of territory and satisfies different levels of users with its wide range of features. The organizer is problematic, but mostly if you're using its auto-analyzer feature to manage still shots. Premiere Elements is a stable, capable editor, and it continues to be the only consumer-priced video editor with usable keyframing tools.