Online music sharing service Spotify dropped its invite-only status in the United States, opening the doors of the service to everyone.
Music listeners who sign up for the service will receive unlimited access to its library of more than 15 million tunes for six months. After that, the standard limits on a free subscription will kick in: 10 hours of listening per month, and during that period no one song can be listened to more than five times.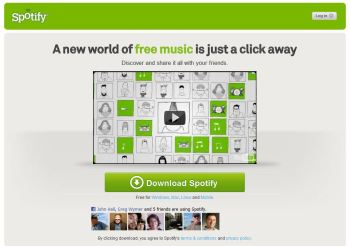 The service also has two paid plans. For $4.99, it has no time limits and no advertising. For $9.99, you have the added benefit of being able to download the songs in your online playlists to a mobile device and play them offline.
The free part of the service is by far the most popular. In Europe, for example, where Spotify has some 50 million subscribers, only 1 million subscribe to one of the paid plans.
Spotify's CEO Daniel Ek leaked the news of the move to TechCrunch writer Alexia Tsotsis at the Facebook F8 developer's conference.
Dismantling of the invite-only system will take some time, Ek told Tsotsis, but people can obtain immediate access to the offer by registering for Spotify through Facebook.
Spotify and Facebook
Spotify's partnership with Facebook was announced yesterday at F8. Ek, writing in a company blog, explained why Facebook integration was a natural for the service. "We knew that the service had to be free to draw people away from piracy," he wrote. "To do that, we also knew that the service would have to be inherently social. There couldn't be a better place to do this than Facebook."
What Facebook users will start seeing in their news feeds are Spotify music posts from their friends. Click on the post, and a song will play. Other Spotify Facebook features include a music dashboard and a real-time ticker to see the trending music tastes of your Facebook buddies.
There are some questions, though, about just how integrated Spotify is with Facebook. PCWorld's Mark Sullivan made this observation after viewing a one-on-one demo of Spotify working within Facebook: "When the Facebook guy giving the demo clicked on a song that one of his friends was listening to on Spotify … the desktop Spotify app popped up to play the music."
"He told me," Sullivan continued, "that there is no 'canvas app' for Spotify, which, he explained, means that there's no Spotify app that runs entirely inside Facebook, as Farmville [does]. That means you have to have both the Spotify desktop app and Facebook running to achieve the cool music sharing/syncing tricks shown at F8 today."
In his blog post, Ek suggested that bringing Spotify to Facebook could revive the music industry. "Social discovery on Facebook means that we're bringing people back to paying for music again," he wrote. "And that's how the brilliant artists who create this music can continue creating it for us to enjoy."
We wonder if Ek is aware of the irony in that statement. One of Facebook's founders is Sean Parker, who, with the release of Napster, started the precipitous spiral the music industry is in now. How ironic it would be if a company connected to Parker could be a savior of the industry he helped destabilize.
Follow freelance technology writer John P. Mello Jr. and Today@PCWorld on Twitter.