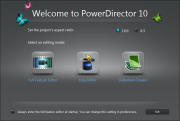 Version 10 of CyberLink's PowerDirector ($100 as of October 17, 2011) is easily the most impressive update of the video-editing powerhouse in a while. It comes with a host of new features; the already quick rendering is even faster; and it now offers comprehensive support for 3D video, including tools for editing, converting, burning, and more.
The first difference you'll notice between PowerDirector 10 and any of the earlier versions is the startup dialog in 10, which gives you access to the Magic Movie Editor, a quick-and-dirty, template-based automatic video creation wizard; the SlideShow Creator, which applies the same concept to photo slideshows; and the traditional timeline-based advanced editor. Anyone looking to create a movie or slideshow as quickly as possible will appreciate the new startup dialog–but you can disable it and boot directly to the advanced editor if you prefer.
Notable improvements under PowerDirector 10's hood include faster rendering and h.264 encoding engines, plus OpenCL support. OpenCL (Open Computer Language), is an technology that uses the computing power of GPUs (or any other processors in your system) for tasks that the CPU normally handles by itself. If you have a decently fast graphics card with OpenCL support, the technology can speed up your operations noticeably. CyberLink has also improved its SVRT (Smart Video Rendering Technology) to give you more feedback on the optimal output format; it retains the previous versions' talent for skipping reencoding material whenever possible.
Support for 3D editing is the sexiest new feature, but you also get some other noteworthy additions: time-lapse simulation; a new plug-in architecture with ten effects from NewBlue; drawing tools; and the ability to superimpose animated drawings over video. This last feature is a great tool for presentations of all kinds. The included beat recognition for audio tracks, in conjunction with the implementation of visual keyframe markers, greatly simplifies synchronizing audio and video clips.
A number of notable features introduced in earlier versions are preserved here: up to 100 video tracks; a separate wave editor; excellent basic editing tools; standard effects such as lighting, saturation, and particle effects; timeline editing; wide audio and video codec support; and an online community where you can download effects and see other people's handiwork. You can even view the timeline of other user's projects online.
PowerDirector still has some minor foibles. For instance, though the program could capture from my TV tuner, it didn't recognize the QAM channels. Also, I wish that PowerDirector would continue to play video when I move the locator, and that the locator would reposition itself when I click on empty space in the timeline. Another welcome addition would be the ability to drag material from Windows Explorer directly onto the timeline instead of having to add it exclusively to the library. After all, many music programs let you do this.
You'll need as much as 6GB of system memory to work with high-definition files in PowerDirector 10, especially if you want to apply advanced FX, convert to 3D, or perform other data-intensive tasks. Basically, as with any other video editor, the more memory you have, the better.
PowerDirector 10 is a worthwhile upgrade to an already powerful consumer-grade video production tool, and if CyberLink doesn't watch out, it will soon be competing with professional-level products.