To transform some of your videos into a format that your iOS or Android device can play back, you'll need a video converter. HandBrake is a free video converter for Windows, Mac, and Linux that can handle just about any non-copy-protected video source, including some DVDs and Blu-ray discs.
1. Download HandBrake for your OS (the HandBrake Downloads page offers multiple versions), and install it. Windows users will need Microsoft .Net Framework 3.5 SP1 installed for the program to function.
2. Launch HandBrake. Don't worry; the interface may seem intimidating, but basic video conversion is easy.
3. Click Source in the upper left.
Choose Video File to convert a digital file such as a WMV, AVI, or MPEG file.
Choose the disc title to convert a video disc already in your computer's drive.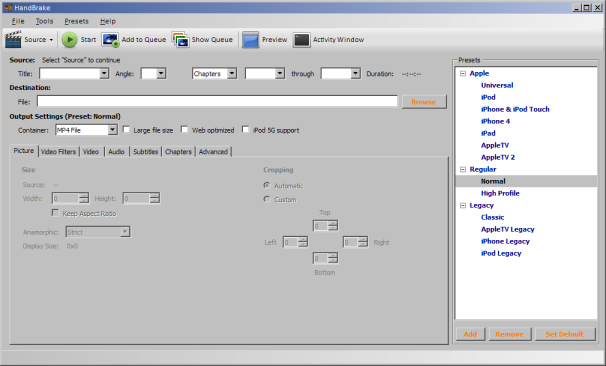 4. Select the Title and Chapters you want to convert. Generally for movies, you should choose the longest Title segment, and select the entire range for Chapters. In our example, we selected an AVI file.

5. Click Browse under Destination to choose where the program will save the converted file, and then enter a file name.
6. In the Presets pane on the right, select the type of device on which you will view the converted video. Selecting a preset will automatically choose correct settings within the Output Settings tabs. Here, we selected the iPad preset, and HandBrake chose to convert our AVI to an MP4.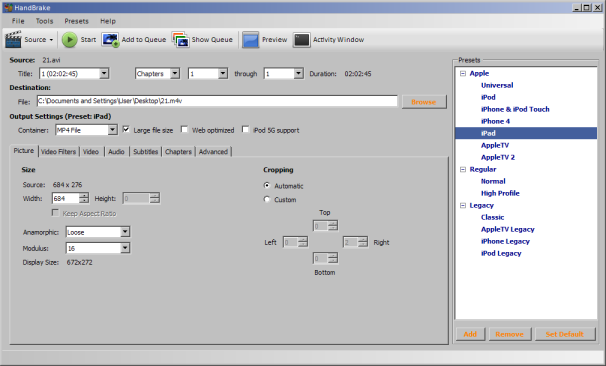 7. If you want HandBrake to convert other titles within your source file, click Add to Queue, and then choose another title. Repeat this process until you've selected all the titles you desire.
8. Click Start to begin the conversion. Depending on the size and format of your source file, the number of titles in your queue, and the speed of your computer, the process will take anywhere from a few minutes to a few hours.
Additional Information
HandBrake will convert DVD or Blu-ray content more quickly and more smoothly if you rip the disc to your computer and convert the ripped file.
To decrypt protected content, you'll need to employ another program before converting the video with HandBrake. HandBrake's User Guide recommends installing either the VLC media player or AnyDVD for ripping protected video discs to your computer. Keep in mind that breaking copy protection is not universally legal.
HandBrake is simple and reliable if you stick with its output presets. However, you can tweak the conversion settings yourself if you want to experiment. See the HandBrake Guide for further advice.