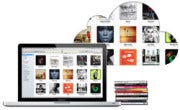 In a rare twist, Apple missed a self-imposed deadline to launch iTunes Match, an ambitious service that mirrors your iTunes music library in the cloud. The company said on October 4, during the iPhone 4S launch event, that iTunes Match would be available by the end of October, yet two days after the deadline, the service is nowhere to be found.
iTunes Match will be a $25-per-year service that scans your iTunes music library and then matches it to Apple's master copies in the cloud, so you can download them on up to five iOS devices that you own. Users would also be able to upload songs that can't be matched with iTunes' library of more than 20 million songs, which theoretically would also include any files downloaded outside the iTunes Store (read illegally). Initially, iTunes Match would only be available in the United States.
Developers have been testing iTunes Match free of charge throughout October as part of the iTunes 10.5 beta, but when iOS 5 launched publicly on October 12, the feature was removed from the public release of the iTunes software. Instead, Apple put out a new iTunes 10.5.1 beta to continue testing the service. This latest beta version also expired on October 31, MacRumors notes, so developers are unable to use the service or open iTunes since Tuesday. No new beta of iTunes is currently available.
Licensing Problems?
The reasons behind the delay are unclear, as the company did not comment on the status of iTunes Match. However, licensing agreements are believed to be the reason behind the delay, due to the complexity behind iTunes Match. Competitors of the upcoming service– Amazon's Cloud Music and Google's Music Beta–did not secure deals with the record labels ahead of their launch, meaning that they are merely act as music lockers where users have to upload their entire libraries–a lengthy process, depending on how big your library is.
In contrast, Apple's approach of mirroring your songs with its master copy in the cloud–and to download all your songs at 256kbps quality, regardless of the original quality of the file–probably requires much more complex licensing deals, which are said to be at the core of the delay. Of course, Apple's well-known ambition to get things right the first time might also hold up the iTunes Match launch, until it's deemed ready for prime time by the company.
Follow Daniel Ionescu and Today @ PCWorld on Twitter