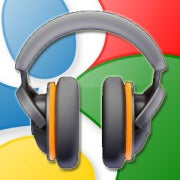 Google is prepping for a big announcement here in Los Angeles today and the rumor mill is buzzing about what the company could possibly be unveiling. I'll be covering the event later this afternoon, but we have a pretty good idea about what Google's next venture will be: A final version of Google Music with a full-fledged music store.
While Google didn't explicitly state what the event was about, the invites imply that it is music related (complete with a "Spinal Tap" reference). More than likely, Google is releasing the final version of its Google Music cloud service, which was launched in beta at Google I/O this past May. Earlier this week, Venezuelan site T ecnoDroidVe stumbled upon some screen shots of the Google Music Store, which will supposedly feature song previews, a free song of the day and music discovery features. According to these screenshots, you'll get recommendations based on artists you've searched for previously.
According to the Wall Street Journal, Google has secured deals with three out of the Big Four record labels: Sony Music Entertainmant, Vivendi SA's Universal Music Group, and EMI Music. Warner Music Group is the odd label out.
Being limited to only three of the major music labels might hurt Google Music's success right off the bat. But Google Music still has a fighting chance. The Android OS desperately needs a good music player–just ask one of the many Android phone or tablet owners out there. The Google Music store needs to seamlessly integrate with the native Android player. For example, say you're listening to an album you haven't played in awhile. Google Music tells you (unobtrusively, of course) that this artist has a new album out that you currently don't own. From the Google Android player, you can purchase that album–while still listening to that other album–and queue it up. This is all hypothetical, of course, but if Google can pull off a user-friendly interface that tightly integrates with the store, I can see it being a big hit with Android enthusiasts.
But will it be a main source of music consumption? I'm not so sure. Apple's iTunes Store and Amazon MP3 have been around for years now and with Spotify and Rdio quickly gaining traction among music fans, there might not be room for yet another music store/cloud service.
Google might have a few other tricks up its sleeve this afternoon. The T-Mobile logo is featured prominently in both the press event and after party flyers. Will T-Mobile be launching the first phone with Google Music? And could that phone be the coveted Galaxy Nexus with Android Ice Cream Sandwich? It's possible. Another speculation is that it will reveal some more information about the @Home project, which is an Android platform for connecting home devices like lights, speakers, etc.
We'll find out for sure this afternoon at Google's event this afternoon in Hollywood, starting at 2PM PST. Stay tuned for full coverage and analysis from the event.
In Video: Google's Next Targets: iTunes and Amazon Music