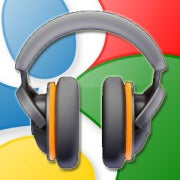 Google wants the world to know that it's serious about music. Alongside the Google Music cloud service, the company rolled out its music store Wednesday, complete with a live in-house band, celebrity guest stars, and a hip Hollywood venue. But can its catalog compete with iTunes and Amazon MP3?
[Read: Google Music Comes Out of Beta]
Tight integration with Google Plus and the Google Music cloud service are compelling features, but what it really comes down for users is the breadth of content. The store with the most downloads is the store with the most–and the best–music. So how does Google's effort stack up at launch?
Google Music has more than 13 million tracks from artists on major and independent labels. For comparison, Apple iTunes Store has over 20 million tracks in its catalog, while Amazon MP3 has 17 million songs.
What's Missing From Google Music?
As we confirmed earlier, Google has secured deals with three out of the Big Four record labels: Sony Music Entertainment, Vivendi SA's Universal Music Group, and EMI Music. Warner Music Group is the odd label out. So what does that mean for you? You won't be able to download albums from Cher, Built to Spill, Eric Clapton, Metallica, Neil Young, R.E.M., and Gucci Mane–among many other artists spanning multiple genres.
Google has also teamed up with over 1,000 independent labels and distributors such as Matador Records, Merge, Revolver USA, and CD Baby, just to name a few. It is difficult to measure how comprehensive Google's indie selection is compared to its competitors. I did a cross-search of a few indie musicians/bands (The Microphones, Huggy Bear, Saviours, and Sundowner) and all three stores had them.
I'll have to do a bit more digging but, despite its smaller catalog and lack of Warner Brothers Music (Cher, mostly), Google Music's selection satisfied me.
Artist Hub: Potential for Indie and Signed Musicians
Google Music's artist hubs and exclusive content might make up for the missing Warner Brother's content. The service is launching with dozens of exclusive, free tracks from artists like the Rolling Stones, Coldplay, Busta Rhymes (who was present at the event), and others.
Artists, both independent and signed, can distribute their own original music on the Google Music platform. Bands or individuals can build their own artist page, upload original songs, set their own prices, and sell content directly to fans. Artists keep 70 percent of sales of individual songs or full albums.
Kyle Waters, a former indie musician, likens Google Music's Artist hub to a fancier MySpace Music. He likes the DIY aspect of it and sees potential in it. He said it could be really successful for both listeners and musicians if Google Music actually catches on with consumers. Bands can use it to generate buzz and might have a chance to get signed by a real label.
But Waters frowns on unsigned bands trying to make money off MP3s. "Any unsigned band should not be charging for digital music right off the bat," he said. "I'm all about the DIY part though."
Here's how the Google blog explains artist hubs: "With the Google Music artist hub, any artist who has all the necessary rights can distribute his or her own music on our platform, and use the artist hub interface to build an artist page, upload original tracks, set prices and sell content directly to fans—essentially becoming the manager of their own far-reaching music store."
The other draw for indie as well as signed musician is the Google+ integration. The fact that users can share full songs and full albums with their friends is really awesome. It is a great, "viral" way for musicians to get their names out there.
Google is expected to add more content partners over the next few months. Despite the criticism Google is getting for jumping into the music store business late and having a smaller catalog than its competitors, I see a lot of potential for both consumers and musicians.
In Video: Google's Next Targets: iTunes and Amazon Music