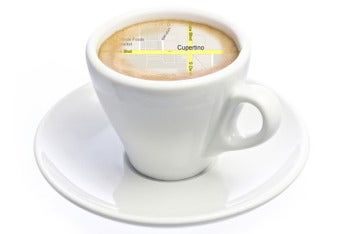 Community Voices: Opinions from the PCWorld Blogosphere
While I've been using Apple products for 25 out of the company's 35 years, more and more I wince when I see the direction in which the company is heading. The exclusive contracts with its suppliers, the treatment of workers at its factories, the decision to summarily discontinue Final Cut Pro Studio. The recent National Public Radio report "Mr. Daisey and the Apple Factory" prompted me to write the following musings. Will the Apple of the future look like the Microsoft of the past. And if so, how can it be reined in?
Cupertino is becoming Cappuccino. The rest of us or they arrested us? Pirouettes or suicide nets? True delight or too much bite? Very cool pulley or big new bully? Lost its way or a whole new day?
The blogger, a member of the Internet Press Guild, is an educator at a public library in the Washington, D.C., area and teaches an occasional graduate educational technology class at American University, in Washington, D.C. He has served as a board member and president of the Virginia Macintosh Users Group and a leader of Washington Apple Pi users group. He can be reached at philshapiroblogger@gmail.com and on Twitter at https://www.twitter.com/philshapiro
Previous Community Voices blog posts.