If you work on the Web, you've probably been asked to do some simple image editing, even if your job has little or nothing to do with the artistic side of things. The standard image editors that came with your computer are fine for basic tasks, but complex editing typically requires the more sophisticated functions of Adobe Photoshop. This can be a problem, since Photoshop's $600 price tag is rather hefty.
Serious artists still need (or at least prefer) to use Photoshop to take care of business. But if you merely have to crop an image on occasion or do some light image editing, you can find tons of free and easy-to-use alternatives that replicate Photoshop's best features without making you pay the price.
What Tasks Are These Editors Good For?
Free image editors excel at midrange image manipulation. High-end image editing (manipulating individual layers of complicated image files, for instance) is best done in Photoshop. On the other hand, you can perform most rudimentary tasks in the free image editor that came with your computer. For example, if you simply need to crop or resize an image, Windows Photo Gallery and Apple's Preview each have the tools you need. Just look for the proper command: On a Windows PC, both crop and resize are located in the Fix menu, and Mac users should look under Tools.
If you need to do more with your pictures, pick up one of the free image editors outlined below. These editors are ideal for tasks such as creating simple multilayer images and exporting them in various file formats. You may not have to do this sort of thing often, but these programs can be useful if you're trying to merge several images into one, or if you need to spice up a boring shot. You could, say, alter the background behind a subject to place the person in a new environment, add a company logo to your images, or construct a new logo out of stock photography.
Which Editor Should I Use?
Linux: Fans of GIMP often tout it as the "Free Photoshop," and of all the free image editors on the market, it comes closest to matching Adobe Photoshop's capabilities. Not only does GIMP replicate Photoshop's default functions and tools faithfully, but it also has its own plug-in architecture, so (in theory) GIMP can be just as flexible as the "real thing."
Originally developed for Unix, GIMP has been ported to every major operating system in at least one form (and usually multiple ones), which makes it an easy blanket recommendation for anybody seeking all of the features of Photoshop with none of the expense.
I could end this article right here–except for the fact that GIMP is, rather notoriously, as slow as molasses. If you're a Linux user, or if you want free access to a range of tools that's similar to what Photoshop offers, then GIMP is still your best bet. However, Windows and Mac users just looking to remove the backgrounds from images or wanting to do some simple work in layers can turn to alternative free image editors that are faster.
Windows: You can find a great free image-editing package in Photoscape. In addition to an image editor, this software includes an image browser and a batch processor for quickly editing groups of photos at once. It's also a fast and stable little application. The problem is that it doesn't support any advanced image-editing features. If you need to color-correct an image, Photoscape is great–but its lack of layer support and its omission of advanced selection tools means that it falls short as a Photoshop replacement.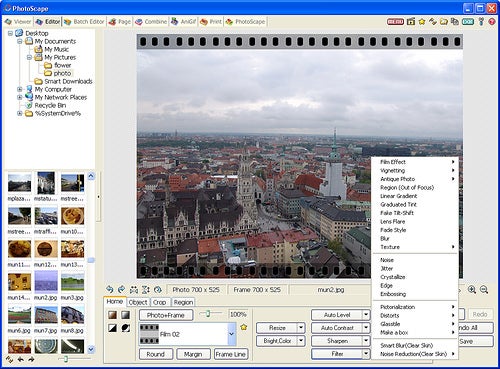 If you need an application with a little more power behind it, Paint.net is probably the answer. Although it still isn't as complete as Photoshop, Paint.net is much more powerful than Photoscape, and its support for layers and image filters should satisfy all but the most hard-core users. Paint.net is the fastest and most stable Photoshop replacement I tested for this article, too: During my limited time with Paint.net, it didn't crash once, and it loaded and manipulated images speedily.
Mac OS X: Though the freeware editor Seashore uses GIMP's image format, it was developed in Cocoa specifically for Mac OS X. That means Seashore doesn't require X11 to run its graphical user interface the way GIMP does for Mac OS X, and as a result it's significantly faster than GIMP.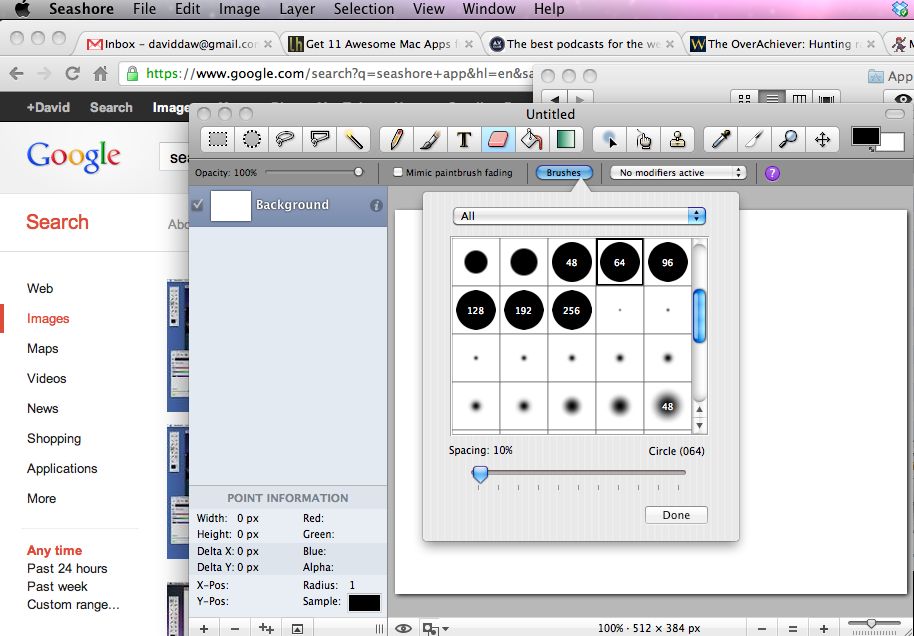 Seashore does have a few disadvantages, however. First, it isn't as full featured as GIMP or Photoshop. Though it does provide layers and all the basic editing tools, it offers no support for plug-ins, and the filter selection is limited. On top of that, it isn't the most stable image editor; I've had Seashore crash on me more than once while I was in the middle of editing, so I suggest saving early and often.
If you're a Mac user willing to shell out a few bucks, the $29 Pixelmator is a solid image editor for the price. But if you're editing images only every week or two, and you're looking for a free program, Seashore is the application for you.
Web software: Of course, if you're really unlucky you may not have access to your regular computer when you need to edit an image. If you're tasked with editing images while you're on the road or otherwise away from the office, try Pixlr, an entirely Web-based image editor available for free on the Pixlr website. For a Web editor, Pixlr is surprisingly powerful and feature-rich, with everything from layers and filters to standard tools such as the lasso and magic wand.
Unsurprisingly, Pixlr is also fairly poky. If you need to edit a large batch of photos, Pixlr can easily slow to a crawl, and even basic filters take significantly longer to run in Pixlr than they do in a traditional application. Nevertheless, if you're backed into a corner, Pixlr can be a lifesaver.
While professional designers and illustrators still ought to invest in the full version of Photoshop, most users should be able to benefit from any of the free image-editing tools and services described here. Whether you're making quick fixes or working on a few modest projects, these programs will meet your needs.