With Google TV generally flopping with consumers, Google is trying a second approach to getting space in your living room entertainment center with the Nexus Q streaming media player. The new device is one part Apple TV and one part Sonos music streamer rolled up in a highly designed orb-shaped package. The Nexus Q is generating some early excitement, but the device is going up against tough competition that includes Apple, Roku, and Microsoft's Xbox 360, as well as Sonos devices.
So how does the Nexus Q line up against the current living room superstars? Let's go to the feature rundown that follows the comparative chart below.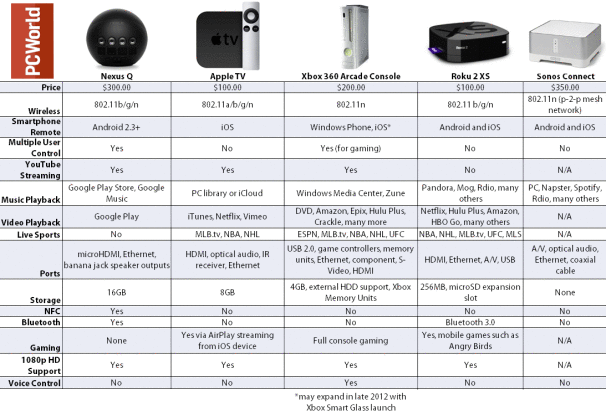 What The Nexus Q Does
Google's Nexus Q gives you access to all your cloud-based tunes stored in Google Music, Google's online music storage locker. You can also stream videos from YouTube and movies and television episodes from Google Play. The Nexus Q is controlled via any Android device running 2.3 Gingerbread or higher. The Nexus Q is priced at $300 and starts shipping in July.
Unlike competing platforms, the Nexus Q doesn't offer anything in the way of third-party app support. So no music from Spotify, Pandora, or Rdio. No live sports streaming via MLB.TV or NBA Game Time, no Hulu Plus ( surprise, surprise), no Netflix, no HBO Go, nothing. This could change over time as most media streaming devices add more content as partnerships and interest in the platform develop. Then again, Google may be wary of adding too much to the Nexus Q to keep it from competing with Google TV.
Regardless, for right now if you're a Google Play fanatic then the Nexus Q is ideal for you. However, if you're looking for access to a vibrant platform with lots of third-party services such as those mentioned above you'd be better off with a Roku, Xbox 360, or Apple TV.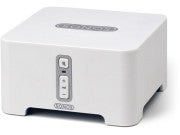 All About the Music
When it comes to music, the Nexus Q has an advantage over most media streaming devices since it includes a 25-watt amp. That lets you plug the Nexus Q directly into a set of stereo speakers, a feature most of its competitors lack. Even the $400 Sonos Connect is missing an amp; however, the higher-priced $500 Connect:Amp does have this feature. Or you can forget about external speakers and just buy one of Sonos' all-in-one systems such as the $400 Play:5.
But again, even if you like Google's device the Nexus Q is mostly about music you can get from Google Play. Sonos devices, on the other hand, can grab music from a number of places including your own music library, as well as Spotify, Pandora, SiriusXM and many other online services.
Google's media streamer also has an intriguing social feature that lets anyone with an Android device on the same Wi-Fi network as your Nexus Q add to the current playlist. Your friends can even add music from their own Google Music collections. That's a feature the other devices don't offer. But Google Q's social playlists, while interesting, could be one of those useful sounding features that not many people actually use in the real world. Or it could be a huge hit, we'll have to see how easy it is to use when the device rolls out in the coming weeks.
The Nexus Q is a great-looking device and the LED lighting in the middle of the orb that pulses to the music will certainly look great. But $300 feels like a lot of money to spend on something that can only tie into Google's online services and can't even interface with your desktop PC library. I'm sure many of those features will develop over time. It's not clear, for example, why the device needs 16GB of onboard storage. That feels like a lot of space just for video and music buffering considering the Apple TV gets by on 8GB. Nevertheless, right now unless you want an exclusive music/party streaming device tied into Google Music, you can get a lot more for less with competing platforms.
Connect with Ian Paul ( @ ianpaul) on Twitter and Google +, and with Today@PCWorld on Twitter for the latest tech news and analysis.