KMPlayer, with its slick interface and multimedia librarian functionality, is a nifty free program for playing back video files, but it's hard to navigate and its media decoder capability isn't universal.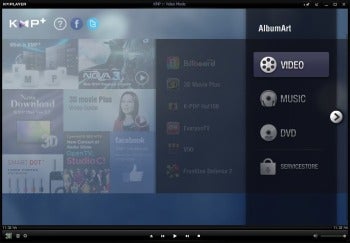 KMPlayer, now in version 3.2, has morphed over the years into much more than a player. It's deep into the Internet age and has links to many social sites, though perhaps not those the average U.S. citizen is used to: Billboard Korea, VIkki, EveryonTV, and the K-Pop (Korean Pop) Hot 100 are included along with Facebook and Twitter.
KMPlayer now also functions as a multimedia librarian in the fashion of iTunes and Windows Media Player and supports 3D video. KMPlayer handled nearly every file in my video test suite, with the odd exception of an AVCHD file, which most players handle.
While the KMPlayer interface is slick, nicely rendered and attractive, it's not intuitive. There's a steep learning curve involving difficult-to-see icons, icons whose purpose can't be divined from their appearance (at least by the author), and icons whose location changes. When I clicked to play a file, it compacted the player and I could find no way back to the library. I like my controls in plain view.
The initial KMPlayer download is only 300KB, but it utilizes Softonic's install routine to install the rest of the files. Softonic will install Twitube if you don't deselect it during the installation process. You also can't proceed until telling the installation whether you want to download RegClean Pro.
Until I discovered VLC, KMPlayer was almost always installed on my system for playing back video files. But since it didn't support every codec, I switched to VLC, which plays everything.
As capable and feature-rich as KMPlayer is, I found both the installation and the learning curve a turn-off. But if you're a K-Pop fan, or need support for 3D and WiDi, you should certainly take a look.
Note: The Download button takes you to the vendor's site, where you can download the latest version of the software.
—Jon L. Jacobi