There can be a striking gap between Apple's conception of the ideal phone–one with as few ports and buttons as possible–and the one dreamed up by the company's most imaginative fans. And the latest hack video illustrates the extremes to which DIYers are prepared to go in order to add hardware features that lie outside Apple's minimalist design ethos.
The Korean video, "iPhone USB-C TwinPort," covers the creation of a dual-port iPhone 12 mini with both Lightning and USB-C. It walks through the arduous-looking steps involved in creating space for the new port, by opening the chassis and removing and cutting down other components, and then adding a USB-C port. The speaker appears to suffer the most, being cut in half and filed down, while a microphone comes in for some punishment too.
"This is a video of making a TwinPort iPhone using the USB-C [port] on the iPhone 12 mini," the description reads (via Google Translate). "I simply made it with the idea of ​​using a C-type cable when needed sometimes. There are many parts that are lacking, such as handling of the speaker resonator and grounding."
At the end of the video–which until this point is really a series of still images, edited together with some nice background music–the maker tests out the Frankenphone with a Windows PC, demonstrating that the Lightning and USB-C ports are functional for both charging and data transfer. The iPhone 12 mini appears in iTunes whichever port is used to connect it to the PC.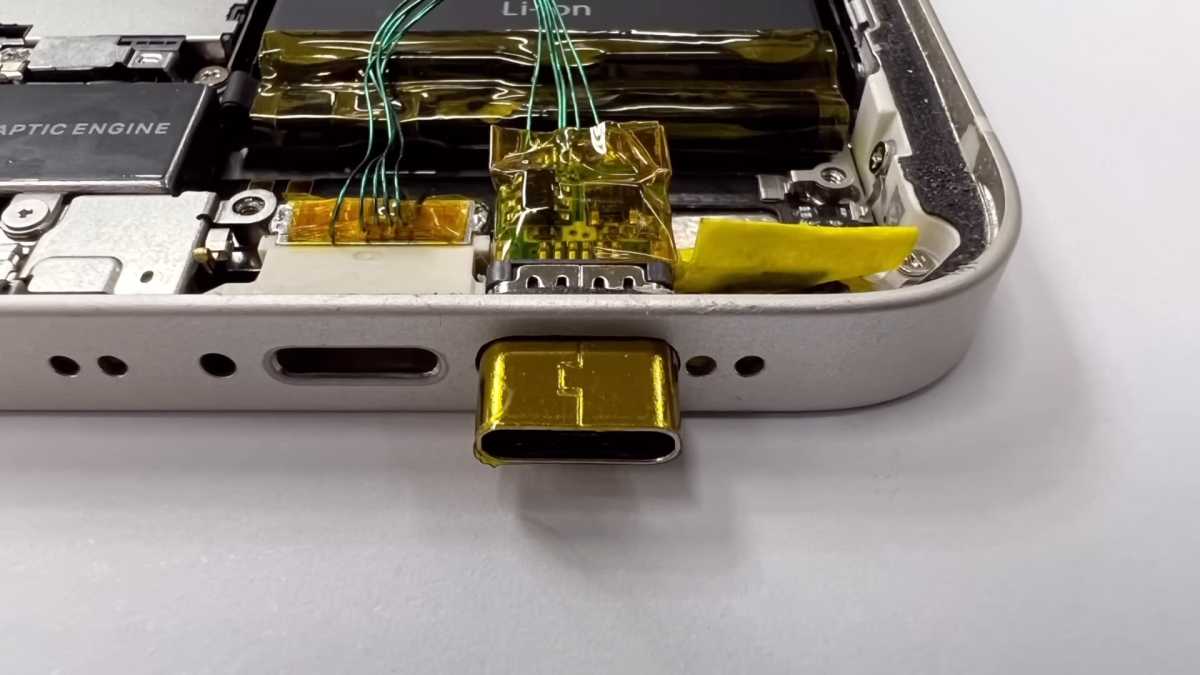 YouTube
It's reasonably safe to say that Apple will never make a dual-port iPhone, which would carry implications for size, cost, water resistance, and audio quality, much as the idea is superficially appealing to imaginative DIYers. And to legislators, presumably; a phone that supported USB-C as well as the proprietary Lightning standard ought to sidestep upcoming legal difficulties for the Cupertino company. Instead, Apple is expected simply to move to USB-C from the iPhone 15 onwards, in preparation for a portless iPhone a few more years down the line.