A lot of us don't think twice about recycling our plastics and paper. But our tech? That's not the usual reflex, especially with Apple aggressively pushing each year's new smartphones and laptops. Buying refurbished versions of these items, though, is a great way to cut down on the planet's growing pile of electronic waste. But if that's not incentive enough, this is your week to get extra savings on laptops like a 13.3″ Apple Macbook Air.
If you haven't bought refurbished before, you should know that it isn't like buying old gear from a no-name dealer on the internet. These items are used, but then restored internally to their original factory specs. The only difference might be some light exterior wear and tear, and for that, you're likely to save hundreds – more than $500 off the original price with this particular model, in fact.
This spotlight laptop is the same Macbook Air that got solid reviews from tech sites (including this one) when it was first released in 2015. Among other things, those reviews praised the speed of the Intel Core i5 processor, which can be enhanced with Turbo Boost when you need an extra jolt. The 13.3″ LED display is just as vibrant as ever, and the Intel HD 6000 graphics card makes gaming an immersive experience.
If you're using it as a work laptop, you'll love the mobility provided by the 12-hour battery life. The laptop comes with 8GB of RAM so you can multitask away, plus 128GB of SSD storage for your documents and media. Out of the box, it's ready for wi-fi hookup and pairing with your Bluetooth 4.0 compatible devices.
Again, you're already saving hundreds by getting this item refurbished. If you buy before Feb. 23, you can get it for an additional discount of $34, for a final price of $459.99.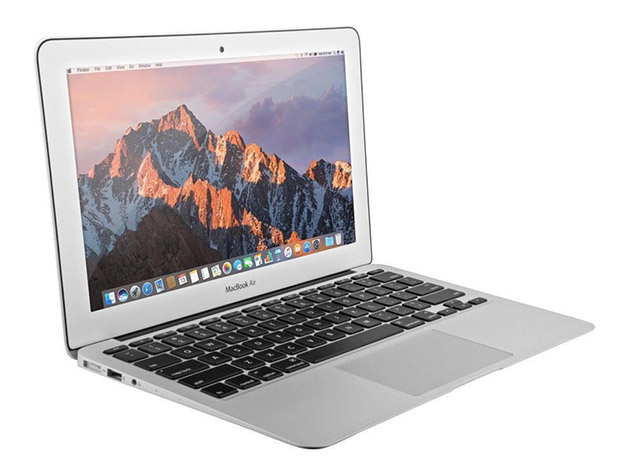 Apple MacBook Air 13.3″ Core i5, 8GB RAM 128GB SSD – Silver (Refurbished) – $459.99
Prices subject to change.