Welcome to the first in a series of How-to articles about iMovie 2.0. iMovie is creating quite a buzz, judging from the word on the street and from our iMovie forum. Never has the art of moviemaking been so easy and accessible to so many people. Who knew that so many had an itch for moviemaking? Flea season or not, I'll help you scratch that itch in my first installment.
I'm amazed at the fantastic variety of moviemaking material available to us. We have digital photos and art, archival video libraries, Dad's home movies, the QuickTime movie your friend sent you yesterday, and not to mention all the music you could possibly use (as long as it's for fun and not for profit, of course). iMovie could not have come along at a better time.
The possibilities are endless, but let's start with the rudimentary steps for using iMovie. I'll walk you through the basics of importing footage from your digital video camera into iMovie, walk you through the foibles of importing QuickTime and sound files, as well as show you the steps to get your old VHS tape footage into iMovie. By the end of this lesson, you'll know how to gather four of the many types of iMovie assets.
Importing Digital Footage from Your Digital Video Camera
TIP: If you have a tripod, use it while importing. As a coffee spiller, I can say that having the camera up and away from my desk is a good thing!
1. Plug in your digital video camera.
Plug your camera into a power outlet. (I don't recommend using your battery while importing. We'll be hitting the Rewind and Fast Forward button often, and this can be a huge drain on the old battery.)
Now, hook up each end of your trusty FireWire cable to your camera and your Mac. Turn on your camera and set it to VCR or VTR mode, and we're good to go.
2. Check Import Preferences.
There are two ways to import clips. You can have iMovie automatically import every scene (this method is fast and easy, but you do give up control over where each clip begins and ends), or you can import each clip manually, picking and choosing the scenes as you play your video while importing. Instead of iMovie ending a clip when it detects a scene break, manually importing allows you to decide where the clip ends. For this exercise, we'll put you in control of scene breaks.
From the iMovie Edit Menu, choose Preferences.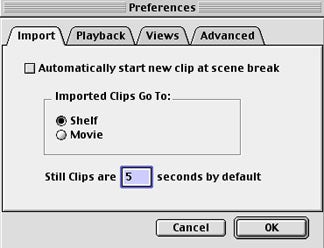 Clear the checkbox to automatically start a new clip at each scene break. Click the option to make Imported Clips go to the Shelf as shown and described below. Don't worry about the Still Clips setting. Click OK.
3. Import your digital video.

Use the blue toggle to switch between Edit mode and Camera mode by sliding the bubble to the left. The mode toggle is below the Monitor window and to the left of the playback controls.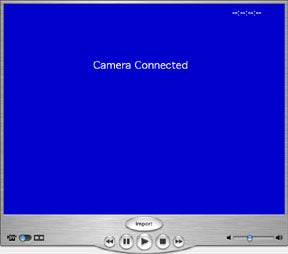 Once you're in Camera Mode, you'll see a blue screen and a message confirming that the camera is ready to export video.

The playback controls work much like those on your VCR or CD player. From left to right, they are Rewind, Pause, Play, Stop, and Fast Forward. Review your footage for worthy scenes by using the playback controls. Click on Play and then click on Rewind to move the tape to about three seconds before the scene you'd like to import. Now click on the Import button. Press the space bar or click the Stop button to stop importing.
TIP: Import a couple of extra seconds before and after the scenes you want so that you'll have some extra frames, or "seam allowance," so you can later blend the clip into the rest of your movie.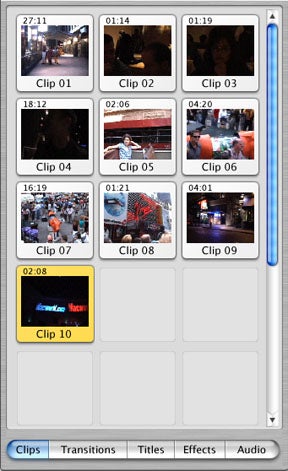 Each clip is saved to the Clip Shelf, shown above. The Clip Shelf is a scrollable window where you store your video clips before placing them into your movie. In the upper left corner of the square box representing each clip, iMovie provides the length of the clip in seconds and frames. Below the picture, you'll find a generic clip name.
4. Rename your clips.
You can give your clips more descriptive names to make them easier to identify. Sometimes, being able to see just the first frame is not enough to remind you what happens in the clip. You can change the name now in the Clip Shelf or later, after you've dragged your clips to the Clip Viewer, by simply clicking on the clip name.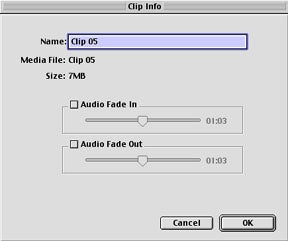 Double-click on any clip and access the Clip Name, Media File name, Size, and Audio Fade Duration Controls. You can change the Clip name here. You can also find the clip's name on your hard drive, a handy thing to know if you want to copy that clip to another project later.
Importing VHS footage
You can import footage from VHS tapes into iMovie if your digital video camera has an Analog In port and you've got the correct cable. If your camera has Analog In, it should come with the RCA composite cable shown in these pictures.
1. Connect your digital video camera to your VCR.
My camera's minijack looks like this. Your camera may have a different connector.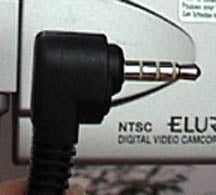 But the other end of the cable will always have split video jacks like this one.
Plug the cable into the Analog In port of your digital video camera. Here, it's the yellow one labeled A/V IN/OUT.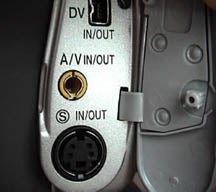 Plug the other end into the Video Out sockets on the front or back of your VCR.
The correct sockets are labeled LINE OUT here.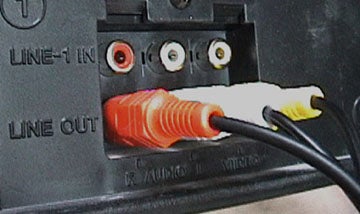 2. Record from VHS to digital video format.
Insert a blank digital video tape and set your camera to VCR or VTR mode.
Insert the VHS tape into your VCR and press Play.
Press the Record button on the camera to start recording.
(On my Canon Elura, I also had to hit Play on the side of the camera to take me out of Pause mode.)
3. Import converted video to iMovie.
When you're done, import your footage to iMovie as you would from any other digital video tape (see directions above).
Importing Sounds and Soundtracks
What's a movie without a song? I love bringing my favorite songs to life by making them part of my movies. You can import MP3 files, but I've found that I have fewer sound quality problems if I first convert them from MP3 to AIFF format in QuickTime Pro.
1. Convert sound files to AIFF.
iMovie will let you import any music as long as your audio files are in MP3 format or have been converted to true AIFF format. The file's icon must say ".aif" for iMovie to import it. To find out for sure, select the file and get information either by hitting the command key plus "I" or by selecting "Get Info" from the File menu in the Finder. If your sound file is in a format other than MP3 or AIFF, you'll need QuickTime Pro to convert it. (See "Make AIFF files using QuickTime Pro." )
2. Import AIFF files to iMovie.
Once you've converted all your sound files to AIFF, launch iMovie and open the current project. Click File, choose Open Project, and open the movie to which you'd like to add the sound file. You should see the following message.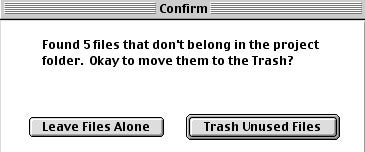 Choose Leave Files Alone.
Choose Import File from the File menu. Select the AIFF file that you would like to import. It will be added to an audio track in the Timeline Viewer.
3. Check audio files.
Click on the clock icon on the left of the Timeline Viewer to see your audio file after it has been imported. Press the space bar to play it.
Importing QuickTime Movies
The only QuickTime format that iMovie understands is DV Stream. You can use QuickTime Pro to export QuickTime MOV files to DV Stream (.dv) format. Be aware that your movie will lose quality through the conversion.
From QuickTime Pro's File menu, choose Open Movie.
Select the movie file you'd like to convert to DV Stream and click Open. Once your movie loads, choose Export from the File menu.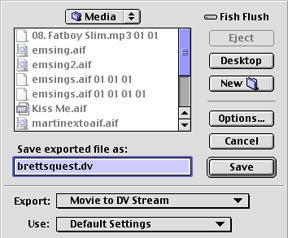 Navigate to the Media folder of the iMovie to which you'd like to add the converted movie.
From the Export pop-up menu, select Movie to DV Stream and use the default settings.
Click Save.
Now, open iMovie and the movie to which you'd like to add the video. You should see the following message.

Click on OK and the .dv file will be saved on the Clip Shelf.
Stay Tuned for the Fun Stuff
Once you've gotten most of the video and sound that you want properly imported into iMovie, you're ready to do the really fun stuff. Editing your movie can be the most creative part of the process. This is where you get to take control of the story and make it come to life for your viewers. You'll learn more about this step in our next iMovie lesson, Adventures in Editing.
Jill Baird is an independent writer. She co-wrote My iMac , published by IDG Books. In previous lives she was a Web QA engineer and technical writer for Intuit.