If you're considering getting a copy of Adobe Illustrator for your Mac and are unsure where to do so or how much it will cost, here's everything you need to know. Plus, we answer the popular question of whether you can get Illustrator for free, and look at a few alternatives you might want to try.
What is Adobe Illustrator?
Illustrator is Adobe's graphic design software package for creating logos, web graphics for your site, and other kinds of digital design. If you want your brand to have a unique and eye-catching aesthetic, and you're handy with design tools, then Illustrator is an excellent choice, while also being an industry standard for professional graphic designers.
Alongside the software itself, Adobe also includes 100GB of storage, plenty of tutorial videos and articles, and an iPad version.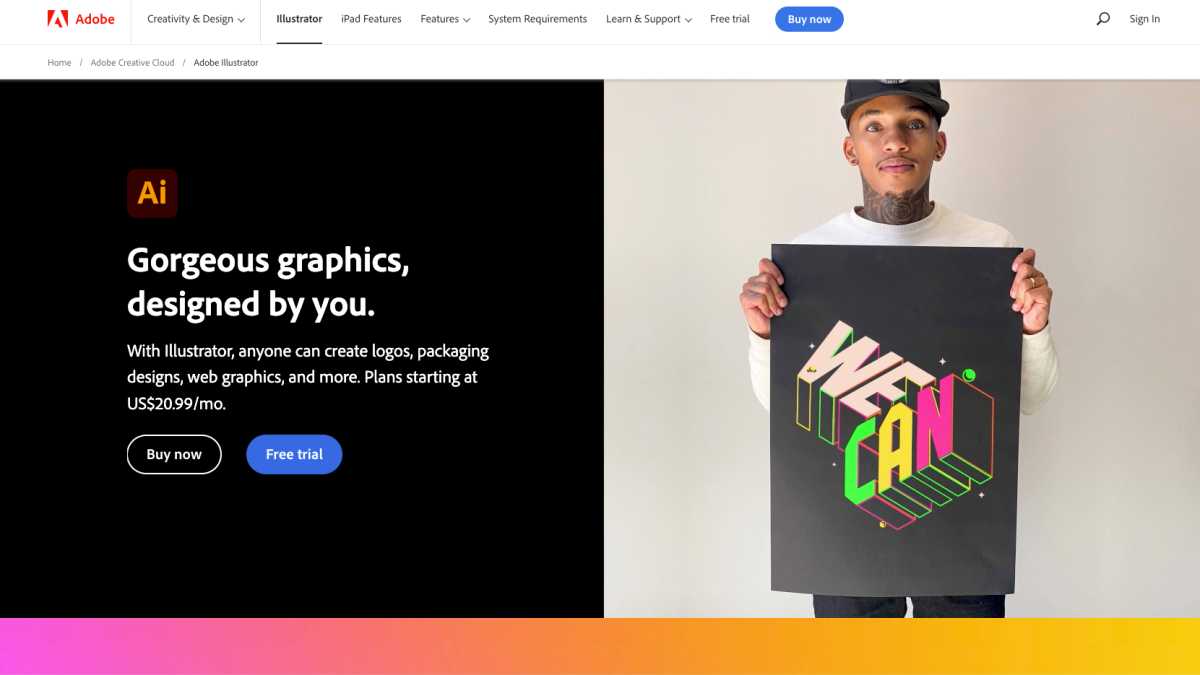 Adobe
Can I get Adobe Illustrator for free?
The company offers a 7-day free trial that lets you try Illustrator for a week to see if it meets your needs. This is the full version too, not some restricted sample with watermarks or the inability to output the work you've created.
To give the suite a spin, go to the Adobe Illustrator page (here's the UK page) and select the Free Trial option. You'll need to create or sign into a free Adobe account to be able to use the software, but once that's set up, you'll be good to go.
How much does Adobe Illustrator cost?
Adobe switched to a subscription-only model for its software a while back. This means you can't pick up boxed copies for a one-off fee anymore. If this doesn't float your boat, then we do list some alternative software options a little later in this article.
While it might be a pain to add another monthly bill to the pile, you do have the advantage of always using the latest version of the software, which includes all new features and upgrades. If you use other Adobe products, such as Photoshop or InDesign, then it's worth considering an Adobe Creative Cloud subscription (here's the UK page) as this gives you access to all the major packages Adobe offers.
The price is somewhat higher for this comprehensive suite when compared to the standalone software subscriptions, with the current cost coming in at $54.99/£51.98 (annual, paid monthly), $599.88/£596.33 (annual, paid up front) or $82.49/£78.98 (monthly, cancel any time).
If this is overkill, then you can simply go for an Adobe Illustrator subscription (UK version) which will set you back $20.99/£19.97 per month if you sign up for a year-long subscription. Paying up front for the year saves you a little bit of money, costing $239.88/£238.42. There is also an option to have a month-by-month subscription, where you can cancel at any time, which currently sits at $31.49/£30.34 per month.
Foundry
To see all the pricing for the various apps in Creative Cloud, read: Adobe Creative Cloud pricing: How to get the best deal.
Is there a student discount for Adobe InDesign?
Adobe offers a Student and Teachers discount, which can save you a small fortune, but it isn't available for Illustrator on its own. Instead, Adobe massively reduces the price of its Creative Cloud subscription. This means you can get all of the major packages (over 20 of them) for less than the price of a standard Illustrator subscription.
With the Student and Teacher discount, Creative Cloud costs $19.99/£16.24 (annual, paid monthly) or $239.88/£196.30 (annual, paid up front). Not a bad deal at all.
Adobe usually has offers for students throughout the year, so keep an eye out for reductions and packages showing up around the time you'd be signing up for a course or preparing to start a new term.
Where to buy Adobe Illustrator
Due to the subscription-based nature of Adobe's current products, you don't have many options when it comes to picking up a copy elsewhere. Amazon does offer an Adobe Creative Cloud subscription on its site (here's the UK version), and we have seen discounts in the past, so it's well worth checking out before you sign up.
At the time of writing, the monthly subscription option was available for $79.49 in the US, but you can only get the 1-year subscription paid in advance in the UK. This cost £548.79 and is a saving of around £40 when compared to the Adobe site. The same option in the US will set you back $599.88, which doesn't save you anything at all.
Are there any good alternatives to Adobe Illustrator?
If you're not set on Adobe, then you can find some fine alternatives out there.
Our current favourite is the excellent Affinity Designer 2 by Serif, which not only comes with a wide range of tools for creating vector graphics, logos and pretty much everything else you need for graphic design, but also has an affordable price that doesn't require a subscription. You can pick up Affinity Designer 2 for $69.99/£69.99. If you take advantage of the company's Affinity V2 license deal, you can get Designer 2, Photo 2 (Photoshop equivalent) and Publisher 2 (InDesign equivalent) for a one-off payment of $169.99/£169.99.
Serif
Other popular, tried-and-tested solutions include CorelDraw, Sketch, and the very capable and free Inkscape. If you'd prefer to work on an iPad using an Apple Pencil, then Procreate is another excellent option.
Related reading