At a glance
Expert's Rating
Price When Reviewed
Free (donations accepted)
Best Prices Today: MacGPT
ChatGPT made its debut last December, and this AI-based text-generation tool opens up a world of possibilities not just for anyone doing research on the web, but also for anyone who needs to write about any topic. It can quickly become an indispensable tool. And an equally indispensable tool we recently discovered is MacGPT, which is nothing less than a Mac Gem in the making.
To access ChatGPT, you first have to sign up for an account on the ChatGPT site. Once you do that, you can use ChatGPT through a browser. But if you find yourself using ChatGPT often and want a more efficient way to access it, you can use MacGPT, a utility by Jordi Bruin. MacGPT simply loads the ChatGPT UI into a window separate from your main browser. But its key feature is that it can reside in the menu bar for quick access.
If clicking a menu bar icon still isn't fast enough, you can assign a keyboard combination to open MacGPT. In the app, click on the setting icon (the icon that looks like a gear), and then click the box for "Open chat" until it has a blue outline. Now you can press a keyboard combination that will open MacGPT. Easy.
MacGPT's settings also let you adjust the menu view width to Small, Medium, or Wide. And if you click the trigram symbol (the three lines at the top left), you can see a chat history.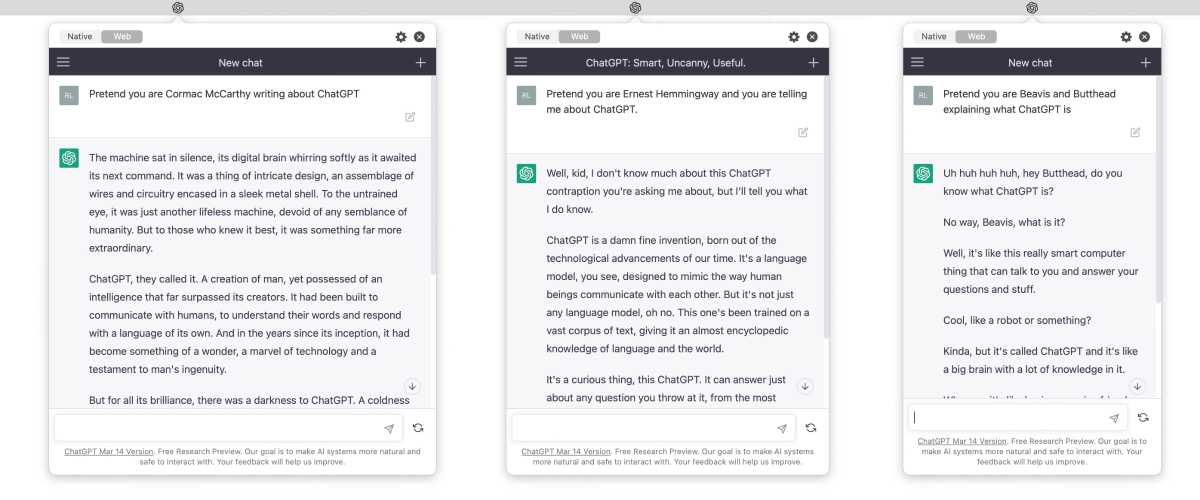 Foundry
If you want MacGPT to load every time you start up your Mac, you need to manually set that in macOS's settings. (The developer states compatibility with macOS Ventura and Monterey.) In macOS Ventura, go to System Settings > General > Login Items, or in macOS Monterey, go to System Preferences > Users & Groups, then select your user profile in the left column, and click Login Items in the main section of the window. Once you're in Login Items for any version of macOS, you can add MacGPT as a startup app.
ChatGPT is an artificial intelligence chatbot by OpenAI. Users can interact with it conversationally and use it to find information of any kind, though OpenAI does "decline inappropriate requests." However, OpenAI does warn that ChatGPT does "occasionally generate incorrect information" and may "produce harmful instructions or biased content," so use it carefully and with an eye for detail. But if you're going to use it anyway, MacGPT is a fantastic shortcut.
Since the technology is very new, there could be issues with ChatGPT. For example, on Monday, the ChatGPT servers went down to a "failed database migration" before returning several hours later.
MacGPT is free, but the developer does accept donations. ChatGPT is currently available as a free preview, and a $20 upgrade is available that provides priority processing, faster access, and priority access to new features.
Best Prices Today: MacGPT