At a glance
Expert's Rating
Pros
Adds ports to the front of Mac mini
Adds SSD enclosure for inexpensive extra storage
Cons
5Gbps USB, not 40Gbps Thunderbolt
Supports SATA M.2 SSD, not faster NVMe M.2 SSD
Our Verdict
This affordable and good-looking hub-stand for the Mac mini offers a range of useful front-facing ports missing from the Mac mini itself, and inexpensive internal storage–though it doesn't support faster NVMe M.2 SSDs.
Price When Reviewed
$99.99
Best Prices Today: Satechi Stand Hub for Mac mini with SSD Enclosure
Compatible with: Mac mini M2 & M2 Pro 2023; Mac mini M1 2020; Mac Studio 2022
Size: 7.8 x 7.8 x 0.9 inches
Ports:
1x USB-C (5Gbps)
3x USB-A (5Gbps)
SD card reader (UHS-I, 104MBps)
microSD card reader (UHS-I, 104MBps)
3.5mm audio jack
Internal SSD enclosure
While Apple's Mac mini is a tiny powerhouse of a computer blessed with a range of ports on its back, its front face is unhelpfully bare, devoid of even one handy port or slot. There's nothing but a little light to show that it's on. Apple certainly put the "mini" in "minimal" when it came to the head-on looks of its diminutive desktop computer.
The Mac Studio has the same width and depth as the Mac mini but is taller. The Mac Studio also boasts two 10Gbps USB-C ports (Thunderbolt 4 on the M1 Ultra model) and an SD card reader on its front. At the back, the Mac Studio and M2 Pro Mac mini ports are the same., while the entry-level M2 Mac mini has two fewer Thunderbolt 4 ports.
The Satechi Stand & Hub for Mac mini fixes the mini's bare front face by adding four USB ports, both SD and microSD card reader slots, and 3.5mm audio jack port. The inclusion of the card readers is important since the mini lacks this access point for inexpensive portable storage. The card readers are rated at UHS-I (104MBps)–312MBps UHS-II would have offered speedier transfers, but most users won't notice the difference. A 512GB microSD card costs about $60/£50 online–a super-cheap way of adding storage.
The USB ports are rated at 5Gbps for data transfer, compared to the Mac mini's 40Gbps Thunderbolt 4 connections. The Satechi's rival Mac mini hub, the OWC miniStack STX, does offer 40Gbps Thunderbolt 4 but comes in 2.5x the price for the privilege. 5Gbps should be ample for most non-pro basic data-transfer needs.
Satechi says that the Stand & Hub's USB ports are data only and are not capable of charging, although in our tests we were able to charge an Apple Watch and iPhone reasonably quickly using the Stand & Hub's USB ports.
The Stand & Hub also fixes another major Mac mini limitation: the non-user-upgradeable internal storage. if you want more than the base 512GB storage in the Mac mini, Apple makes you pay handsomely at the time of purchase (upgrading to 1TB costs $200/£200) and then doesn't let you later upgrade the storage yourself.
Inside this mini accessory is an enclosure where you can install an SSD made as internal storage board for computers. It's cheaper in comparison to Apple's build-to-order options–a 1TB internal SSD costs around $50/£50.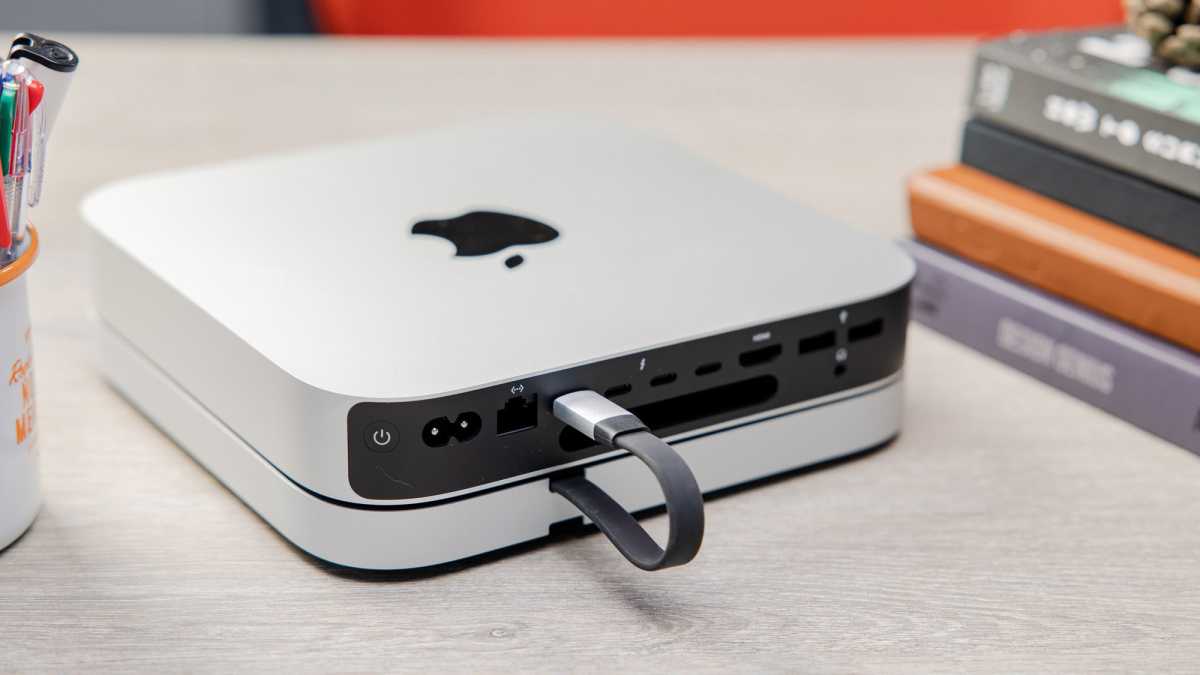 Foundry
The hub sits perfectly under the Mac mini, so making the combined pair of devices look like a slim Mac Studio but with more handy frontal ports. It connects to the computer via an integrated USB-C cable at the back of the hub. The ports are USB rather than Thunderbolt and rated at 5Gbps (gigabits per second) compared to Thunderbolt's 40Gbps.
Another technical aspect to consider is the type of SSD that the enclosure supports. The Satechi Stand & Hub supports SATA M.2 SSDs, and not faster NVMe M.2 SSDs. NVMe M.2 SSDs (with theoretical transfer speeds of up to 20Gbps) are more performance-driven than SATA M.2 SSDs (max 6Gbps). However, that max 6Gbps limit means that the hub's 5Gbps USB bandwidth is fine and there's no USB bottleneck. Many people don't need blistering storage speeds and can keep any files that need low-latency fast performance on the Mac mini's own speedy internal SSD and move more archival storage on the enclosure's SSD.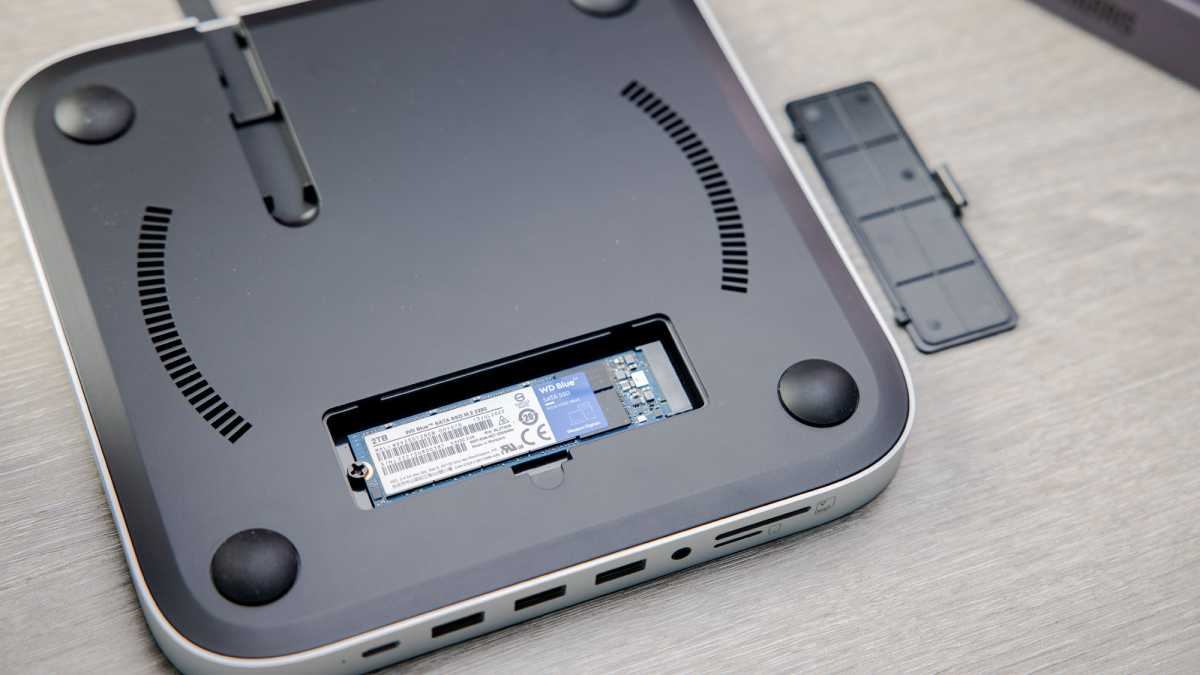 Foundry
NVMe SSD boards are more common than SATA M.2 SSDs these days, so make sure you select the correct type when purchasing for this accessory. Installing the SSD inside the Stand & Hub is simple, and the correct-sized screwdriver and screw are included.
This stand hub also fits under Apple's Mac Studio, so it's an inexpensive way to add fast storage to Apple's newest pro-level desktop, too.
If you don't need the extra storage space, Satechi also offers its Stand & Hub for Mac mini in a model without an SSD enclosure for $20 less. We'd recommend spending the extra for the Stand & Hub for Mac mini with SSD Enclosure as you may find yourself needing the extra storage space later down the line.
The Satechi Stand & Hub for Mac mini with SSD Enclosure is available in Silver color only, like the latest models of Mac mini itself. The model without the enclosure is also available in a Space Gray color, so will match the 2018 Mac mini model, with which it is compatible–the model with the SSD enclosure is not compatible with the older Mac mini.
For more Mac mini accessory options, read our feature on How to upgrade the M2 and M2 Pro Mac mini.
Bottom line
The Satechi Stand & Hub for Mac mini with SSD Enclosure offers an inexpensive fix to two of the Mac mini's limitations: no front-facing ports and fixed, non-upgradeable internal storage. Adding a terabyte or two via the SSD bay will save you hundreds compared to buying from Apple.
Best Prices Today: Satechi Stand Hub for Mac mini with SSD Enclosure