If you were paying attention to Apple's announcements of AirPort Express and the new dual-2.5GHz G5s last week, you may have missed another, non-Apple announcement that adds another spin to the concept of getting your digital music collection into your living room.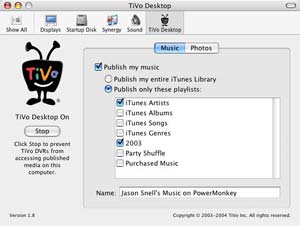 The announcement was that TiVo's Home Media Option software, previously $99, will now be free to all eligible TiVo owners. (Why the "eligible" part? Because older "Series 1" TiVos and TiVo-powered DirecTV boxes aren't eligible.)
Among the new-free Home Media Option features are two that require the use of TiVo Desktop, a preference pane that runs on Mac OS X. Turn on TiVo Desktop and you can share the contents of your iPhoto and iTunes libraries with the TiVo.
What this means is that now when you buy a TiVo and attach it to your home network via Ethernet or AirPort (via an add-on USB adapter), you can use your TV set as an interface for playing back MP3s from your music library — no iTunes required. You can also view iPhoto slideshows right on your set, via the same interface.
Now, there are some drawbacks here. TiVo Desktop requires iPhoto — it won't work with other catalog programs, such as iView Media Pro. And it won't play AAC files of either the unprotected or protected variety. (Apple's not letting anyone but itself play the protected files, but other music players have added support for unprotected AAC.)
But if you own a Series 2 standalone TiVo or are thinking of buying one, these newly-free features make the TiVo more than just a digital video recorder. They make it a real part of the digital hub. (And if you haven't considered buying a digital video recorder yet, don't get me started.)
Note: When you purchase something after clicking links in our articles, we may earn a small commission. Read our affiliate link policy for more details.