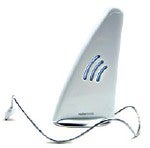 When Griffin Technology announced that it was developing a USB-based Mac and Windows radio with time-shift capabilities, people were pretty excited. Radio fans wanted the TiVo-like power to time-shift and pause live radio.
But the product (announced in July 2003) was a long way from being ready to go. And so only now, 14 months after it was announced, has a RadioShark arrived on my desk. But it's here — it came on Tuesday, and I've been playing with it since then.
The Form
RadioShark is, as advertised, a small (seven inches high at its white-plastic peak, four inches wide at its silver metallic base) shark-fin-shaped USB radio. Within the shark fin are three transparent plastic windows, no doubt meant to be a visual representation of radio waves. When you plug in the RadioShark, they're faintly illuminated by a blue light. A white USB cable trails off the back of the fin, and right above there's a minijack if you want to plug the radio directly into headphones or speakers.
To be honest, a USB radio isn't very interesting. What has made the RadioShark a topic of interest over the past 14 months has been its combination of hardware and software. And I can confirm that the RadioShark software does deliver on what it promises, although (as you might expect from a first version of any software) it's not without some quirks.
How it Works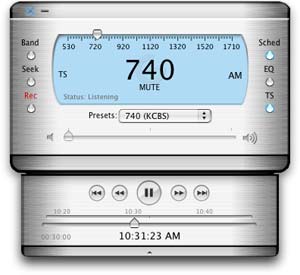 The main RadioShark application interface is a metallic, iTunes-style window. A slider along the top lets you change frequencies — there doesn't seem to be a way to change frequencies by typing in a number. There are three buttons on either side of the "dial," and a volume slider right below it. On the left, the Band button lets you switch between AM and FM; the Seek button advances the frequency until it finds a strong signal; and the Rec button automatically begins recording what you're listening to. On the right, the Sched button opens up a window that lets you set up or play back scheduled recordings; EQ lets you process the radio sound iTunes-style with an equalizer, and TS slides out a drawer below the main window containing "time-shifting" playback features.
Staying on Schedule
Scheduling a recording with RadioShark is fairly straightforward, although not as easy or as elegant as it could be. Although RadioShark can display time in either 12-hour or 24-hour clock mode, the Event Details window is a mixed metaphor and a little buggy. You can't choose AM or PM for any time, so you must instead enter in the hour in 24-hour notation and watch as your PM times are converted — but if you do it a second time, they get converted backward. It might be a bit annoying (and no doubt Griffin will be updating the software to fix these bugs, now that RadioShark is in the world), but despite the annoyances I was able to work around them and schedule recordings easily.
You can schedule repeating recordings, as well. Recordings can repeat hourly, daily, or weekly. It would be great if a future version of the software offered some more flexibility, including recording only Monday through Friday, or recording on other specific intervals, such as every half-hour.
Once you've set a recording time, you can give your scheduled recording a name, choose which station the RadioShark should record, and what audio format you'd like to have your recording saved as. Right now, the only options are AIFF and AAC. With AAC, you can record at five different bit rates from 64 to 320 kbits per second, at one of three different quality settings.
You can play back recording items from within RadioShark's scheduling window, but an easier path is to set the program's preferences to automatically add your recordings to a special RadioShark playlist within iTunes.
Time Travel
RadioShark's time-shifting features work as advertised, although as a TiVo user I found it a little disconcerting to be able to listen to myself changing radio stations — on TiVo digital-video recorders, the recording buffer is wiped out when you change channels. Here, you can listen to music for 30 minutes, then switch to news — and still back up into the music. The size of the recording buffer is completely configurable (as long as you've got enough hard-drive space), and you can also configure just how many seconds you skip when you press the Rewind and Forward buttons — a 15- or 30- second skip works great when skipping ads.
RadioShark is actually two different applications — the interface application and a background server application. This means you can quit out of RadioShark and the program will still grab your scheduled recordings. And if Mac users check the Accumulates When Closed preference (an option not available in the Windows version of the RadioShark software), RadioShark will even continue to record the live radio buffer while it's closed.
There's one feature, promised for the RadioShark way back when, that doesn't exist in the version I've been using. At that time, Griffin claimed: "[RadioShark] can record audio Internet streams, either scheduled or real-time, from any streaming audio application." That would be a nice feature, but honestly, it doesn't seem to be one that's integral to the product.
The Lowdown
RadioShark is what it is — a USB radio that lets you time-shift, pause and back up live radio, and record what you're listening to. For NPR addicts, dittoheads, sports fiends, or anyone else who enjoys the cornucopia of options on the airwaves, that's probably more than enough.