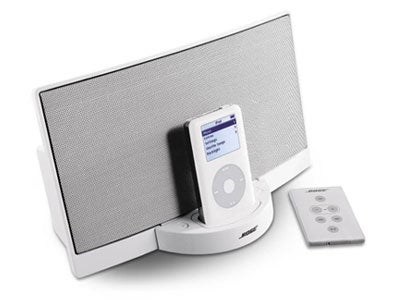 As Apple's iPod has become a cultural phenomenon akin to Sony's Walkman, the market for iPod accessories has exploded—some of the biggest names in computer and home audio have responded with systems specifically made for the iPod (and, just as significantly, incompatible with other portable players). Bose has recently joined the fray with its $300 SoundDock speaker system, which uses the now-familiar dock connector base for iPod connectivity. Featuring a glossy white body and large, full-face metal grill, the SoundDock is a good aesthetic match for full-size iPods (and even silver iPod minis) with an attractive but simple appearance that won't dominate your decor.
Simple Setup
It would be tough to find a speaker system that's easier to set up than the SoundDock. When you first open the SoundDock box, the interior box flaps provide clear illustrations of the three-step setup process: (1) Attach the dock slot adapter for your particular size iPod—five sizes, for any dockable iPod except the new iPod Photo, are included; (2) connect the power cable; and (3) place your iPod in the dock slot and enjoy the music. (Your iPod is also charged while it's in the SoundDock.) The only other piece in the box is the included credit card-sized, wireless remote, which lets you play, pause, skip forward or back, adjust the system volume, and turn your iPod on or off.
Note: The SoundDock does not include a dock slot adapter specifically for the iPod Photo; Bose's official position is that the included adapter for the 30/40GB (3rd-generation) iPod should be used for iPod Photo compatibility. In my testing, this adapter works, but as the iPod Photo is slightly thicker than previous iPods, the fit is very tight — a bit too tight for my tastes, as I was concerned that I was bending the dock connector or scratching the iPod's front by forcing it into the slot.
Like JBL's On Stage system, the SoundDock is not designed to be a portable system, despite its all-in-one design. It requires AC power, and although it's certainly smaller than a full-size system, at 11.9"W x 6.7"H x 6.5"D it's sizable enough that carrying it from room to room is the extent of its practical transportability. It's clearly intended for home or office use.
Solid Sound
As we've noted in reviews of other one-piece, "desktop" speaker systems, these units will never sound as good as a quality set of "home" computer speakers with a subwoofer and satellites, especially in terms of stereo imaging and bass response—their smaller drivers simply don't have the ability to reach the low end and the drivers are too close together to provide significant stereo separation. (If you're looking for the best sound for $300, the Altec Lansing FX-6021 provides deep bass, excellent imaging, and some of the best overall sound we've heard in the computer speaker market.) However, just as a laptop isn't designed to outperform a desktop computer, small desktop systems like the SoundDock aren't designed to best home speaker systems in output or imaging. You're paying a premium for the ease of use, space-saving design, and "movability" that such a system brings. If you need or appreciate these attributes, you'll likely find them worth paying for and will be willing to sacrifice ultimate sound quality to get them.
That being said, of the desktop systems we've tested, including JBL's $200 On Stage and Altec Lansing's various inMotion models ($130-$180), I found the SoundDock to provide the best sound overall sound quality by a fair margin. Although it doesn't have the impressive treble response and "airy" feel of the On Stage—which at times errs in the opposite direction, with too much treble emphasis—the sound produced by the SoundDock is well-rounded and enjoyable. Its bigger size allows it to use larger speaker drivers, which provide a fuller sound with more bass and a warmer midrange. And thanks to AC-only operation, it likely uses a more substantial power supply and amplifier, which would explain why it has more of what we in the business call "oomph" than systems restrained by battery life considerations. (I say "likely" because Bose as a rule doesn't provide power specifications.) The SoundDock also has more presence than the other systems, with the ability to easily fill a decent sized room with music—none of the other desktop systems I've tested can come close to producing similar volume levels without distortion.
The Missing Sync
As much as I liked the SoundDock as a desktop speaker system, I missed a couple significant features present in the less expensive offerings from JBL's and Altec Lansing. First, there's no dock connector on the Bose unit, so you can't sync your iPod with your computer while it's in the SoundDock; you must remove it from the SoundDock and connect it to your computer via the iPod's dock cable or dock base. Second, the SoundDock has no auxiliary audio input jack, so despite its superior sound, you can only use it to listen to audio from a docked iPod. With the JBL and Altec Lansing systems, you can connect your computer, TV, or another portable player.
The Lowdown
At $300, the SoundDock is more expensive than competing systems that offer a few more convenience features (such as auxiliary inputs and syncing ability). However, it's currently the best sounding of the "one-piece" speaker systems I've tested and its uncluttered elegance and ease of use make it an appealing offering for those willing to plunk down the change. If you're using the SoundDock in the types of environments for which it's intended—on a desk, or in a bedroom, office, or kitchen—you'll be rewarded with good sound in an eye-catching package.