Voltaic has announced the Voltaic Backpack, a lightweight backpack that sports three waterproof solar panels, which generate 4 watts of power. The $229 basic-black pack also includes a 2,200mAh Li Ion battery that acts as a mobile power reservoir — one that can be charged when the sun is shining and then used by attached devices when the sun has set.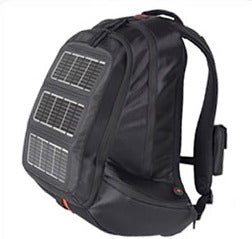 Included with the backpack are four adapters for the most common cell phones and seven universal power adapters. The pack also includes an AC travel charger and car charger for those times when you can't charge the pack from the sun. Optional phone, PDA, and camera adapters are available for an extra charge.
Voltaic hopes to make an iPod adapter available soon.