It'll be a few more months (at least) before Mac OS X 10.4 is ready for prime time, but that's not stopping Macworld readers from grabbing Apple's Tiger by the tail. After reading the September 2004 preview of Tiger's announced features—and our wish list of things we'd like to see—readers flooded us with suggestions of their own. Where do Mac users find the time to analyze an OS update that's yet to appear? We'd like to think that the 66 time-saving tips we included in the same issue helped a bit. l
Tiger Tales
Gerry Davenport Reading "10 Tiger Features We'd Like to See" ("10 Things to Know about Tiger," September 2004), I was quickly reminded of a piece of software I use. You wanted spring-loaded folders in the Dock; Workstrip, by Softchaos, is a great tool for this. As for quick access to files and smarter files, Workstrip does that, too. As much as I would love to have every conceivable cool and neat feature in my OS, that just isn't going to happen, because everyone is different. What you like may not be what I want to deal with. To load up your computer with many, many small widgets, little apps, and other scripts to do small tasks and alter the system is not a wise thing to do.
Stephen C. Langford Here is a suggestion for iChat AV: a transparent image of the "speaker" that appears superimposed over a document on screen (as pictured below). The listener can point to things on screen and ask questions or make suggestions. You can edit the document in real time in the application of your choice. The technology, called FaceTop, implements several standard OS X extensions. David Stotts, at the University of North Carolina, Chapel Hill, estimates that a Mac version would take a couple of months to implement. Interested commercial or private developers should contact the Office of Technology Development at the University of North Carolina.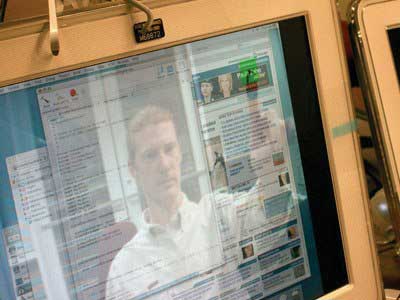 Benjamin Ostrom Regarding "Typing Tiger" ( From the Editor's Desk, September 2004 ): While keyboard strokes are useful to keyboard people, I'm a GUI guy, and I'm addicted to my Wacom tablet-and-pen interface. What I would dearly like to see in Tiger is the ability to take any program's drop-down interface and then drag and drop an instruction to an overlay of that program's main menu. For instance, I use the Select All command a lot in many programs, but it always requires a mouse or pen move to the drop-down menu. Why not simply create an easy way to customize any program with a do-it-yourself icon? Tiger would remember the new, user-customized GUI each time you opened that program.
Time Is on Our Side
Phil Zampino I picked up a few interesting tricks from "Save Time with Shortcuts" ( Working Mac, September 2004 ). I'm a fast touch typist and prefer to keep my hands on the keyboard whenever possible. I've given up in many cases, and instead use a trick that has saved me enormous amounts of time, though I've never heard anyone else mention this idea. What I do is program the two side buttons on my four-button Microsoft mouse to issue a forward delete (front button) and a return (back button). Since my hand is on the mouse so often, and these are two of the most-used keys, I find that I'm able to move much more speedily around my system with far less back-and-forth between the mouse and the keyboard. My other favorite keyboard macro uses CE Software's QuicKeys to program a left-hand return and delete key. I make option-Q a forward delete and option-~ (tilde) a return key. I use these less than I do the mouse delete and return buttons, but when I'm mousing around the screen and deleting—great for filling out forms in a browser—it's more efficient to use both hands rather than clumsily move my fingers from button to button on the mouse.
Steffie Lucchesi Thanks for the silent-startup tip ("Mac OS X Hints," Help Desk, September 2004 ). I have new friends in the library now. I always forget to plug in my headphones before turning my laptop on.
A Discreet Mention
Todd Jaquith While Ben Long mostly hit the nail on the head with his review of Discreet's Combustion 3 ( ; September 2004 ), he was wrong about some of the new features. The Grain Management tool has been in the product since Combustion 2, as have the selection and mask feathering controls.
Fonts of Information
Theresa Mesa With FontAgentPro 2.1 ( ; September 2004 ), you don't have to add fonts to a set to compare them in Font Compare. Just press the Command key as you click on the font in the left column—this trick works even with All Fonts selected.
Michael Myers There is one major thing none of the current font managers do that we designers desperately want and need and that we lost in OS X—WYSIWYG font menus in all programs. So far only AppleWorks has it. Yes, I can go to Font Book and look them up, but that takes too long. I need to see them in the list, whether I'm in Quark, Illustrator, or Photoshop. I currently use Extensis Suitcase, but I found out that it doesn't have WYSIWYG menus. Please, get us our WYSIWYG menus back!
You Software's $30 You Control: Fonts adds a WYSIWYG menu to many apps.—Ed.
Stifled Voices
Shawn King In his review of iPod voice recorders ( September 2004 ), Cyrus Farivar writes that "there are no options for recording in other formats" and lists this as a con for the Belkin Voice Recorder for iPod and the Griffin Technology iTalk iPod Voice Recorder. That's a bit unfair—both devices are limited by the iPod's capabilities. Apple has limited the recording ability of the iPod to 8kHz, 16-bit mono WAV files. Also, he doesn't make it abundantly clear that neither device is suited to high-quality recording. Again, the Apple-imposed limitations make them recommendable only to people who want to do simple voice recordings.
Enjoying Encoding
Grant Grubb I want to thank Jim Heid for "iTunes Encoding Strategies" ( Digital Hub, September 2004 ). I recently added an AirPort Express to my living room, and I love listening to my computer in the afternoon. The "Rebuild Your Library" box was especially helpful. I didn't care much for the quality of my music when I first set things up—it sounded a bit mushy. Increasing the bit rate to 192 Kbps on several CDs has made a world of difference, and I plan to reencode them all soon.
Much Ado about Bit Rates
Trevor Cook Reader John Burt warns against using variable bit rate (VBR), saying that his files ended up with a rate between 164 and 184 Kbps ( Feedback, September 2004 ). First, he may have been using average bit rate, which focuses on a certain spectrum of bit rates and is not in fact true VBR. Second, that's all his music needed. The concept behind VBR is that not all music, not all parts of a song, require the same bit rate. VBR analyzes your music and gives out what it determines to be the highest bit rate required to ensure the best sound possible, assigning high and low rates as needed for file-size economy. In short, the reason his music may have hung around that same bit rate was merely that it needed nothing more to sound transparent (that is, as close to the original CD as possible).
Post comments on our forums; send them by mail to Letters, Macworld, 501 Second Street, 5th Floor, San Francisco, CA 94107; or send them by e-mail to lettersmacworld.com. Include a return address and daytime phone number. Due to the high volume of mail we receive, we can't respond personally to each letter. We reserve the right to edit all letters and posts. All published letters and forum comments become the property of Macworld.