If you're a laptop user, you need to be aware of the status of your battery: whether or not it's fully charged, how much time you have left before it runs out of power, etc. Mac OS X provides a battery status item for the menu bar—enabled via the Energy Saver pane of System Preferences—but it has two drawbacks. The first is that it takes up a lot of menu bar space. The second is that it doesn't provide many options: It's limited to showing either an icon that shows the battery's charge level, that icon plus the percent charge remaining, or that icon plus the estimated time remaining before the battery runs out.
That's all useful information, to be sure. But if you have an iBook or PowerBook, you owe it to your 'Book to check out Colin Henein's excellent—and free— SlimBatteryMonitor 1.2 ( ; www.orange-carb.org/SBM/ ).
What makes SlimBatteryMonitor better? First, as the name implies, it's slimmer than OS X's built-in battery display by a fair margin, giving you more room for other menu bar items. (It also happens to look much nicer, in my opinion.):

But what I like best about SlimBatteryMonitor are its options for customization. Unlike Apple's monitor, which shows the same information at all times, SlimBatteryMonitor has three display states, with each state providing different, independent options:
While running on battery
Hide display
Show battery level icon
Show icon and percent charge remaining
Show icon and time remaining
While battery is charging
Hide display
Show battery level icon
Show icon and percent charged
Show icon and time until fully charged
When battery is charged
Hide display
Show battery level icon
Show icon and percent charged
Show icon and word CHARGED
Although these options may appear at first glance to be overkill, they allow you to get exactly the information you want for each state: using, charging, or charged. For example, on my PowerBook, I have SlimBatteryMonitor set to the following:
When running on battery: Show level icon and time remaining
When battery is charging: Show level icon and time until fully charged
When battery is charged: Hide display
In other words, when my battery is less than fully charged, I can quickly see how long I have until it runs out (on the road) or is fully charged (at home), but when it's charged, SlimBatteryMonitor disappears completely to leave room for other menu items. (In case you're wondering, SlimBatteryMonitor uses the same data as Apple's own battery monitor, so the gauges are equally accurate.)
I also use SlimBatteryMonitor's custom color settings to provide visual cues as to the status of my PowerBook battery: When running off the battery, the menu icon is a nice teal; when charging, the icon is orange; and when fully charged, the icon is bright green. (The latter two colors match the light on my PowerBook's AC adapter perfectly.)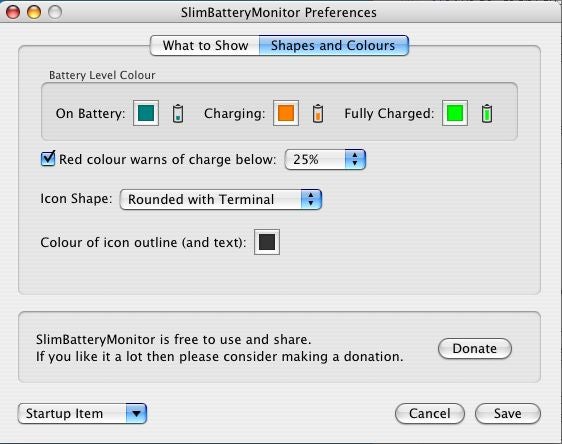 A few other extras are also quite useful. Like OS X, SlimBatteryMonitor can show a warning dialog when your battery gets low, but with SlimBatteryMonitor, you decide when that warning appears: with 10%, 15%, or 25% of your battery power remaining. SlimBatteryMonitor also supports dual-battery PowerBooks, and it can even monitor UPS batteries, making it useful even for desktop Macs. I wish it allowed you to choose your display preferences from its drop-down menu, like OS X's monitor, but that's a minor quibble.
If you're a road warrior, SlimBatteryMonitor is a great tool; it's found a permanent spot in my menu bar.