Winter's chill came early to the Game Hall of Fame this year; snow first fell in Pittsfield, Massachusetts, well before Thanksgiving. Whenever we see frost—or in this case, several inches of powder—on the pumpkin, we know it's time to start pondering this year's inductees to the Game Hall of Fame.
2004 stood out for Mac gamers for one reason above all others: The release of Halo. (Actually, it arrived in time for Christmas, 2003, but 2004 was the first chance we got to review it.) That may have set the tone for the year, though 2004 proved to be every bit as varied and interesting as years past. The brass is polished; the fingerprints have been cleaned from the glass. Without further ado, let's pull back the curtains and get the drum rolling to introduce 2004's inductees into the Macworld Game Hall of Fame.
Most Worth the Wait
Halo: Combat Evolved: , MacSoft, $50 (see Best Current Price )
What It Is: A first person shooter that was already legendary before its release.
Who It's For: Bungie fans and first-person shooter enthusiasts.
Why It's a Hall of Famer: It may have taken four years to finally make it to the Mac, but Halo finally came—a few months after it was released for the PC and more than two years after it came out as an exclusive console title for Xbox. Halo easily ranked as one of the most-hyped games in Mac history, partly because of its pedigree: the product of Bungie Studios, the same company (now a Microsoft game studio) that created the legendary Marathon and Myth series.
Halo is, without question, chock-full of the Bungie goodness we've come to expect, from the in-depth single-player story line to challenging multiplayer action, from gorgeous, jaw-dropping graphics and visual effects to Hollywood-quality sound effects and a terrific soundtrack. All the components are here for what amounts to a near-perfect action gaming experience, and one that sets the bar for all games to come.
Best Way to Get Silly
ToySight: , Freeverse Software, $35 (see Best Current Price )
What It Is: A collection of mini-games designed to work with Apple's iSight (and other webcams too).
Who It's For: Anyone who wants to get off their butt and hop around in front of their Mac.
Why It's a Hall of Famer: Mac software developers have figured out plenty of cool ways to use Apple's iSight webcam, but none of them is as much fun at parties as ToySight. This clever collection of mini-games puts you in the action, quite literally. By injecting your image into the game, you become the game controller, whether it's trying to balance marbles on an unsteady plank, plummeting to Earth as a skydiver, waging war with submarines or one of a total of nine different games, you find yourself waving your arms around in the air in front of your Mac like a complete lunatic.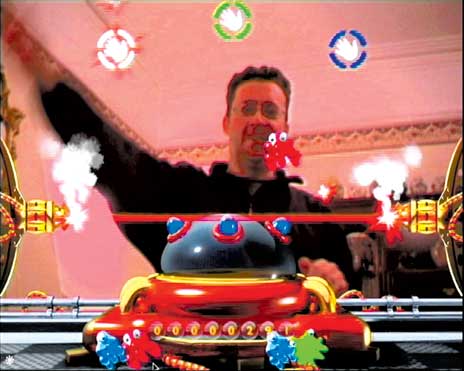 A collection of software "toys" that puts you in the midst of swimming visual effects further enhances ToySight's use at parties. We challenge you to find a better way to use a Mac to make people smile and get into the action at your next shindig.
Best Use of the Force
Star Wars: Knights of the Old Republic: , Aspyr Media, $50
What It Is: A single player role playing game set in the Star Wars universe, millennia before the events in the movies.
Who It's For: Star Wars enthusiasts looking for a comprehensive role-playing challenge.
Why It's a Hall of Famer: What happens when you take one of the most beloved sagas in science fiction history and combine it with one of the best role playing game engines around? It doesn't take Jedi powers to recognize that it's a powerful combination.
Just like a lot of RPGs, you can create a custom character of the gender and class you prefer. But what makes Knights of the Old Republic so much fun is that you can play as good or evil. Say and do the right things and you'll eventually become a Jedi initiate. Act like a cad and look out only for yourself, and eventually you'll be heading down the path of the dreaded Sith.
There's no multiplayer mode here, but dozens of hours of gameplay will keep even the most hardened RPG fan playing to the end. And Knights of the Old Republic looks and sounds great, too—every bit the first-class treatment you'd expect from an A-list Star Wars game.
Best Stealth Learning Tool
Didi & Ditto Kindergarten: , Kutoka Interactive, $20
What It Is: An early learning title that teaches the educational basics.
Who It's For: Kids, ages four to six.
Why It's a Hall of Famer: Sometimes kids learn the most when they don't know they're learning. Nowhere is that more true than in educational software, where titles either hit kids over the head with curriculum or have such little educational value they might as well be video games. Kutoka Interactive strikes a great balance with Didi & Ditto Kindergarten, one of the first entirely new properties for kids in this age and learning range we've seen in several years.
Didi & Ditto are a pair of beavers, and one of them ends up getting nabbed by Zolt, the vegetarian wolf. (With beavers as this game's main characters, it kinda figures that Kutoka is Canadian; the developers told Macworld —presumably in jest—that they're saving moose for their next game.) Zolt is quite hungry for some fruits and veggies, thanks to HipHop the mischievous rabbit's machinations, and he wants you to track down some fresh produce to silence his grumbling tummy.
To do so, youngsters need to complete activities that will have them practicing counting, letter and word recognition skills, identifying shapes and colors and more. It's all cleverly wrapped in a 3-D computer animated world that will appeal to the jaded palettes of kids who have been weaned on Dreamworks' and Pixar's latest fare.
Best Invocation of Ancient Gods
Age of Mythology: , MacSoft, $50
What It Is: A real time strategy game set in ancient times.
Who It's For: Anyone who's ever wanted to open up a can of Minotaur whupass on their enemies.
Why It's a Hall of Famer: Empire-building strategy games are part and parcel of the strategy game genre, and MacSoft has made it their mission to bring their best to the Macintosh over the years. Age of Mythology continues this fine tradition, and it comes from the same developers who created the beloved Age of Empires series.
Age of Mythology differs from the Age of Empires games because it narrows the number of unique civilizations you can choose from: the Greeks, the Egyptians and the Norse, and makes the differences between each one more than mere window dressing. Each civilization features unique ways to gather and use resources, build structures and wage war. The mythologies of each civilization plays a crucial role too, because your patron gods can bestow upgrades in armor and weapons and the ability to tame mythological beasts, which you can then send into battle to help defeat your foes. A map editor also helps extend the challenge.
Most Attractive Game
Homeworld 2: , Aspyr Media, $50
What It Is: A real-time strategy game set in outer space.
Who It's For:Strategy gamers looking for a 3-D challenge.
Why It's a Hall of Famer: How many times have you watched really great visual effects in a sci-fi movie and said to yourself, "I can't wait until games look that good?" Well, your wait is over, because Homeworld 2 is on the Mac. This is without question one of the prettiest-looking games that popped up on the Mac this year, with graphics that some people mistook for pre-rendered cinematics when screenshots of the game first circulated. They look like they're straight from the cover of sci-fi pulp fiction novels, with richly colored nebulae and bejeweled planetary surfaces serving as the backdrop for massive fleet battles that look like swarms of angry insects.
Homeworld 2 is the sprawling saga of the Hiigarans, a spacefaring race of humans far in the future who return home from an interstellar exile only to find themselves hunted by the Vaygr, a warrior clan with a penchant for the total subjugation of their foes.
Now, plenty of strategy games use sophisticated 3-D engines, but the vast majority of them play out on two-dimensional maps: You may need to climb mountains or ford rivers, and you may have fleets, armies and squadrons of ships, but essentially you're thinking in X and Y dimensions: You're not expecting your opponents to burrow underneath the earth and attack you from below. That's what makes Homeworld 2 so appealing—in space, there are three dimensions and six degrees of motion you need to consider when it comes to mining resources, deploying your fleets and defending yourself from the enemy. This adds a new twist that makes Homeworld 2 one of the best games of the year.
Best New Twist on an Old Favorite
Starbase Defender, , Bigger Planet, $20
What It Is: Old school gaming with some new tricks up its sleeve.
Who It's For: Anyone who thinks Missile Command and Rip-Off are classics worth preserving.
Why It's a Hall of Famer: Sometimes going back to basics is important. The dawn of the video game era, back in the ice age of the late '70s and early '80s, gave rise to some of the most addictive and thoroughly satisfying games in history—ones that still rank among true gaming enthusiasts' favorites, despite their primitive graphics and repetitive gameplay. To that end, Bigger Planet culled ideas from two of the era's titles—a somewhat obscure vector-based game called Rip-Off and the more widely remembered Missile Command—and combined them together to create a thoroughly modern little shareware gem.
You're cast in the eponymous role as you defend your starbase from an alien invasion bent on stealing your base's power cores, towing them away with tractor beams. Expect hostiles to fly in from all sides as you use your base's cannon and other defense to repel the attack. The quicker you are with the trigger and the more accurate you are with your targeting reticle, the more likely you are to win the favor of starship captains who will help you quell the onslaught.
Times and tastes change, so Bigger Planet has enveloped this old school gaming goodness in a thoroughly modern package that uses 3-D graphics and great-looking particle effects, as well as an electroclash soundtrack, to help evoke that feeling of 1980's nostalgia that will take hold as soon as the missiles start flying.
Best Use of a Steering Wheel
Total Immersion Racing: , Feral Interactive, $45
What It Is: An auto racing game with uncanny AI.
Who It's For: Auto racing enthusiasts who want to bring their Macs in on the action.
Why It's a Hall of Famer: First of all, there just aren't enough auto racing games on the Mac, so it's always great to get them, and this has become a niche for Feral, with titles like F1 Championship Season 2000 and Ford Racing 2. Auto racing games are always better with a steering wheel, but Total Immersion Racing is fun even without it.
What makes TIR unique and particularly noteworthy is an artificial intelligence (AI) system where the computer controlled players remember who you are from race to race. If you bump them off the road or cut them off on hairpin turns, they'll keep that grudge—which makes for some interesting races after you have a few wins under your belt.
Additionally, TIR features real-world cars and tracks. So if you've ever wanted to race a BMW at Monza or an Audi at Sebring, here's your chance. You can even go head-to-head with someone sitting at the same Mac right next to you (no network play here—latency is a killer for racing games).
Best Role Reversal
Ghost Master: , Feral Interactive, $45
What It Is: A strategy game in which you scare people.
Who It's For: Anyone who roots for the bad guy in horror movies.
Why It's a Hall of Famer: Being the hero all the time can get so boring. It's nice to turn the tables and become the bad guy, and Ghost Master does exactly that. It turns out that bureaucracy is alive and well in the afterlife, and as an undead civil servant, it's your job to scare the mortals who live and work in Gravenville. To do so, you employ a workforce of ghouls who scare the "plasm" out of living people, and plasm is the coin of the ghostly realm—the more you have, the more successful you are.
There are some tricks involved in scaring people, however. Some ghosts only work in certain locations, and some humans respond to specific kinds of hauntings differently. Also, each mission in this game features one or more objectives you have to reach to be successful, such as uncovering evidence of a murder or freeing a ghost from a trap.
Best Tension Reliever
Unreal Tournament 2004, , MacSoft, $40
What It Is: A fast-paced first person shooter.
Who It's For: Shooter fans who just can't get enough.
Why It's a Hall of Famer: Halo may have been the first person shooter that everyone wanted at the start of the year. If, heaven forfend, Halo wasn't enough, Unreal Tournament 2004 kept them busy straight through the summer. Unreal Tournament 2003 was one of last year's top picks, and with some new twists, UT 2K4 is on this year's list too.
Another MacSoft creation, this game shipped almost at the same time as its PC counterpart, which has put—and kept, thanks to regular updates—Mac users on a level playing field with their Windows-using friends.
The basic formula's the same: This is a gladiatorial combat game set in giant arenas, some outside, some inside. But for the first time, UT players can man vehicles – everything from hovering ships capable of raining death from above, to muscular 4x4s that make it just as easy to mow down your opponents as to shoot them. A new game mode called Onslaught tests out your team-building skills by making you capture and hold strategic points, and the Assault mode—missing from last year's version—is back with a vengeance.
Voice communication, massive new maps, "Unreal TV," which lets hundreds of players watch other players go at it, tons of mods, and a very active online gaming community all add up to an awesome first person shooter experience.
Best Use of Biofeedback
The Journey to Wild Divine: , The Wild Divine Project, $160
What It Is: A Myst-style adventure game that uses a custom game controller.
Who It's For: People who are interested in mastering their body and mind.
Why It's a Hall of Famer: It may seem strange that The Journey to Wild Divine is in the Game Hall of Fame, as the game itself left us with something to be desired, but this unusual and unique title left quite an impression, and it was without question one of the most memorable games of the year. The Journey to Wild Divine game is a Myst-style graphical adventure romp that's full of beautiful scenery and puzzles to solve. But it's how you solve those puzzles that makes this game so special.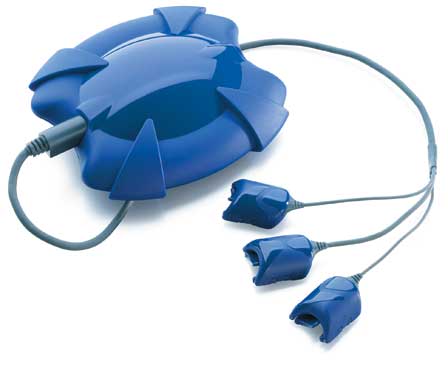 The game comes bundled with a special USB controller that attaches to your fingertips. By measuring your skin's galvanic response and your pulse, The Journey to Wild Divine steps you through exercises and games that teach you the principles of biofeedback and how to better manage your body's own responses.
It sounds like hokum, but it really works: you may feel silly laughing out loud or singing while you're playing, but the first time you see what's happening on the screen actually change as you alter your breathing patterns or just start to think differently, you'll be hooked. And you'll realize just how important a positive frame of mind is to your body's well-being.
Best Use of History
Railroad Tycoon 3: , MacSoft, $50
What It Is: A real-time strategy game with railroads.
Who It's For: Anyone who likes to play with choo-choos.
Why It's a Hall of Famer: Poptop Software's Railroad Tycoon series puts you in the role of a captain of industry: An entrepreneur who's starting a railroad line. The nation will grow and so will your fortunes if you lay track right, service your stations effectively, and manage the flow of goods and passengers throughout your transportation network. Fail, and you'll go broke and lose the game. You'll get to play as Industrial Age robber barons and relive great periods of rail expansion throughout the 19th and 20th centuries, and you'll even get a taste of what rail transportation might be like in the future.
This is the same formula that we've seen in previous installments of Railroad Tycoon. The franchise got a major overhaul with this year's release of Railroad Tycoon 3, thanks to a new 3-D gaming engine and changes to the underlying economic engine that powers the game.
Though there's a "sandbox" mode that lets you just lay track and operate locomotives around to your heart's content, the real meat of this game is in understanding how goods and passengers move around the country and how you can help that endeavor—and how to play the market not only to increase your own personal fortunes and the stock value of your company, but how to drive your competitors into the ground or take them over with mergers and acquisitions. It's a powerful combination that will keep you coming back for more.