Office workers and photographers use their Macs for two very different purposes—one group turns to the Mac to help them get their job done quickly and easily, while the other is looking to store, edit, and print digital images. Yet both disparate segments of the Mac universe have at least one thing in common—a slew of gotta-have gadgets that will enhance their Mac. In this first part of Macworld 's Gear Guide, we look at half-a-dozen gadgets that will make ideal gifts for the office worker or photographer in your life.
Office Workers
How to Spot Them: They populate cubicles and office parks from Portland, Maine, to Portland, Oregon, and all points in between. They're clad in business-casual and turn to their Macs to handle everything from preparing design proposals to filing those tricky TPS reports. And they're a little bit burned out on the coffee mugs they've received as presents every year since entering the workforce.
Why We Picked These Gifts: Because ties are yesterday's news, nobody ever got excited about receiving a ream of copier paper, and those "Hang In There" posters with the cat dangling from the tree branch aren't as easy to track down as you might imagine.
What You'll Spend: $36 to $150.
Other Ideas: Office workers looking for ways to get organized would be well-served by any one of nine software bargains available for $70 or less. And Macworld contributing editors Christopher Breen and Adam C. Engst also have some suggestions for the best hardware and software for Mac users working out of their homes.
Mood Indigo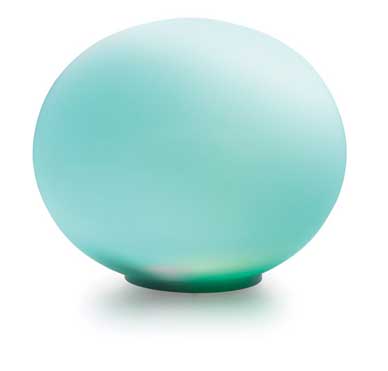 For people who keep an eye on stock-market trends, local weather, or even the Homeland Security threat-level status, Ambient Devices' Ambient Orb is the perfect desk accessory. Wireless cellular networks beam the information to the glass orb, which you plug into a regular outlet. The color changes in sync with fluctuations in the data; for example, when you're tracking the Dow and the market is up, the glass glows green; when it's down, the color changes to red. But there's a 20-minute delay for stock-market data, so don't make trades based on the Orb's color. Think of it as a mood ring for your life.—PAMELA PFIFFNER
$150 plus $20 quarterly for premium service; Ambient Devices
Silence Is Golden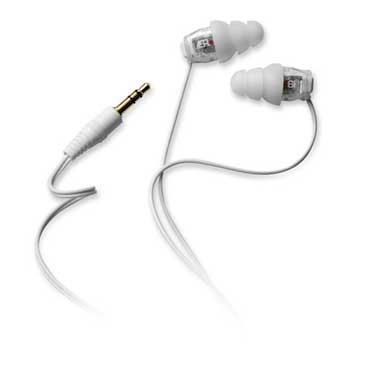 We all have days when we need to hunker down and shut out the sounds of our coworkers going about—or avoiding—their daily business. The ER-6i, from Etymotic Research, fit in your ears like earplugs to block out noise while providing stunning sound quality, letting you listen to a little Simon and Garfunkel—or to the real sounds of silence.—DAN FRAKES
$149; Etymotic Research
Spyware

You're an international spy entering the villain's headquarters incognito. The guards search you. "She's clean," they say. "Nothing but a ballpoint pen." Minutes later, you slip into the control room, plug your "pen" into a computer's USB port, and download the bad guy's plans for world domination. As you leap to freedom through the plate-glass window, you shout, "Thanks for Edge Tech's 32MB DiskGO USB 2.0 Flash Drive Plus Ink Pen, Q!" ( Editor's note: also handy for transporting work files and writing nasty notes to the person who's stealing your lunch from the fridge. )—TERRI STONE
$36; Edge Tech
Photographers
How to Spot Them: At family get-togethers, they're the first ones to whip out cameras. You go out shopping with them to shop for a new digital model, and they're the ones enlightening the sales clerk about the finer points of megapixels and optical zooms. They have to fight the urge to answer the phone "Say cheese," and you half-suspect them of having pictures of their pictures.
Why We Picked These Gifts: If a picture is a worth a thousand words, an accessory to help people take those pictures is probably worth a word of thanks or two.
What You'll Spend: $17 to $700.
Other Ideas: Assuming the person you're shopping doesn't have a camera collection that would make Annie Leibovitz green with envy, you could also peruse Macworld 's digital-camera reviews for our take on the latest models. But before you buy, be sure to consult our shopping guide as well.
Lighten the Load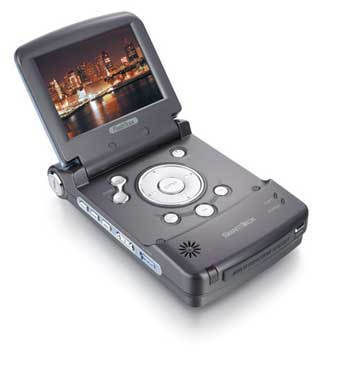 With a bagful of camera gear, do you also want to haul a PowerBook or an iBook to your next shoot? The SmartDisk FlashTrax is an alternative to dumping digital images onto a laptop or carrying armloads of media cards. The built-in 3.5-inch screen is too coarse for detailed photo reviews, but that's not the point of this device. A 20GB, 40GB, or 80GB built-in hard disk stores your pictures and video (taken from digital still cameras), and even holds audio files. Back at your Mac, connect via USB to mount the FlashTrax as an ordinary hard drive on your desktop, or use the video-out port to hook it up to a television.—JEFF CARLSON
20GB, $400; 40GB, $500; 80GB, $700; SmartDisk
Seeing Nemo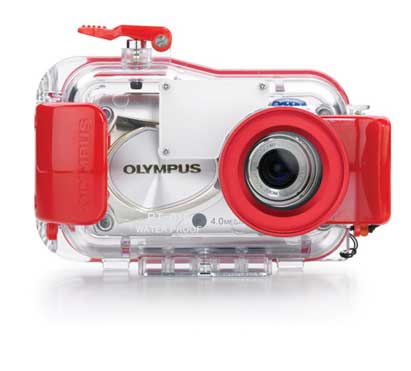 Your eyes may be looking at the bluest water you've ever swum in, but your camera sees only gray, blurry splotches. When your photo explorations take you into the ocean, invest in a waterproof housing for your digital camera. The Olympus PT-016 features easy-to-press controls (great for zooming) and a flash diffuser, and it's waterproof down to 130 feet. A viewfinder hood lets you preview your images while you're still underwater, rather than making you wait until you're landlocked at home. Note that the PT-016 fits only three Olympus cameras; we've compiled a list of other housings and compatible cameras.—JEFF CARLSON
$200; Olympus
Tripod Mini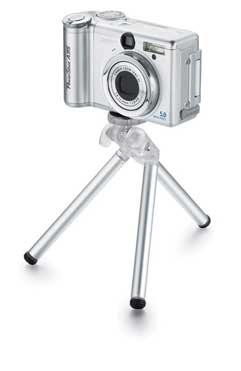 It used to be that every self-portrait you took showed your stretched-out arm. Now your camera's self-timer makes more-sophisticated pictures possible, but you're still balancing your camera on a rock. Try the Hakuba Multipod. This miniature tripod extends to 10 inches, yet it folds down to 7.5 inches and weighs a mere 4.8 ounces. The universal ball-head mount fits small cameras, and the innovative clamp secures cameras without a screw thread—it even works for camera phones.—TERRI STONE
$17; Hakuba
Note: When you purchase something after clicking links in our articles, we may earn a small commission. Read our affiliate link policy for more details.