In the second part of Macworld 's Gear Guide, we look at some gadgets that will help movie-making Mac users pursue their celluloid dreams and other devices that will help them enjoy the Great Outdoors once their skyrocketing movie career allows them to enjoy a life of leisure. Here are seven gadgets sure to satisfy the moviemakers and nature lovers in your life.
Moviemakers
How to Spot Them: You can't remember the last conversation you had with them that didn't include the words "tracking shot" and "mis-en-sc´ene". The last time you asked them to make dinner, they held out until you agreed to give them director's cut. They've replaced all their furniture with director's chairs that have their name stenciled on the back. No doubt about it—you've got a would-be Fellini on your hands who even now is storyboarding the shots for his or her Mac-based version of La Dolce Vita .
Why We Picked These Gifts: One or two of these gadgets will get them one step closer to that star-studded Hollywood premiere—or at least, it will get them to clam up about the auteur theory.
What You'll Spend: $35 to $230.
Other Ideas: To get those images from their onto someone's screen, they're going to need a camcorder. Or, if you're more inclined toward projects, you can always burn their old videotapes onto DVDs.
This Medium Is the Message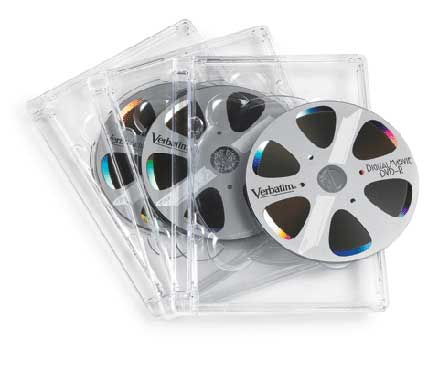 You don't make movies—you create cinematic masterpieces. And when you burn them to DVD, you want your media to be special, too. With a look that mimics traditional film reels, Verbatim's DigitalMovie DVD-Rs and DVD+Rs mark you as the auteur you are. The 4.7GB discs, which hold as much as two hours of your sequel to Citizen Kane , come in packs of three, five, or ten.—TERRI STONE
three-packs, five-packs, and ten-packs, contact Verbatim for pricing; Verbatim
Big On Rigs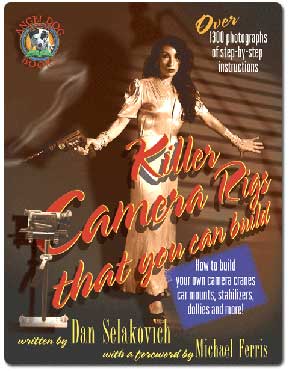 Tired of loading up on Dramamine before watching your nephew's shaky skateboarding videos? Help him develop a steady hand with Dan Selakovich's Killer Camera Rigs That You Can Build (Angel Dog Books, 2003) and a gift certificate for $50 worth of supplies from Home Depot. The book's 339 pages and 1,300 photographs meticulously detail the construction of 11 different camera rigs, such as a dolly for smooth tracking shots, a car mount to attach a camera safely to a moving vehicle, a crane for panning up to a second-floor window, and a camera stabilizer to make handheld shots actually look good.—DAVID SAWYER MCFARLAND
Killer Camera Rigs That You Can Build, $35; Home Depot gift certificate, $50; Home Depot
Stop-Motion Movies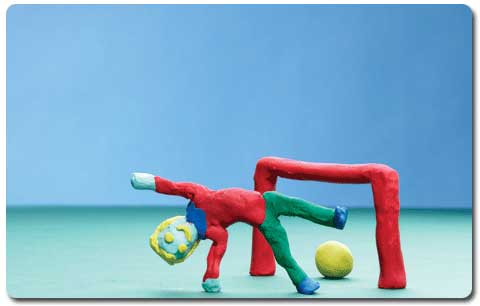 It's cold outside, and you've exhausted every possible subject in your house. Time to unleash your inner Ray Harryhausen. With a digital camcorder, a few cans of Play-Doh, and Boinx Software's iStopMotion, you can make stop-motion movies reminiscent of Harryhausen's movie monsters. Create shapes, add a few toys, and film their interactions one frame at a time using iStopMotion's intuitive interface. Then dump the footage into iMovie for editing, and squoosh the Play-Doh into colored, swirly blobs. (To see an example, go here.)—JEFF CARLSON
Play-Doh, $1 a can; Hasbro; iStopMotion, $40; Boinx Software
Second Helpings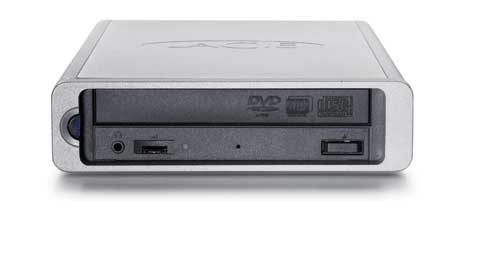 Digital video has become the monster that eats everything in its path. Remember when a 4.7GB DVD disc seemed like a lot of space? Ha! That's a mere appetizer today. To keep up with digital video's insatiable appetite, LaCie's d2 burner handles newer DVD+R DL (also known as DVD+R9) media, which can store up to 8.5GB on a single dual-layer disc. That's roughly four hours of MPEG-2 DVD video, which most DVD-ROM drives and consumer DVD players can play back. One downside: to turn on the d2, you have to push the power button in and to the left. But once you're beyond that, this drive should keep digital video at bay…for now.'JEFF CARLSON
16X d2 DVD±RW Double Layer DVD Burner, $230; LaCie
Nature Lovers
How to Spot Them: Hard as it is to believe, not every Mac user wants to spend every waking hour in front of his or her Mac. Instead, they'd rather take the time for occasional trips out into the forest primeval—equipped with just a few gadgets to remind them of the comforts of home, of course.
Why We Picked These Gifts: The gear listed below will help Mac users appreciate the great outdoors without forcing them to sacrifice too much of the tech gadgetry waiting for them back indoors.
What You'll Spend: $63 to $535.
Other Ideas: Before your nature-loving Mac user departs on the next trek into the wilderness, perhaps you should invest in a few Mac-compatible topographical maps from National Geographic's Topo State series. It certainly beats relying on a trail of bread crumbs to find your way back home.
Thanks for the Memory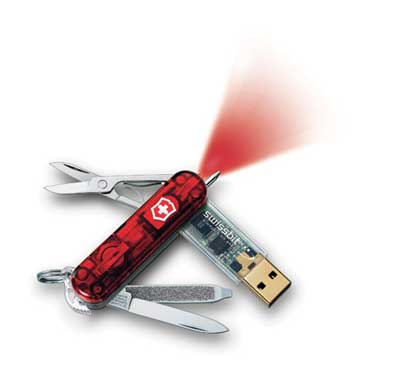 No longer must your Swiss Army Knife be reserved for carving walking sticks or trimming tent ropes. The SwissMemory is a pocket knife with a blade, a nail file, a screwdriver, scissors, a ballpoint pen, and 64MB or 128MB of removable USB flash storage. It also comes in a version without the pointy objects that cause problems at airports.—JONATHAN SEFF
64MB, $63; 128MB, $81; Victorinox
Charge!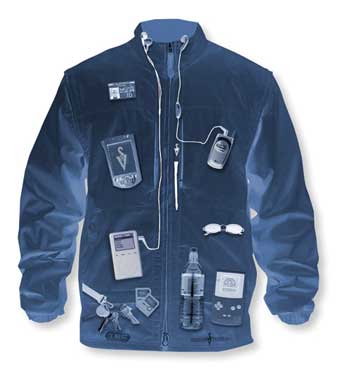 Some outdoor types are minimalists who like to see how little they can carry into the woods. But for the rest of us, there*#8217;s the Solar Jacket (pictured above) from ScottEvest. Its thirty pockets are designed to hold cell phones, PDAs, iPods, and other mobile devices. But the really cool part is the array of solar panels on the jacket's back, which let you keep all your USB-compatible gadgets juiced—as long as the sun is shining. If the Solar Jacket is too geeky (or pricey) for you, check out the Voltaic, a backpack with built-in solar panels that also carries and charges your gadgets.—DAN MILLER
Solar Jacket, $535; ScottEvest; Voltaic, $229; Voltaic Systems
Hotheaded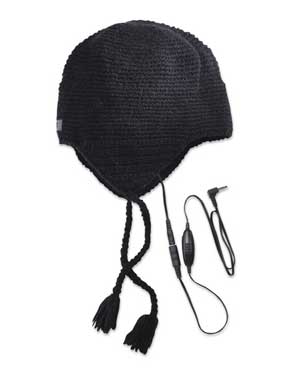 Headphones? Hat? With Burton's Headphone Beanie, you no longer have to choose when venturing out into the cold. Featuring a pair of headphones integrated into its earflaps, as well as an inline volume control for the times when your iPod is stuck deep inside your jacket or pack, the Headphone Beanie lets you enjoy your tunes—no matter the weather—while you—re speeding down the slopes or just waiting at the bus stop.—DAN FRAKES
$40; Burton